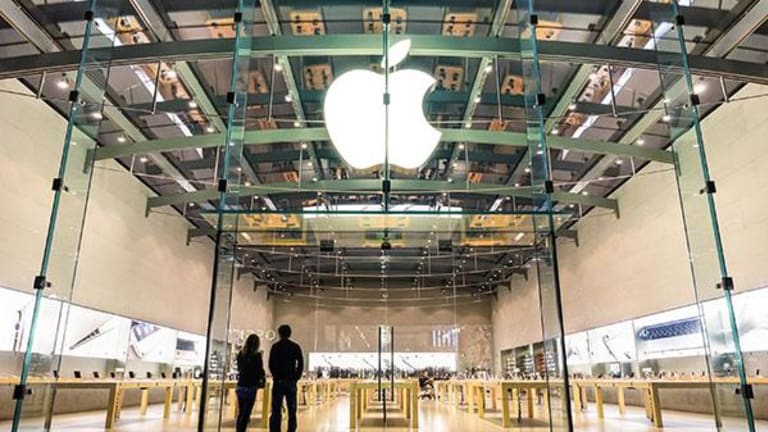 How to Profit if iPhone 7 Hurts Apple Stock
A fall in Apple stock could be an opportune time to buy shares in the iconic computer maker.
Apple (AAPL) - Get Apple Inc. (AAPL) Report is expected to trot out the iPhone 7 in the coming weeks, but if the iPhone 7 is like its predecessors, the iconic computer maker's stock is likely to face static on the day of the news.
Over the last five years, with the exception of the iPhone 5 announcement in 2012, Apple shares have dipped on the day of the announcement, compared to the previous day's close, according to Apple's historical stock figures on Yahoo! Finance.
Despite investors historically pulling back on the day Apple unveils its latest shiny smartphone to its rabid, adoring early adopters, Wall Street watchers point to an opportune time to snap up more Apple shares on the dip.
"Beyond June [quarter] earnings, we think investors can be opportunistic around non-S iPhone cycles -- despite our view that the next mega cycle is not until C2017 with iPhone 8 (IP8). Later this year, we do not expect the iPhone 7 to introduce enough form factor changes to drive an IP6-like cycle, but that is OK," wrote Mark Moskowitz, a Barclays hardware analyst, and Daniel Gaide, a Barclays research associate, in a July 27 report on Apple. "The lead into non-S cycles can be correlated to improvements in the stock valuation."
The analysts put together a chart on why they remain fans of Apple, despite its limited prospects of nailing a mega-product cycle this year.
While Barclays sees the potential for a post-iPhone 7 selloff following its introduction, the analysts do not anticipate a sizable drop.
Here's one reason why: "If investors start to recognize the hand-off to the next mega cycle (iPhone 8) is not that far away (i.e., C2017), the post product announcement selloff may not be as severe, particularly if growth trends are only sluggish but not exhibiting any downward spiral," Moskowitz wrote in the report.
Another issue that may soften a downward spiral are the velvet handcuffs that telecommunications carriers put on their customers with two-year contracts, in exchange for getting their smartphones at a discount and sometimes even free. Barclays' research found a large swath of iPhone users are still texting, talking and taking photos on its iPhone 5 and iPhone 5s.
"Although we do not anticipate a major form factor change for the iPhone 7, the large iPhone 5 base may still upgrade as their two-year contract expires," Moskowitz said in his research note.
There are also other reasons to consider snapping up Apple shares on a dip post-iPhone 7 announcement. That reason is largely tied to Apple's services business. (Apple is a holding in Jim Cramer's Action Alerts PLUS charitable trust portfolio.)
Apple's services business extends beyond its iTunes and App Store to such businesses as its HealthKit, CareKit and ResearchKit. And when taking into consideration that global spending on health is approximately a $9 trillion business, Apple's services business can juice up its growth.
"From a high level, while we by no means think the iPhone 7 will be an absolute game changer, we think that the market could be discounting its potential," said Scott Berman, Action Alerts PLUS senior analyst. "In the long term, we think [Apple's] services business will provide growth as Apple continues to build its ecosystem."
Editor's Note: This article was originally published on Real Money at noon on Aug. 29.
Employees of TheStreet are restricted from trading individual securities.