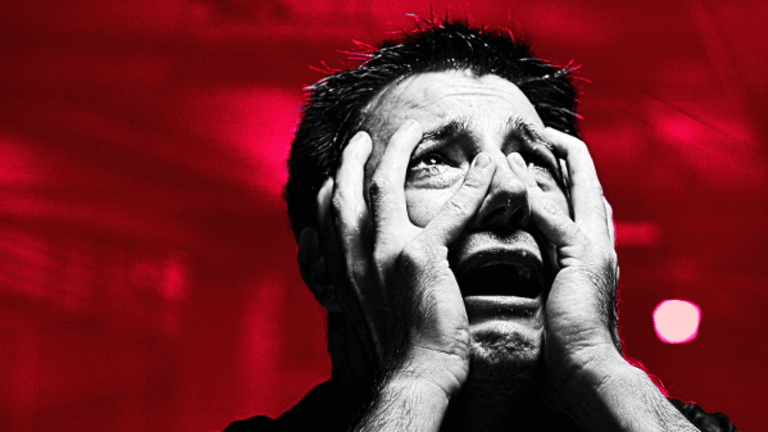 How to Survive the Stock Market Mayhem That Has Just Broken Out
That's what active traders must decide after brutal day of selling.
That's what active traders must decide after brutal day of selling.
"The four most dangerous words in investing are 'This time it's different.'"
-- Sir John Templeton
Is this another quick downturn or the start of Wall Street's long-awaited correction? That's the question active traders like myself faced Friday after Thursday's brutal day of selling.
The market has been here before, and the bulls have won just about every time. Despite a long list of negatives, the bears never seem to be able to close the deal. The dip buyers quickly show up and overwhelm all the arguments about how the market is turning on President Trump, how valuations are too high, how central bankers are no longer supportive, etc.
The problem for the bears is that too many computer algorithms are programmed to buy into action like this. Over and over, they've been rewarded when they buy into clear technical breakdowns such as what developed Thursday. Quite often, these bounces turn into V-shaped moves -- at a minimum, they catch the bears by surprise. Downside momentum just doesn't seem to ever occur in this market.
Fiat Chrysler Still Looks Cheap Despite M&A Buzz
However, the lack of downside follow-through doesn't relieve prudent active traders from playing defense. After all, our No. 1 job is to protect our precious capital. When risks are high, we have no choice but to make sure we're positioned to minimize losses just in case the market doesn't come roaring back yet again.
The necessity of playing defense in a market that seldom requires it for long has been a source of great frustration for traders. In fact, it's the primary reason that so many hedge funds and market-timers have underperformed badly so often since this uptrend began way back in 2009.
But remember, our job as active traders isn't to make big, risky bets. Instead, our job is to look for situations when the odds are favorable and then make our moves. Over time, we'll outperform the market if we minimize our downside and focus on picking off good opportunities in a favorable environment.
The action Thursday demanded that we cut our losses in some places before they become too large. Now, some of those stocks will likely come back quickly and we'll be disappointed by our poor timing -- but that's the nature of the game. You almost never buy or sell at the optimal moment; you simply formulate a plan and do your best to protect capital and build it when you can.
Philip Morris Faces Backlash in India Over Marketing Tactics
Fortunately, days like Thursday always make me excited about the potential for new opportunities. After all, when stocks sell off across the board, it's a certainty that some will be unfairly tarnished.
Here is one well-known forecaster that is bearish right now. 
Active traders are suddenly given the chance to sort through the wreckage to find the gems that have been dumped amid the chaos. This is what stockpickers live for -- and the more things sell off, the better the opportunities will become.
(This column originally appeared at 7:18 a.m. ET on Real Money, our premium site for active traders. Click here to get great columns like this from Jim Cramer and other writers even earlier in the trading day.)
More of What's Trending on TheStreet:
Like Rats Off a Sinking Ship, Steve Bannon Out at White House
10 of the Most Worthless And Expensive Olympic Venues of All Time
At the time of publication, James "Rev Shark" DePorre had no positions in the stocks mentioned.
At the time of publication, James "Rev Shark" DePorre was long/short XXX, although positions may change at any time.