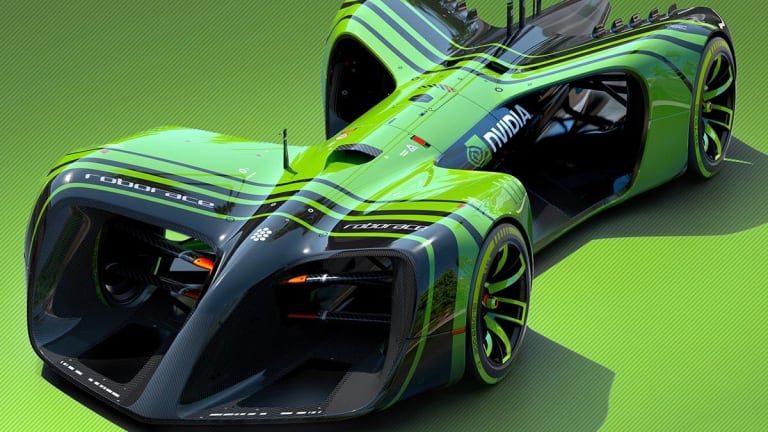 How to Play Nvidia in Advance of Earnings
Go long on strong fundamentals for chip giant Nvidia, or try this options strategy instead. Either way, Nvidia is a winner.
Anyone else notice Elon Musk's announcement regarding the use of Nvidia's (NVDA) - Get Report equipment?
Tesla (TSLA) - Get Report made known last night that the firm had developed its own hardware in its attempt to move forward with autonomous vehicular capability. Tesla had previously relied upon Action Alerts PLUS holding Nvidia for provisions of this hardware.
CEO Elon Musk on this news item, offered "I'm a big fan of Nvidia, they do great stuff, but ... the transfer between the GPU and CPU ends up being what constrains the system." That's funny. He doesn't sound like a big fan. On the other side of this coin is Nvidia CEO Jensen Huang, who according to MarketWatch, this past spring had this to say: "The volume from Tesla is not that high, there is no material difference one way or the other."
Hmm, I mean I don't speak for either one of these guys, but it sounds like neither one will miss the other. The question now becomes, will Nvidia miss Tesla's business?
Where to Add Nvidia
Now, this is my dilemma. I am long Nvidia shares, the name is one of my all-time best investments. I am also long a lot less Nvidia than I was in the spring, but I have been giving a lot of thought recently to rebuilding the position, as the shares have largely traded sideways for most of the year. What do I do? I mean paying for shares trading way above basis sort of violates my own rules, unless I have a good reason. Can I build a good case?
In my opinion, Nvidia is the best-in-class of the industry in providing capabilities across the lines of not only gaming graphics, but autonomous vehicles, artificial intelligence, machine learning and data center processing (the cloud). What you see happening with the likes of the Tesla business is a threat. What I mean by that is that clients can save money by purchasing (or building) and thus using far less capable, but more mission-specific, chips elsewhere. There won't be the ability to program or reprogram the chips, but perhaps a more "disposable" chip makes sense to some.
Jensen Huang happens to be one of those CEOs that I think -- in the way that Field Marshal Ney, during the French Revolution and Napoleonic Wars, could see the entire field and adapt in real time -- is able to adapt without the egotistical delusion of a Bonaparte. It was Michel Ney that guarded the tattered and defeated Grande Armée's retreat from Moscow in 1812. Huang can traverse this.
Nvidia reports in two weeks. The name trades at 31 times forward-looking earnings. Is that expensive? Cash dwarfs debt. Cash flows are abundant. As of last quarter, operating margins had grown to more than 40%. That's fantastic, but hard to top. Oh, and have you ever seen current and quick ratios like this? (8.5, and 7.7, respectively). There is no doubt in my mind that this is a firm somewhat deserving of a lofty valuation.
But where to add? Where to expose oneself to increased risk? The trade war does matter here. Nvidia depends on China for roughly 18% of the firm's revenue.
View Chart »View in New Window »
What I see after the pitchfork broke in late June is an inability for the name to build a new model. Still, the trend is mildly favorable. Not necessarily in line for a violent conclusion, but successively higher lows continue -- and since the break in June, so are successively higher highs. I am not opposed to a small add right here, perhaps a down tape could be a good time. As for those earnings that are due on August 16, the consensus view for earnings are for $1.66 a share, but whispers are much higher. Expectations for revenue is for $3.11 billion.
That would be good for year-over-year growth of 39.4%. The average Wall Street price target sits at about $293.
Two weeks ago, the very highly rated Citigroup analyst Atif Malik lowered his expectations for Nvidia as far as demand is concerned for both gaming and crypto-currency mining. Yet Malik believes the thesis to be intact, and reiterated both his buy rating and his $300 price target. Malik boasts an 87% success rate in predicting the price movement of this stock.
Behind the Trade
The stock closed at $246.47, my price target is $280. The pajama traders have the name printing around $242.
Purchase an equity increment equal to 1/8 of one's intended full position size at this morning's discount.
Sell (Write) 232.50 August 17 Put options representing a rough 1/4 of what would be a full equity position if one were to end up forced to eat these shares. These puts went out at $4.65 last night and will almost certainly pay more than that this morning. Even at last night's closing sale, this brings the equity risk of this part of the trade down to a net of $227.85. Are you comfortable with that? That's up to you.
Free White Paper: 7 Things All Investors Must Know in 2018. Start the second half off right with our free white paper on seven key things to watch this year. From how much cash to have on hand to the three reasons this bull market might die, our white paper features key takeaways from an all-star panel that TheStreet and Fisher Investments recently hosted in New York. Click here to register for your free online copy.
At the time of publication, Guilfoyle was long NVDA equity.