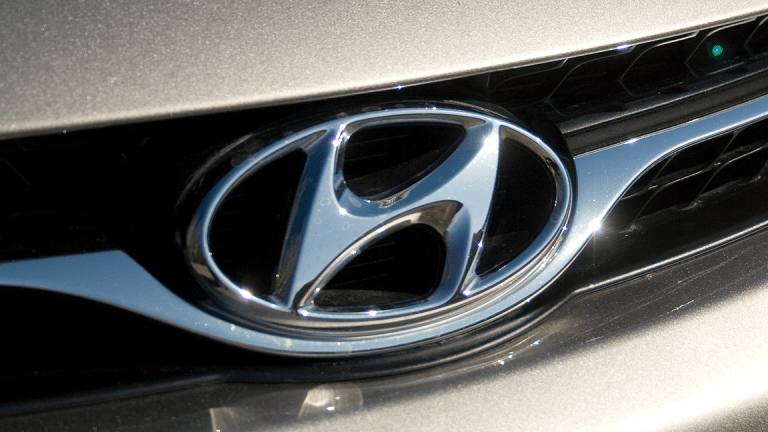 As Carmakers Change Business Models, This Chip Firm Is Perfectly Positioned
As young, nimble companies are building a future of mobility less reliant on vehicle ownership, one chip company is in the right place, with the right product.
Imagine a car capable of walking. Now picture it with long, articulating robotic legs and tubeless tires.
Hyundai unveiled Elevate at the CES technology show in Las Vegas this week. The 1/8 scale concept is designed to go where traditional vehicles have been have been rendered useless.
The archetype is fitting. Car companies need to remake tired business models.
Elevate was inspired by real world problems. Current rescue vehicles are often unable to traverse the debris created by tsunamis and earthquakes. As a result, first responders have to make their way to victims on foot, carrying heavy equipment through flood zones and over crumbled concrete.
In stowed drive mode, Elevate's legs fold up and the vehicle operates as a standard four wheel drive explorer. When the legs unfold, Hyundai product managers claim the vehicle is capable of climbing walls, or stepping over a 5-foot gap. The official corporate video depicts a revolution in locomotion.
Getting there did not come easily. It was also necessary.
Hyundai has been moving fast to stay abreast the trends started in Silicon Valley. Young, nimble companies are building a future of mobility less reliant of vehicle ownership. Ride hailing, sharing and subscription businesses turn the traditional automobile business model on its head. As more people begin to view mobility as a service, and price per mile rates plummet, the need to own cars evaporates.
The daddy longlegs Elevate concept vehicle is the product of CRADLE, Hyundai's center for robotic-augmented design in living experiences. To poach engineering talent, the innovation center opened offices in Silicon Valley in 2017 and Tel Aviv in 2018. Additional outposts are planned for Berlin and Beijing.
For now, the company is focusing on collaborative efforts to speed up the commercialization of autonomous vehicles. However, managers see CRADLE as a flashpoint for artificial intelligence, smart energy, smart cities, cyber security and robotics.
Elevate ticks most of these boxes. The vehicle is fully electric, with next generation battery packs lining the floor of an interchangeable cabin. Artificial intelligence allows its robotic legs to unfurl and fold at will for both active and passive suspension.
The vibe between software and the articulated hips, knees and ankles allow Elevate to effortless switch from driving to two forms of walking. In mammalian mode, the vehicle has the agile gait of a deer. Reptilian mode blesses Elevate with the sure-footed grip of a leaf-tailed gecko.
Today, the vehicle is no more than a concept. However, its development shows that traditional car companies are preparing for rough terrain. Product managers are exploring new categories ahead of mass commoditization. They are experimenting with high-margin specialty vehicles with advanced robotic systems and electric propulsion.
Monolithic Power Systems (MPWR) - Get Monolithic Power Systems, Inc. Report designs the integrated circuits to make the power systems more efficient. While this may seem trite, as cars and trucks move to electric propulsion and more motorized parts, every efficiency is a blessing.
Modern cars already have an average of $350 worth of semiconductor content. Consumers take for granted that newer vehicles will have modern infotainment systems, safer lighting, advanced driver assistance systems and smart electronic devices. However, everything from USB chargers  and electric mirrors to HVAC and LED light systems use sophisticated ICs.
These circuits will multiply as the next generation of self-driving cars arrive.
eMotion is Monolithic Power's gearless IC. It is 30% more power efficient than traditional electric motor setups. It creates less heat while offering more torque. It's also less expensive. Ultimately, those savings mean better profits at value-added resellers and OEMs.
The company is currently working with every major auto parts supplier in the world. Through Delphi (DLPH) - Get Delphi Technologies Plc Report , Bosch, Panasonic Automotive, Magna and Mitsubishi Electric, the company reaches end customers such as Ford (F) - Get Ford Motor Company Report , Nissan, BMW, Mercedes, GM (GM) - Get General Motors Company (GM) Report , Volvo, Toyota, and Volkswagen. 
The company reported revenues of $160 million for the fiscal first quarter, an increase of 24% over a year ago, with gross margins of 55.6%. Monolithic has been growing sales at a steady high teens clip for the past five years. And net income grew 23.7% last year, to $65.2 million.
Monolithic shares are down from a high near $150 in September. The market capitalization is only $5.1 billion. The stock trades at 26.5x forward earnings. That is cheap by historical standards.
As car companies change business models, Monolithic is in the right place, with the right product. Buy the stock into the current weakness near $118.
To learn more about my recommendations at the crossroads of culture and technology, check out my daily newsletter Strategic Advantage.
To learn about my practical research in the short-term timing of market indexes and commodities, check out my daily newsletter Invariant Futures.
The author does not own any stocks named in this column.