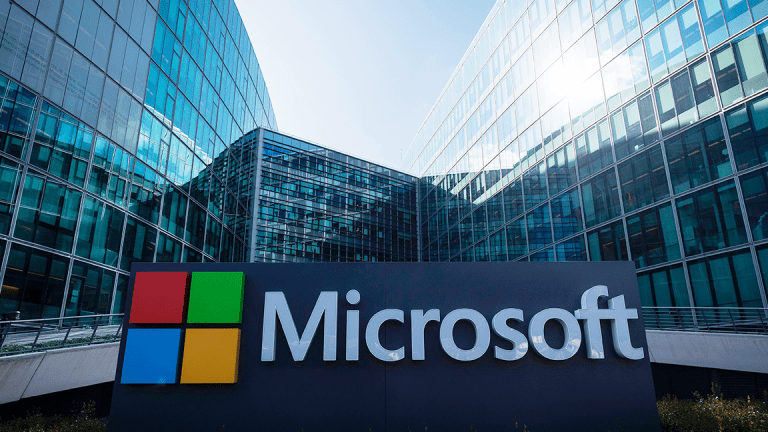 How to Trade Microsoft's Stock Into Thursday's Crucial Earnings Results
Microsoft reports earnings after the close Thursday.
Microsoft (MSFT) - Get Microsoft Corporation Report is a story stock. The story is one of re-invention, something every Wall Streeter knows a little something about most likely on a personal level. Action Alerts PLUS holding Microsoft has been turning itself, and shifting the firm's priorities, away from the legacy desktop PC business, and toward cloud computing as a core business.
The company reports quarterly earnings after the market close Thursday. Now, we'll get some feedback on the firm's integration of its data center with the needs of the firm's clientele. On top of that, we'd like to hear of maintained relevance of legacy software such as Office 365. How that software sells in subscription form, and the health of the company's still-relevant video-game business.
Microsoft is mildly expensive relative to a lot of my other tech holdings, but comes with a well-maintained balance sheet that offers no obvious weakness. Today, we look for earnings per share of $0.85, with whispers considerably higher than that. Revenue expectations are for $25.71 billion.
Again, margins will be closely watched. At last reading gross profit margins were stable, while operating margins actually contracted small. EPS growth has been far stronger than sales growth over the last few years, hence the understandable change in direction by management.
Let's see if the chart tells us anything, shall we?
Another broken Pitchfork. Wow, this market has been rough on tech. This is another tech name where I whittled my long down to 10% of my original size. You will notice that this has been a theme for me, as I have been pounding the table both in print and on television on raising cash since January.
There is an obvious positive here. While the top of the chart has wobbled, the bottom has seen a series of higher lows. Moving Average Convergence Divergence (MACD) and Money Flow look awful.
Still, this stock has seen a double top, has found help at the 61.8% re-tracement level last month, and looks to hold the 38.2% level here in April. That will depend upon these results.
Price Target: $97. Three strikes, you're out.
Panic Point: $86. Two strikes will do it on the downside. May reload if support is found around $88.
---
Join Jim Cramer May 5th for TheStreet's Boot Camp for Investors
Meet Jim Cramer and more than a dozen top market experts on Saturday, May 5, in New York for How to Diversity Your Portfolio: A Boot Camp for Investors.
Highlights includes:
An exclusive market update from Jim.
A keynote interview between Jim and PayPal CEO Dan Schulman.
Break-out panels with top market experts like Tony Dwyer, chief market strategist at Canaccord Genuity; Mike Hanson, senior vice president of research at Fisher Investments; and Peter Hug, global trading director with Kitco Metals.
Roundtable discussions with TheStreet's Carley Garner, Stephen "Sarge" Guilfoyle, Bob Lang and other columnists.
All attendees will also receive a free one-year subscription to our newest premium Web site, Retirement Daily(a $99 value).
Where: The Convene Center, 117 W. 46th St., Manhattan, New York
When: Saturday, May 5, 8:55 a.m.-2:45 p.m.
Special price for Real Money and Real Money Pro subscribers: $149. Includes a free one-year subscription to Retirement Daily (a $99 value)
Get more details or buy tickets here.
At the time of publication, Guilfoyle was long Microsoft.