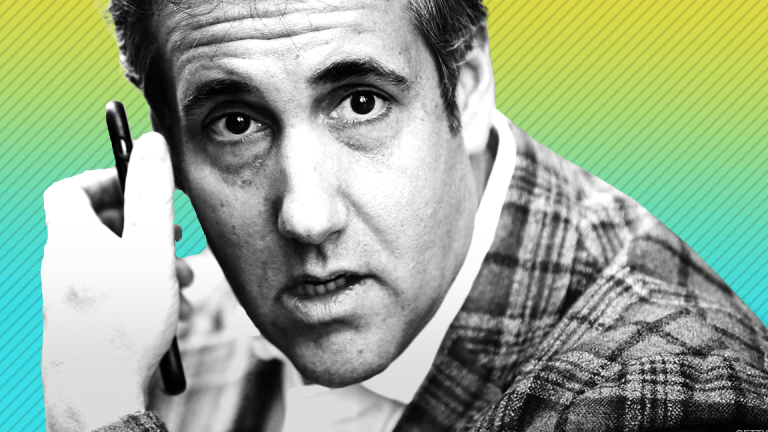 How to Trade Michael Cohen's Courtroom Drama
Watch soft-data points and tread very carefully.
Trade accordingly.
By now, unless you truly have made a personal decision to steer clear of anything resembling current events, you have been inundated with the news that former Trump campaign chair Paul Manafort was found guilty of eight out of 18 charges. Far more significant from a political point of view, was the plea deal agreed to by the president's former personal lawyer. Michael Cohen. Cohen pleaded guilty to eight charges, two of which did implicate the president of possible wrongdoing.
The Crux of the Matter
The problem is this. Michael Cohen told the court in New York that "the candidate" directed him to buy the silence ahead of the 2016 national election of two women alleging to have had earlier affairs with said candidate. The meat of this issue is that Cohen said that he made payments to both women "for the principal purpose of influencing the election."
The deal is this, according to campaign finance law, individual contributions to campaigns are capped in this country at $2,700. Cohen had admitted to paying $130,000 to a Stephanie Clifford in order to prevent her from going public with details of an alleged affair several years prior. There is also plenty of confusion over how a second woman, Karen McDougal was paid by a publisher that had already purchased the rights to her story. Cohen plead guilty to breaking campaign finance laws and other charges.
Look, I'm no lawyer. My concern is really how this impacts the economy and subsequently financial markets. According to the Wall Street Journal, payments, at least of the kind made to Ms. Clifford, would be considered in-kind contributions to a campaign, and conspiring to cause an excessive campaign contribution of more than $25,000 is an indictable offense. Sitting presidents are not indictable, mind you. The question for us, is -- does this rise to the level of an impeachable offense? The answer to that lies simply in who controls the House of Representatives. FYI, the mid-term elections are scheduled for November 6.
Does this re-energize opposition to the president? Does this stir the president's base? Does this turn the November elections into a national referendum on impeachment? More importantly.... is the Senate even in play? Even if the House were to initiate impeachment proceedings, those charges would still have to pass muster in the Senate.
What I Think
I think that if there is anything to truly become concerned over from a financial perspective, we will see the first evidence in what is known as soft data. For those new to this, soft data-points are largely measures of sentiment resulting from surveys. Hard data-points are items that can be recorded numerically and compared over time, such as wages, auto sales, or consumer prices.
Next week, the Conference Board will release its August survey for Consumer Confidence on Tuesday, followed by the University of Michigan's revision to its Consumer Sentiment report for August on Friday. It is probably already too late for these surveys to be greatly impacted by this news, if they even were to feel an impact. Likely, we will have to wait until September to see if economic participants are expecting to feel the weight of lasting negative impact. The following dates now become important:
September 14 - University of Michigan releases advance numbers for September Consumer Sentiment.
September 17 - Empire State Manufacturing Index.
September 20 - Philadelphia Fed Manufacturing Index.
September 24 - Markit PMI (Purchasing Manager Survey) September Flash for both the manufacturing and service sectors.
If the economy is to be put at risk of a slow-down due to political risk, you will see the first dents in the armor here. Keep in mind that earnings growth is still in place. For the determination of stock prices, this is point number one. A supportive economy is required for robust earnings projections to remain positive.
While a successful launch of impeachment proceedings will make headlines, I do not consider their success likely. Remember, this could still be a case of one man's word versus another. However, should this weaken the president's agenda going forward, and should the Democrats swing the House of Representative to their favor, this does likely weaken the administration's ability to proceed with its agenda, as well as the economy's forward momentum.
How I Am Playing This
Well, I am not playing anything. This is how I feed my family, so there is nothing fun about it. I do not expect to make an immediate change to anything that I have been doing. I am at lower cash levels than I have been, but still rather high by most professional traders' standards.
Does this weaken the dollar? That would actually be welcome. If so, I should probably take cash down a little further. Gold has been very soft. Might want to bump that up a notch if the greenback hits resistance. As for equities and debt securities, I think I'll leave those right where they are.
Free White Paper: 7 Things All Investors Must Know in 2018. Start the second half off right with our free white paper on seven key things to watch this year. From how much cash to have on hand to the three reasons this bull market might die, our white paper features key takeaways from an all-star panel that TheStreet and Fisher Investments recently hosted in New York. Click here to register for your free online copy.
At the time of publication, Guilfoyle had no positions in the securities mentioned.