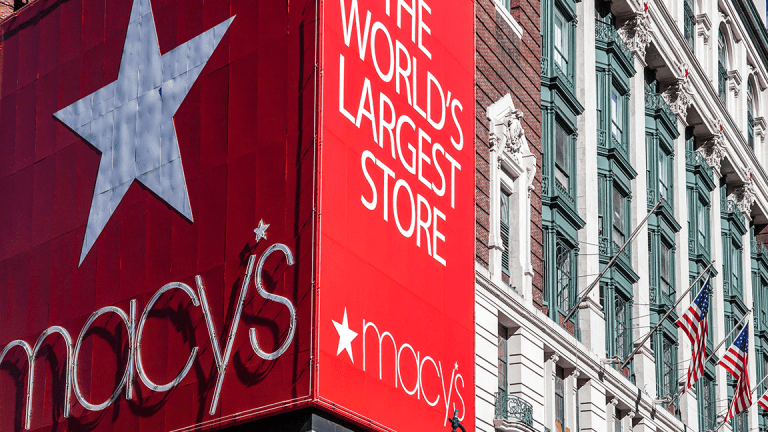 How to Play Macy's Stock Into Earnings
I am not in love with Macy's.
Macy's (M) - Get Macy's Inc Report has run over the past month or so close to in-line with many retailers, while the rest of Rome has burned down. The name trades at 10.4x forward-looking earnings, suggesting a below-average valuation through that metric in relation to its peer group. Cash flow is there. So is debt, a lot of debt. The firm's Current Ratio does imply that it will not run into a jam at some point should cash flow stay on track.
I am not in love with Macy's. I did make some money on the long side earlier in the year. I am tempted to short this one almost as much as I am to buy it, but that dividend. I hate chasing stocks that run into earnings. Then again, should an investor hang onto this name long term, the 4% yield will knock $1.51 off of net basis every year. Not too shabby for a $37 stock.
Industry expectations are for EPS of $0.14 on revenue of $5.4 billion. Whispers are running to the high side, not that this means much in November of 2018.

This is the game. From the chart, it is clear that the guys writing the algos that run this name respect standard Fibonacci levels. That means the short-term upside runs to about $42, the downside as far as $32, with a last sale smack dab in the middle. Okay, how to get involved, and stay hedged? I have an idea. Macy's will report again in late February. Let's use that to our advantage.
The Macy's Tough Environment Trade (minimal lots):
--Purchase 100 shares of Macy's at or close to the last sale of $37.05.
--Sell one February Macy's $42 call (last bid: $1.37)
--Purchase one November 23rd $32 put (last offer: $0.43)
Macy's will pay a $0.38 quarterly dividend on January 2 to shareholders of record on December 14.
Notes:
1) The options trades result in a net debit of $0.94. Add to that the dividend payment, and the trader has reduced net basis all the way from $37.05 to $35.73.
2) The trader gained this leverage by allowing gains to be maximized through February at a market price of $42 (or a net profit of 17.5%).
3) The trader has also hedged his position through next Friday (post-earnings) by purchasing the put, which is fully paid for by making the other transactions. Of course, now that trader will never see the dividend payment -- taking net basis back up to $36.11. Max loss by next Friday: 11.4%.
At the time of publication, Stephen Guilfoyle had no position in the securities mentioned.