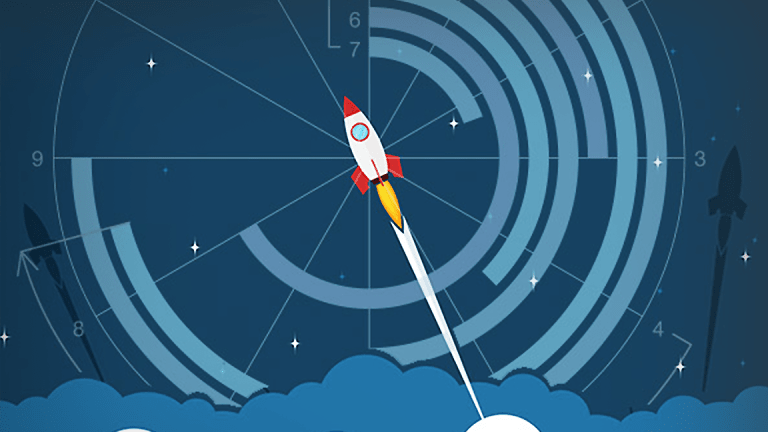 How to Trade This Explosive Tech Stock
A so-called 'bull-call spread' looks good here.
I'll admit that I took a wee bit of profit on Lam Research (LRCX) - Get Lam Research Corporation Report during last week's tech wreck, but the stock has been one of my long-time top performers. Let's look at its chart, as well as how to play Lam heading into upcoming earnings on April 17.
Mizuho last week initiated the name with a "Buy" rating and a $250 price target (vs. Thursday's close at $203.16). The week before that, Bank of America Merrill Lynch initiated coverage of Lam Research with a "Buy" recommendation and a $305 price target. Lam also announced significant boosts last month to both its dividend payout and stock-repurchase program, and will report fiscal-third-quarter earnings on April 17.
That's all good news, but Lam also faces serious headline risk regarding any potential U.S. trade war with China.
Let's see what the stock's chart can tell us:
What I noticed first in the above chart is a softer Relative Strength Index (marked "RSI (14)" above) and a suddenly vulnerable daily Moving Average Convergence Divergence oscillator ("MACD" above) now that Lam's nine-day exponential moving average has gone decisively negative.
That said, the stock's Chaikin Money Flow (CMF) has remained in the green since Lam made those positive announcements in early March. Lam Research also appears to show some obedience to its Fibonacci levels. The 50% retracement level worked as support back in December and appears to have just worked again, although off of a different timeline just last week.
The most recent Fibonacci retracement level is also close enough to Lam's 50-day simple moving average (marked "MA (50)" above) to say that we do indeed hit some traction here. Look further and you can also see that the central trend line provided by the Pitchfork has worked nicely as a rising pivot since early December.
What that means to me as someone who owns Lax is that a break at $194 would allow for movement lower to around $185. But I also think that absent any negative China news, Lam Research will be drawn toward $220 as we approach the company's next earnings report.
Also, don't discount how well CEO Martin Anstice comes off at times like that. He's a leader that I would bet on (and actually do).
Playing Lam Research Using Options
Now, a $203 stock is kind of a tough nut for a small investor to get involved with, so here's an idea on how to play Lam using a so-called "bull-call spread."
Lam's earnings are due out on April 17, and April 20 is an expiration Friday. If I'm right, the name could approach $220 by then, but $210 LRCX calls that expire on April 20 ended trading last week at $8, while $220 calls with the same expiration ended at $4.20.
So, you can expose yourself to a possible $10-a-share profit while risking just $3.80 if you purchase the $210s at $8 and write $220s at $4.20. Now, if Lam never hits $210, then you're out the $3.80. But if the stock hits $210 and not $220 by expiration, you'd keep the all gains above $210 minus that $3.80.
And if shares rise above $220 by April 20, you'd score a $6.20 net profit (but forfeit any share-price gains above that level).
At the time of publication, Guilfoyle was long LRCX, although positions may change at any time.