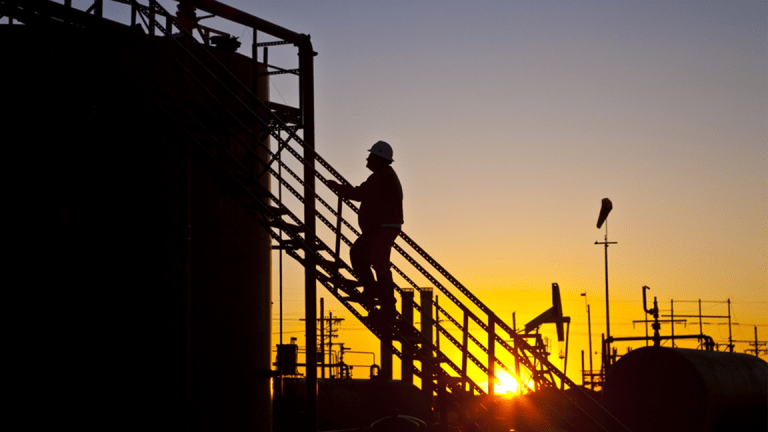 Best Energy Stock Trade During the Bomb Cyclone
On Monday, more natural gas was burnt in a nationwide effort to stay warm than ever before.
You all know how I feel about Apache Energy (APA) . This is a stock that I believed strongly in from early to mid-2017. I dug in, and it took almost all of whatever talent I do have, plus a whole bunch of luck, to manage this position. The name became a very positive performer within my book. That took a lot of nurturing, but the name is trading just about where I have been selling it over the past five months or so. Is this where it breaks out?
I do like the fact that APA is both a crude, and a Natural Gas play. I do like the fact that the Saudis are shopping in the Permian. Maybe I don't want to sell it at this price... maybe not this time. Perhaps there is a better Natural Gas play than Apache -- Maybe you don't want to play Natty Gas at all. Let's explore.
What jumps out immediately on this 16-month daily chart of Apache? That's easy. The regularity and predictability of the trading range experienced by this name from August right in into the present. This is how I buttered my bread and fixed my long position in this name. 
It really is amazing how easy the algorithms sometimes make this game for human traders who are still paying attention. Believe me, the guys reliant upon the algos have lost their focus. They are reading about the Rangers and the Knicks while we hide in the weeds and eat their lunch. They don't even notice us. The game has become too easy for them to work hard. We can, and will, defeat them. That trade-able range is outlined by the green trend lines.
Can Apache -- which, by the way, is a holding in the Action Alerts PLUS charity portfolio that Jim Cramer co-manages -- break out this time? I have been slow to make the sale this time around. WTI Crude and natural gas are undeniably moving into a better price range -- well, oil is, anyway. Our basic Fibonacci levels suggest that a break and hold at this $45 level allows for movement to the $49/$50 area.
You can easily see that this level has served as a pivot and then resistance from March through the end of July. The algos will see this, too. You are working with a positive-looking moving average convergence divergence (MACD). The name is not overbought. Money Flow is not yet positive, but something else is. The last three upswings toward the $45 level have all been accompanied by increased trading volume. Does that matter? It does to me. My discipline demands that I consider selling some here. My discipline also insists that I hang on to most of my long.
(This is an excerpt from Stephen "Sarge" Guilfoyle's Morning Recon, which now appears exclusively on Real Money, our premium site for active traders. Click here for a free 14-day trial and receive Morning Recon every day, along with exclusive columns from Jim Cramer, James "RevShark" DePorre, technical analyst Bruce Kamich and more.)
More of What's Trending on TheStreet:
At the time of publication, Stephen Guilfoyle was long APA, although positions may change at any time.