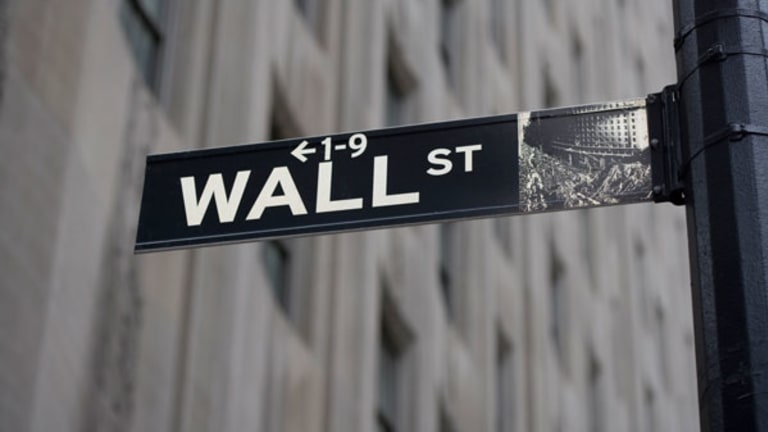 How to Play a Stock Market Crash
If the Hindenburg Omen is indeed signaling a coming market crash, here are a few ways to play it.
By Roberto Pedone
WINDERMERE, Florida (
) -- Is the stock market on the verge of a major correction? Is the market back in control of those pesky bears? And if so,
?
That's what on the minds of many market-players, especially those among the
community. Some traders even believe that another "flash crash" could be right around the corner, because as we move into the most seasonally weak time of the year for equities, the market is flashing two major technical warning signs.
The first warning sign that has the technicians concerned is the technical indicator coined the
Hindenburg Omen
. The Omen, which uses a number of technical data points to predict a potential stock market collapse, was triggered again on last Friday, marking the second time since Aug. 12 that it's made an appearance.
There are several key technical conditions that trigger the Omen:
The daily number of new 52-week highs and the daily number of 52-week lows on the NYSE must both be greater than 79.
The daily number of new 52-week highs and the daily number of 52-week lows must both be greater than 2.2% of total NYSE issues traded that day.
The NYSE 10-week moving average must be rising.
The McClellan Oscillator must be negative on the same day.
There number of new 52-week highs must not exceed twice the number of new 52-week lows.
Market-players are worried about the second tripping of this Omen because it has been behind every stock market crash since 1987. (Keep in mind, however, that not every second tripping has been followed by a crash. In fact, a crash has occurred only 25% of the times that a second signal has appeared.) According to the Hindenburg Omen, if a crash is to follow this time, it should occur in the next 40 days.
Even the creator of the Hindenburg Omen, Jim Miekka, a blind mathematician, has made statements to the media recently that he's heeding the warning sign of the Omen and has completely sold all of his stocks. Miekka told the
Wall Street Journal
-- until the Omen was tripped with a second reading, he had planned to stay in the market until the beginning of September.
The second major warning sign that is showing up on the charts is what is called a "head and shoulders" chart pattern. This pattern is regarded as a reversal pattern and is most reliable when seen in an uptrend such as we've had recently in the markets. Currently, the
S&P 500
has formed a left shoulder at the January high and the head at the April high, and the right shoulder is developing right now.
The key levels I think investors should be watching on the S&P are the 1040 and 1010 areas. A break below 1040 would almost certainly set up a test of 1010. A move below 1010 would be very bearish and could setup a large drop towards 950 to 860.
Here's a look at a number of stock and ETF plays for a
.
If you're looking for some trading vehicles that will give you lots of leverage for any market crash, than I would suggest you consider some double- and triple-leveraged bear ETFs. Let me be clear that these types of ETFs are for trading purposes only. They are not the kind of ETFs you want to invest in for anything longer then a short-term trade.
One of the more popular and liquid bearish ETFs is the
ProShares UltraShort S&P 500 Fund
(SDS) - Get ProShares UltraShort S&P500 Report
. This ETF seeks daily investment results, before fees and expenses that correspond to two times the inverse of the daily performance of the S&P 500. If you want to short the
Nasdaq
, I would suggest looking at the
ProShares UltraShort QQQ Fund
(QID) - Get ProShares UltraShort QQQ Report
, which seeks daily investment results that correspond to two times the inverse of the daily performance of the Nasdaq 100 index. Remember, you can always play the options on these ETFs as well, but don't expect to see great spreads between the bid and ask of the calls or puts.
For triple short leverage, traders should focus on the
ProShares UltraPro Short S&P 500 Index Fund
(SPXU) - Get ProShares UltraPro Short S&P 500 ETF Report
,
ProShares UltraPro Short Dow 30 ETF
(SDOW) - Get ProShares UltraPro Short Dow30 Report
and the
ProShares UltraPro Short NASDAQ 100 ETF
(SQQQ) - Get PROSHARES TRUST Report
. These ETFs seek to achieve results, before fees and expenses, which correspond to three times the inverse of the daily performance of the S&P 500,
Dow
and Nasdaq. If the market crashes, these ETFs will be great ways to play it, but remember that with lots of leverage comes lots of risk. So, again, use them as trading vehicles one, or play the options for a more defined risk of your capital.
Often when a stock market crashes, some of the best trades are to short the worst sectors, or the sectors that have recently been struggling. I would consider taking a look at the education stocks for this type of short play. The group has recently come under fundamental and technical attack that could be creating a perfect storm for the shorts.
From a technical standpoint, names such as
Strayer Education
(STRA) - Get Strategic Education Inc. Report
,
Apollo Group
(APOL)
and
Capella Education
(CPLA) - Get Capella Education Company Report
are all trading below both their 50-day and 200-day moving averages. This is a major technical warning sign, coupled with the fact that all of these names have seen sharp drops of late on very heavy volume. Savvy market players might want to consider using put options to short these stocks, which will give them a clear defined amount of capital at risk.
Another way to play a potential stock market crash is to short some of the most popular high-priced momentum stocks. The reason that these stocks make such great shorts during a crash is because so much hot hedge fund money is in these names that when they sell, the declines will come "fast and furious."
Keep in mind that the market won't care about the fundamentals of these stocks if a crash comes. Hedge fund managers will only want one thing, and that is to go to cash and to protect their profits in these stocks. Also, I would anticipate the high-frequency traders to come after many of these names with well-placed computer algorithm sell programs.
Some of the names I would consider are
Priceline.com
(PCLN)
,
Netflix
(NFLX) - Get Netflix Inc. Report
,
Apple
(AAPL) - Get Apple Inc. Report
,
Chipotle Mexican Grill
(CMG) - Get Chipotle Mexican Grill Inc. Report
,
Google
(GOOG) - Get Alphabet Inc. Report
,
Goldman Sachs Group
(GS) - Get Goldman Sachs Group Inc. (The) Report
,
F5 Networks
,
Salesforce.com
(CRM) - Get Salesforce Inc. Report
,
Baidu
(BIDU) - Get Baidu Inc. 百度 Report
and
Amazon.com
(AMZN) - Get Amazon.com Inc. Report
.
Some other lower-priced momentum names that could see very sharp drops include
Akamai Technologies
(AKAM) - Get Akamai Technologies Inc. Report
,
Acme Packet
( APKT),
Joy Global
( JOYG),
Bucyrus International
( BUCY) and
Green Mountain Coffee Roasters
(GMCR)
.
Again, I think the best way to play the short side is to use put options rather than to short these stocks outright. With put options, you can limit your short exposure, because you'll know exactly how much capital you have at risk. If you think a market crash is on the horizon in the next couple of months, or even sooner, I think the abovementioned names should be on your short radar.
Finally, a more conservative way to avoid a stock market crash is to simply move your stock allocations into cash. Remember, if the crash doesn't happen, you can always buy back into the market at anytime. And if the crash does happen, then you will have a war chest ready to buy back stocks at bargain basement prices.
All of this is not to say I'm calling for or predicting a market crash. I'm simply pointing out some of the technical warning signs -- and some of the ways to play a crash if the price action confirms that a major drop is knocking on the market's door.
To see more market crash plays, including
ProShares UltraPro Short Russell 2000 ETF
(SRTY) - Get ProShares UltraPro Short Russell2000 Report
and
ProShares UltraPro Short S&P MidCap 400 ETF
(SMDD) - Get ProShares UltraPro Short MidCap400 Report
, check out the
portfolio on Stockpickr.
-- Written by Roberto Pedone in Winderemere, Fla.
RELATED LINKS:
>>M&A Stocks Have More Room to Rally
Follow Stockpickr on
and become a fan on
Facebook.
At the time of publication, author had no positions in stocks mentioned.
Roberto Pedone, based out of Windermere, Fla., is an independent trader who focuses on stocks, options, futures, commodities and currencies. He is also an outside contributor to Beconequity.com and maintains the website Maddmoney.net, which he sold to Blue Wave Advisors in 2008. Roberto studied International Business at The Milwaukee School of Engineering, and he spent a year overseas studying business in Lubeck, Germany.
Stockpickr is a wholly owned subsidiary of TheStreet.com.