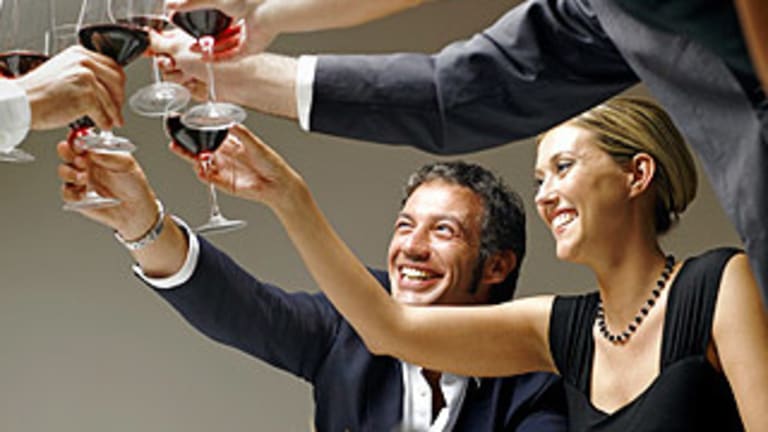 How to Pick Wine in a Restaurant
Does the thought of choosing wine for your group have you terrified? Read these tips on how to pick the right bottle.
It can be the most dreaded part of a business meal or a group get-together: picking the wine.
Navigating a restaurant's wine list doesn't have to send you into psychotherapy, though. Here are a few simple rules that you can follow to make your wine selection the toast of the evening.
Relax!
For years, my friends and coworkers have usually ended up handing me the wine list, because I have a tiny bit of knowledge of the subject. I used to get so nervous about picking vino for the table, but it almost always worked out. Most people aren't too critical of the wine selections - connoisseurs will do some evaluation, but the vast majority of folks just want something pleasant to drink with their meal.
Even if the choice turns out not to be perfect, it's unlikely to ruin the evening. Plenty of wines will suffice an uncritical palette; the odds are in your favor.
It's fine to go with what you know.
If you notice a wine you've had before, or really enjoy selections from a certain region or grape variety, use that knowledge to pick something that'll be right for you. If the wine list is as thick as War and Peace, remember how much you loved that South African Sauvignon Blanc, head for that country's section and pick something similar.
Don't be afraid to ask for help.
Wine makers are so plentiful now that it would usually take a real connoisseur to be familiar with the selections on any serious wine list.
The people who should know are the servers and, if available, the sommelier (that's the in-house wine expert) -- and they're around to help. Sometimes they can be a bit snooty or have their own interests in mind (see below), but usually they want you to get the best wine that you'll enjoy.
Help the sommelier help you.
Now that you've gotten the attention of that in-house wine expert, give that person some information that can help him or her you make the best choice possible.
Three things can help:
Provide a price range. If you don't want to specify it out loud, perhaps point to a wine or two and say you want something "around that level."
Talk about which foods people are ordering. If you give the person an idea of what people at the table will be having, he can tailor the wine selection to that. You'll need something different if you're having the ribeye and porterhouse, as opposed to the tilapia and chicken.
Offer some guidance in terms of wine type. If people in your party tend to like full-bodied reds, mention that. If you adore sweet German Rieslings, blurt it out. It can help the server hone the recommendation to satisfy your taste.
Red flag: When the server suggests a bottle outside the price range or requested wine type. If your wait person has mysteriously gone deaf, or ignored what you said, beware of their recommendations. Occasionally, I've had sommeliers recommend a $100 bottle of wine, when I said I wanted something under $70. Or, if you said you like light reds and they send you to something full-bodied, you could be in for a disappointment and a big wine bill to further the pain.
Red flag: Be on the lookout for wines that the restaurant has incentive to sell above others.
I was dining recently at a very nice steakhouse, and the wine steward tried to push me toward a particular California red. He mentioned that the steakhouse had an exclusive deal with the producer, and this was the only place you could get that wine. Sometimes it'll be exactly what you want -- but in my case, it wasn't. It's possible the steward had some sort of incentive to recommend that wine above others. I ordered a different wine.
Don't be afraid to send the wine back.
I've sent only a couple of bottles back in my entire wine-drinking career, but every time I initially thought something was wrong with the wine, there was.
Use your judgment -- if you believe the taste is amiss, it probably is. (The caveat to this is that sometimes, wines that take a long time to open up, such as vintage Bordeaux, may taste a little strange at first. But there's definitely a difference in the taste.)
Red flag: Problems with the wine bottle or the service.
A waiter at an upscale restaurant once gave me a bottle of wine that had been opened "at the bar to save time." I didn't believe it for a second. The wine turned out to be bad, so it had probably been opened the night before or rejected by another table. If the bottle feels warm, or the restaurant doesn't do the whole wine-opening ritual with you, halt them pronto; insist that you get the full treatment.
Red flag: Pay attention for "refills."

Sometimes, a restaurant will bring new bottles of wine once you've finished the initial ones, without having asked if your party wants them. This is a rare event, but I've seen it happen at upscale restaurants, and particularly with large dinner parties where they think people won't notice, or expect that it's going to be a corporate expense. (This is also an issue with bottled water.) It may not happen but a sharp eye can save you bill pain later.
Follow these rules, and your friends and co-workers will be supremely impressed with your wine-picking savvy. Next time you have that fabulous dinner at Ruth's Chris (RUTH) - Get Ruth's Hospitality Group Inc. Report , Morton's (MRT) , Landry's Seafood( LNY) or Smith & Wollensky( SWRG) , you'll know exactly what to do -- and not do.