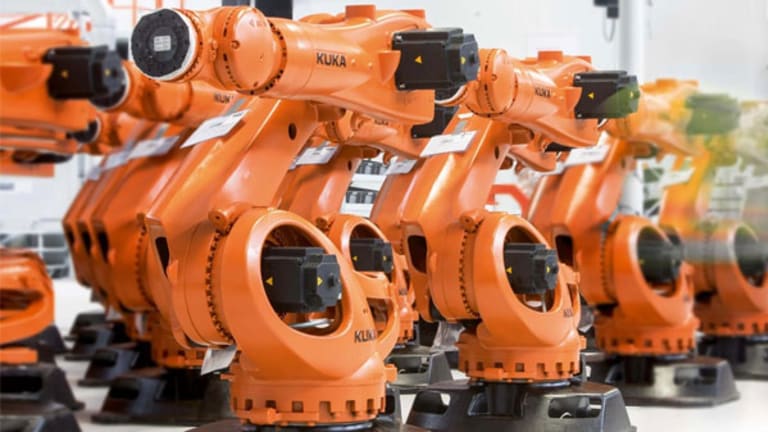 How to Pick a Robo-Advisory Platform That Fits Your Needs
More and more financial advisory firms are incorporating robotics into their portfolio practice management. But how do you find the right one for your practice?
As technology tightens its grip on the financial sector, more financial advisory firms are taking an "if you can't beat 'em, join 'em" mindset on robotics and are blending fin-tech portfolio models into their practices.
They almost have to, as clients are demanding more technology from their advisors and that's just what robotics delivers - computer-generated advice and services that are independent of a human advisor.
According to a January, 2017 study by New York City-based Accenture, seven in ten consumers around the world would welcome robe-advisory services -- specifically for their banking, insurance and retirement planning needs. Additionally, 80% welcome robo-advice for investments only -- a number that should grab the attention of any money manager.
The good news for financial advisors? Clients want face-to-face human interaction, as well.
"We found strong consumer demand exists today for robo-advice in all areas of financial services - banking, insurance and financial advice," says Piercarlo Gera, senior managing director at Accenture Financial Services.
While financial institutions may expect to benefit from internal cost reduction by providing customers with a robo option, Accenture's research found that consumers also expect first-class human interaction, too.
"Successful financial services firms will therefore need a "phygital" strategy that seamlessly integrates technology, branch networks and staff to provide a service that combines physical and digital capabilities and gives consumers a choice," Gera says.
More of What's Trending on TheStreet:
This Is Why President Trump Can Now Blame Apple for Atlantic's Reporting
As more investment advisory firms take steps to merge robo-advice into their businesses, what, exactly, should they be looking for in a good robotics portfolio management package?
Rick Frisbie, CEO of RobustWealth, a digital wealth management platform, outlines four features investors should look for when choosing a robo-platform:
Low fees. Nothing eats away at a portfolio's performance like fees, Frisbie says. "Some old-school providers charge between 30 and 40 basis-points, while more adaptable, low-cost platforms offer fees closer to half that price or less," he says. "Not all fees are transparent, so it's important to do some detective work and talk to your financial advisor to make sure you know what you're paying for."
Advanced trading algorithms. Is your robo thoughtfully rebalancing assets in the portfolio's framework for you? If not, it's not a true robo, Frisbie states. "Look for a platform that factors tax and trading costs into its algorithms," he advises. "Old-school robo's automatically trade when investments cross a certain threshold, regardless of the consequences. To mitigate what you owe Uncle Sam and reduce trading costs, choose a robo that is both tax and trading-fee cognizant."
Asset-based fees are charged only when your robo is on. Once you establish that a robo-platform will make smart trades on your behalf, double-check that you'll only be charged asset-based fees for accounts where robo is activated, Frisbie adds. "A flat recordkeeping fee may be charged for all accounts on the platform, but a robo-platform shouldn't take a chunk of assets out of accounts it is not actively trading," he says.
Open architecture and flexibility. Find a multi-custodial platform that can trade across in-kind stocks, ETFs and mutual funds. "Don't constrain your options by choosing a robo that only allows periodic trades," Frisbie says. "Markets trade all day long - not just once per quarter - so you should be able to adjust your investment models and asset allocations whenever you want."
As always, pricing is a big consideration for advisors seeking out robo-advice solutions, a situation that won't change anytime soon.
"I use Betterment for Advisors as the robo-advisor in my practice," says Humberto Portillo, owner of Financial Freedom Management LLC, an advisory firm based in Ramsey, N.J., and a Covestor portfolio manager.
Portillo says he wanted to find a platform that would allow him to cost effectively offer his services to people just starting out on their money and investing path. "My idea was to incentivize beginning investors by discounting my services and still provide a quality service," he says. "The important thing is to create trust and embark on a long-term relationship."
Betterment for Advisors filled that role for Portillo. "They arguably have the best user interface of all the robo-platforms out there and provide a number of educational tools for beginners, such as their RetireGuide," he says.
"When you add in the tax harvesting and automatic rebalancing features Betterment provides, you've got a platform for beginning investors that is better than even what more seasoned investors are getting today," he adds. "The low-cost point sealed the deal as far as meeting my objectives."
Even fin-tech entrepreneurs admit that there still remains a big need for human interaction, and that robo-advice works best as a package deal with a flesh-and-blood financial professional.
"Here in Asia, robo-advisory has taken off, as wealth grows and so does online penetration," says Elliot Braet, a spokesperson for Hive Up, a fin-tech financial planning startup. "However, urban Asia is still quite stuck in a dilemma, in that robo-advisory is incredible to help us work more efficiently and make
better decisions, but there still lacks that human touchpoint."
Face-to-face interaction is still a cornerstone when it comes to finance, as it provides comfort and a sense of security, false or not, in knowing that there is someone out there who is capable, Braet notes. "With this, there's no wonder that 90% of wealth is still owned by the banks, and not distributed across other platforms, many of which have a greater technological interface," he says.
When Braet's firm conducts user testing, many testers often say that, while the platform is "useful," they would only use robo-advisory to help them better plan their finances, while still wanting the human interaction. "Being referred to an advisor, or at the very least, being able to start in contact through chatbots with an existing advisor, is something they would still yearn for, especially when it comes to starting out with building a portfolio," Braet says.
"Advanced trading algorithms and open architecture are all part and puzzle of making robo-advisory great and accurate, but nothing can mimic the comfort of a hand shake and reassuring, transparent advice from a financial expert," he says.
For advisors looking for a robo-platform of their own, those are words to live by. The best robo-advisory platforms, it seems, won't work without that human element, even as they bring many other desirable attributes to the table.