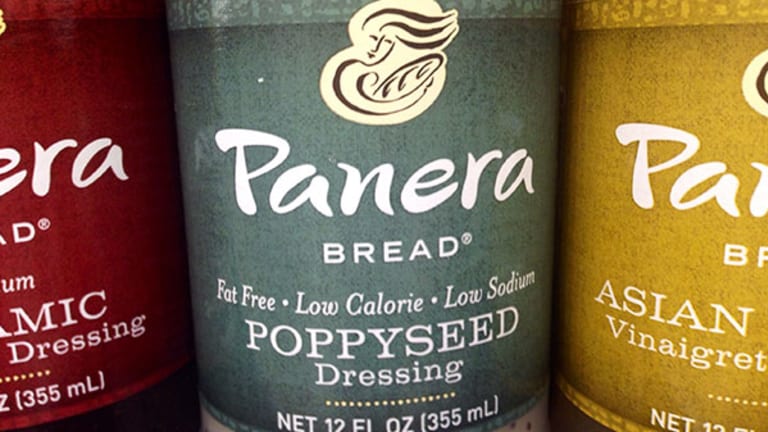 Publish date:
How to Make Some Bread as Panera Follows Amazon's Lead
The bakery-café has announced it will begin offering delivery service from all of its locations. Here's why investors should order up.
The bakery-café has announced it will begin offering delivery service from all of its locations. Here's why investors should order up.
Call it the " Amazon (AMZN) - Get Report effect"--Americans are proving that they would prefer to have everything they need brought straight to their doorstep. No longer do shoppers need to get in the car, drive to the mall, find a parking space, get out of the car, wander lost through labyrinthine department stores ... the list of inconveniences goes on.
Of course, this has led to the downfall of bricks-and-mortar retail, highlighted by the spectacular near-demise of Sears (SHLD) and the ongoing undoing of Macy's (M) - Get Report --as well as troubles for smaller mall stores such as Gap (GPS) - Get Report .
But clothing stores aren't the only tenants of your neighborhood shopping mall. Restaurants are suffering too. Year to date, mallrat favorite Ruby Tuesday (RT) has watched its stock plummet by more than 24%.
However, one restaurant chain is forging ahead and making profits, taking a page from Amazon's own book. And it's one of the most exciting growth stocks around.
Panera Bread (PNRA) has announced that it will offer food delivery services by 2018.
Panera Bread has been testing delivery service in a few select markets. And according to Dan Wegiel, the senior vice president of the program, called Panera to You, "We've found this to been a great success. Across our various markets, we've seen the demand for convenient and quality service grow, so we're committed to this."
According to the company, approximately 15% of Panera locations--roughly 300--already offer delivery service. To further build out this feature, Panera plans to hire about 10,000 more workers, mostly drivers. Orders can be made from the entire Panera menu but have a $5 minimum and a $3 delivery service fee added to the total.
Customers can make their orders either online or through the company's mobile app.
App ordering has become an important trend in the restaurant industry as life in the U.S. become more high-tech. Starbucks (SBUX) - Get Report , McDonald's (MCD) - Get Report and Dunkin' Brands (DNKN) - Get Report have all been experimenting with convenient mobile ordering, and even troubled Chipotle Mexican Grill (CMG) - Get Report is improving its order-by-app service to boost efficiency and cut wait times--two issues customers have repeatedly complained about.
Panera Bread is one of the leaders of the fast-casual restaurant revolution. The self-styled "bakery café" offers sandwiches, soups, salads, and baked goods that are ordered via counter service but are more expensive and health-focused than your average fast-food joint offers. The company also boasts a menu that is 100% clean--that is, without artificial ingredients, as well as taking measures to improve the welfare standards of the animals it harvests.
And as the rest of the restaurant industry struggles from an ongoing "restaurant recession" that has seen the entire industry slump. However, shares of Panera on the rise--by more than 20% year to date. Compare that to perennial favorite McDonald's, whose stock has increased by only 6% during the same time.
But there's still plenty of room for the company, which continues to improve its business and broaden its appeal by following larger-picture trends, such as offering home delivery. It makes sense--as more people prefer to shop at home, fewer are out at shopping malls or other retail centers where Panera restaurants are typically located, so fewer people are popping in for a quick bite. Might as well order some Panera bagels without having to put on socks.
Pocket $67,548 EXTRA With This One Simple Investment Change
Warren Buffett made $4.9 billion by making this one small change to his investment strategy. It's the closest you'll ever get to NEVER losing money while investing. I made $185 every day over 1,586 days doing this. Is it time for a change that will lead to more money in your pocket? Get the full details here.
John Persinos is an analyst at Investing Daily. At the time of publication, he owned none of the stocks mentioned.
Action Alerts PLUS, which Cramer manages as a charitable trust, is long SBUX.