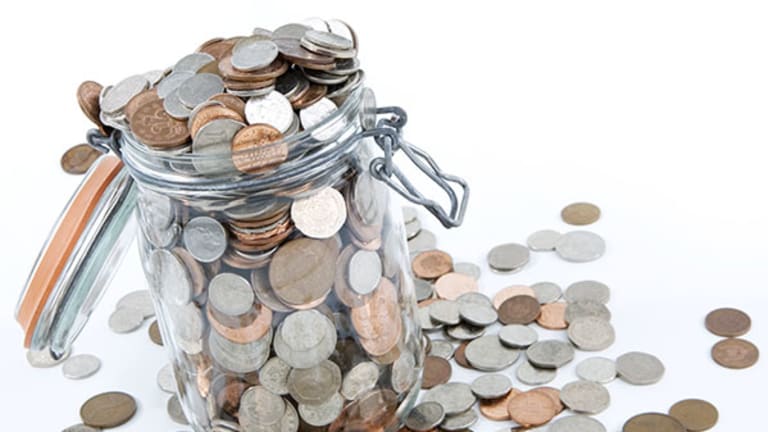 Publish date:
How to Invest in Penny Stocks
If you have extra money lying around that you're not afraid to lose, you may want to try trading penny stocks. The risks are big, but so are potential rewards.
If you have extra money lying around that you're not afraid to lose, you may want to try trading penny stocks. The risks are big, but so are potential rewards.
NEW YORK (TheStreet) -- You've most likely heard about penny stocks from advertisements you've read on the Internet or from emails you've received. If you've got some extra money that you'd like to put into the market to generate big returns, you may want to consider small-cap and micro-cap stocks. These stocks can be very risky, though, so you have to know how to trade them well.
There are several keys to trading penny stocks that you must know before you dive into the world of over-the-counter markets and pink sheets.
Know What a Penny Stock Is

Before we get into the real meat of this market, you should know what you're getting into and understand what penny stocks are. According to the Securities and Exchange Commission, here's the standard definition of a penny stock:
"The term 'penny stock' generally refers to a security issued by a very small company that trades at less than $5 per share. Penny stocks generally are quoted over-the-counter, such as on the OTC Bulletin Board (which is a facility of FINRA) or OTC Link LLC (which is owned by OTC Markets Group, Inc., formerly known as Pink OTC Markets Inc.); penny stocks may, however, also trade on securities exchanges, including foreign securities exchanges. In addition, the definition of penny stock can include the securities of certain private companies with no active trading market."
Typically, these stocks are highly speculative, and many of the companies behind these stocks don't have significant operations or reporting criteria.
Some are even considered shell companies, which means they are legally incorporated but don't have any real business operations. Shares of shell companies can be sold or hyped by unscrupulous brokers such as those depicted in the 2013 film The Wolf of Wall Street.
Financial filings offer clues about which companies are real and which could be fakes.
Words such as "development stage" or "emerging growth" are indications that a company is in the very early stages of business development. These kinds of companies are notorious for trapping investors in hype-and-fake stories, so if you come across filings with words like this, you should take a very close look at the kind of news these companies are putting out. If it seems good but doesn't have an official regulatory filing such as an 8-K to back it up, be very careful before choosing to invest.
Because of the speculative nature of penny stocks, they can have high levels of volatility compared with larger stocks traded on exchanges. If you can stomach that volatility, there are opportunities to make very large gains in short periods. Such volatility can also leave you with big losses, however.
That's why penny stocks -- or any other highly volatile or speculative investment -- should make up a small portion of your portfolio.
Many investors, both experienced and novice, choose to use only extra investment funds -- so-called play money -- for trading penny stocks.
"The speculative component in your portfolio should be no more than 5 percent to 15 percent of your overall investment portfolio," wrote Don Taylor, a business administration professor and chartered financial analyst, at Bankrate.
Get a Good Online Broker
There's nothing worse than not being able to place a trade immediately, and the old days of "phoning in" a buy or sell order are over, especially if you want to be able to daytrade specific stocks. It's better to open an account with an online broker than a traditional brokerage.
First, many traditional brokerages do not accept requests for daytrading penny stocks. Second, the time it takes to pick up the phone, reach a live broker, place an order and then have it executed is far longer than it would take to execute a trade with an online broker.
Here are some online stock brokers (in no particular order) that allow you to trade penny stocks:
The sign-up process is similar in most cases. The sites will ask you to fill out a secure form that includes personal financial information and risk assessments to qualify your account. Once approved, you're one step closer to trading penny stocks.
Know How Much You Need to Fund Your Trading Account
Opening funding amounts vary. The law requires a minimum equity requirement of $25,000 for a customer to be defined as a pattern daytrader. According to the SEC, "A customer who is designated as a pattern day trader may trade up to four times the customer's maintenance margin excess as of the close of business of the previous day for equity securities."
There are ways to open an account to buy and sell penny stocks even if you have less money, however.
There are still brokers that will take a minimum of $500-$1,000 to open an account, but these accounts may limit the number of trades you can make in a single period (often they restrict you to buying and selling a security on the same day to three times within three days).
Just know that different brokers will have different requirements, and you should consult them to find out exactly how much trading they will allow with smaller accounts.
Know What Types of Orders You Can Place
You've answered the question, "What is a penny stock?" You've picked out your online broker, and you've gotten your account approved and funded. Now you're ready to place your first trade. How do you do this? In the penny stock markets, most brokers will require you to place what is called a limit order.
This is done by setting the highest price you're willing to pay for a given security and then waiting for someone to fill your order. Granted, this may or may not happen every time.
If the price of a penny stock is moving higher fast, a lower limit order may quickly get bypassed as the stock skyrockets. In cases such as these, you may need to set a higher limit in order to have a chance of having your order filled. On the flip side, if there is a consistent market trading a penny stock, a limit order can be placed at the lowest asking price, or you can elect to offer the highest bid price and wait for someone to sell shares to you.
When it's time to sell, you can also use limit orders, but some brokers also offer what are called market orders. These are fulfilled at the market's best price, which may give you an easier exit but won't necessarily give you the biggest profit. Consult your individual broker before making any buy or sell orders and ask about the types of order processing it offers for penny stocks.
Know Why You're Trading Penny Stocks

Consider this scenario: You have $3,000 of extra investment capital, that "play money" we talked about earlier. Where do you want to put it? Well, for starters, you could invest it in something like Walt Disney (DIS) - Get Walt Disney Company Report or Apple (AAPL) - Get Apple Inc. (AAPL) Report, which are trading between about $120 to $130 per share. That amount of money could get your anywhere from 23-25 shares. These stocks have year-to-date returns of 26% and 12%, respectively, well ahead of the 2.7% year-to-date return for the S&P 500. Not bad. 
You can do a lot better, however, if you pick the right penny stock.
You could have used the same $3,000 to purchase shares of CannaGrow (CGRW) last October, when the stock was trading for about 5 cents. It moved to a high of $1.05 in early February, turning a $3,000 investment into more than $60,000. Timing your sale right at the high would have been tough, but even if you had continued to hold that stock until now, your original investment would still be worth $30,000.
Another example is
Enviro-Serv
(EVSV)
, which is worth far less than a penny. The risk here is that a simple .0001 move could make your investment completely worthless, but the upside is a 0.0001 move up could make your investment worth double or even more. This was the case with Enviro-Serv during the last three months. At the beginning of May the stock was trading at $0.0002 and within two weeks, the stock moved to highs of $0.0015. The $3,000 investment turned into as much as $19,500. Even if you had held it after the first run, the position is still worth roughly $4,500 ($1,500 more than it was worth when the investment was made).
Despite the increased risk of trading penny stocks, a relatively small investment can show significantly higher returns in a much shorter period of time than locking up the same amount of cash in a safer investment like that of a diversified group of exchange-traded funds, a mutual fund or large-cap stocks.
Volatility is your friend and your enemy in the penny stock world. It is the reason behind big breakouts as well as huge losses. So having a strategy advance is crucial. If you've told yourself that you'll sell stocks whenever they've risen 20% or that you'll sell whenever a stock has fallen 20% (to limit losses), you must stick to that strategy and refuse to let your emotions get in the way. The market is not a lottery.
Know Whether the Risk Is Worth the Reward
Penny stocks can be very sexy. Movies can make trading or selling stocks look easy, and who doesn't want to throw "fun coupons" off a multimillion-dollar yacht.
You still need to know that there is significant risk involved with an investment in penny stocks. These risks can range from simple market volatility to something more serious, such as completely bogus companies created for brokers to promote until prices rise, whereupon the brokers dump the stock, and poorly informed investors are left holding the bag. This is the classic "pump and dump."
Made famous in the film The Wolf of Wall Street, Stratton Oakmont was a real firm in the early '90s pumping real shares of fake companies to real people while dumping its own shares into the market. Investors lost lots of money, and the firm was shut down. The company's founder and its president were indicted for securities fraud and money laundering.
Today you may not get a phone call from an unscrupulous broker like those, but it is easy to get caught up in the hype of email newsletters. You can use these newsletters to get ideas, but you still have to do your own due diligence. Many of the penny stock newsletters our there have a disclaimer at the bottom that includes a section that typically states, "We aren't advisors, we've received compensation, we may own shares, and we plan on selling those shares immediately."
These people are paid to promote a company no matter how "real" it is. Does it have operations or is it simply someone's home office. Does it have revenue or is it "prerevenue"? Do its announcements have actual news in them or do they simply announce "plans" to do something over and over?
Remember that one of the most famous names in penny stocks wasn't that of a daytrader. It was John Babikian, a penny stock promoter who used the AwesomePennyStocks email list to hype penny stocks while selling his own shares.
Whenever you see one of these email newsletters, you must determine who's been paid, how much and whether they own shares.
Typically when a promotional campaign is initiated, there most likely will be larger shareholders selling shares they have had for years, just waiting for an opportunity to recoup their initial investments.
Penny stock-funding companies are notorious for disregarding the novice investor during times when a stock is seeing significant amounts of interest. In a recent article, Bloomberg covered an investment firm called Magna. The company's principal, Joshua Sason, has become associated with what's known as "death spiral financing." Firms like his will lend public companies money in return for debt that they can convert into stock at big discounts after an agreed-upon period of time.
When that time comes, these companies can convert that debt and then unload their shares on the market, crushing other shareholders.
There are other risks with penny stocks. Many OTC companies are not required to file certain financials or even required to be audited. The obvious risk here is that even if you do your own deu diligence, you may still find that there is limited information on certain penny stocks. Therefore, you would not be able to find out if there is a large third-party debt holder or toxic funding source involved with a company's capital raises.
That doesn't mean that some "fake" or debt-stricken companies aren't good for short-term trading, however.
If you are in the market with your play money to simply make a quick trade, what a company does tends to be less important than you making a winning trade.
In this case, things like stock promotions can be a benefit as they bring more hype to a dark or defunct company. Look at a promotion on a company last year, Cynk Technology (CYNK) , which ended up moving from 6 cents to as high as $21.95. The company itself had very little to offer as far as operations or fundamentals, and its stock price was purely driven by trading activity.
Today, however, Cynk no longer actively trades because of the evident heavy promotional activity combined with an obvious lack of any significant operations to back up the price increase. Many investors lost money when this stock was relegated to the gray market. Gray market stocks do not have an open bid/ask system, and to sell shares, you are going in completely blind when it comes to best price. Considering what some people paid for that stock, the losses were substantial.
If you had sussed out that this company was rallying even though it appeared to have no real operations, you could have made a quick trade but got out well before it hit the gray market.
Just the Beginning
If you can handle the risks and make timely, informed decisions, this is just the beginning of your penny stock trading journey. Hopefully this helped you get started on the right track to figuring out your taste in penny stocks. You'll come to find that some of these stocks take off like rocket ships, while others may crash and burn like the Hindenburg. It all comes down to timing the market and making sure you've got the right amount of information in hand to make you feel comfortable trading penny stocks.
This article is commentary by an independent contributor. At the time of publication, the author held no positions in the stocks mentioned.