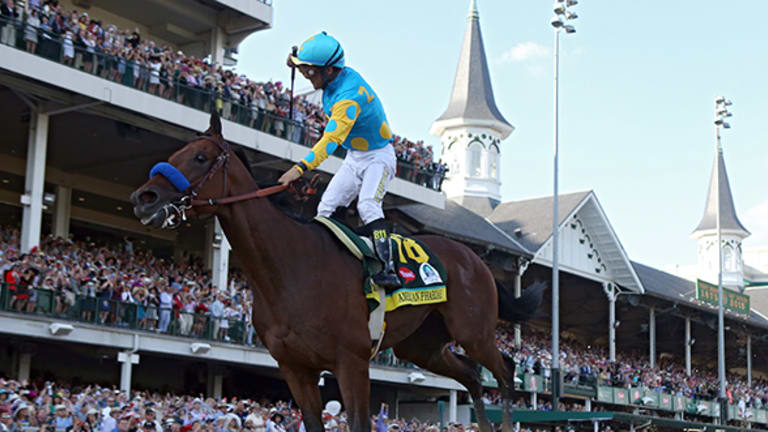 How to Invest in a Racehorse Even If You're Not a Millionaire
For those looking to diversify their portfolio while potentially giving their money a little giddy-up, investing in thoroughbreds is an exciting avenue to take, despite the risks.
For those looking to diversify their portfolio while potentially giving their money a little giddy-up, investing in thoroughbreds is an exciting avenue to take as an alternative investment, despite the risks. And it's possible to have some skin in the game at major races like the Kentucky Derby even if you're not a multi-millionaire and lack any horse sense at all. So is it high time to move from common stock to livestock?
Whether you have the means to buy a horse outright or want to use a bloodstock agent to buy essentially an index fund of colts, it pays as an investor to know how to get the most bang for your buck and what to look for to see if your horse is going to be a dud or a stud.
Even beyond the initial price of purchasing a horse - which on average is $60,000 and can quickly rise to seven-figures - the expenses for maintaining and training a competitive racehorse amount to some $55,000 annually.
Add in vet and travel costs, and the tab rises significantly from there. That's why the savvy investor may want to consider buying a yearling, a horse that is one year old. Because at that age the horses do not have a proven track record, the investor will get a more economical price, while relying on speculation for these fall auctions.
"An unraced male is 100% risk," said Barry Irwin, CEO Team Valor International, a racing syndicate in Versailles, Ky. "One must be prepared to kiss the investment goodbye when they write the check for payment."
It's important to note that investors are buying into a lifestyle, not just looking for a quick return.
"ROI cannot be determined by cash receipts because buying a racehorse is not a traditional investment," he added "A great part of the ROI is what the buyer receives from the experience of the venture. If one cannot enjoy and appreciate this aspect of the investment, he is likely to lose on all accounts."
That's the consensus - that if you're in it for the money, your wildly misguided because of the terrible odds.
Even though there's some $1 billion in purse prizes annually for race horses, the chances that you'll turn a profit or even get your money back are slim. In fact, according to noted bloodstock consultant Bill Oppenheim, each year only 2% of horses win $125,000, 4% win $100,000 and 6% win $90,000.
Of course, many recognize the lucrative potential of racehorse investing, despite the slim chances of picking a winner.
"Unless the client can afford to burn the check and accept any return as a bonus find another hobby," said Charles Gordon-Watson, who runs an eponymous bloodstock agency in the U.K. "Having said that, unlike all other leisure pursuits, horseracing does have the unique ability to be staggeringly rewarding financially if you are lucky enough to hit it right."
"I prefer yearlings because you have the 'dream-dream,' and nobody else has had the chance to screw the horse up," Gordon Watson said.
Sometimes these investments do payoff bigtime. Irwin recalls a horse named Animal Kingdom, in particular.
"We bred him but offered interests in him as a yearling for about $100,000," he said. "He generated a considerable amount of return, from his sale price to winning the Derby and World Cup and his eventual syndication. We sold significant interests in him twice in the seven and eight figures and he earned a net of more than $5 million just in racing."
So what are you looking for to pick a winner?
"I look for an athletic horse, a powerful walk," said Chad Schumer, founder of Schumer Bloodstock Agency in Louisville, Ky.
Investors should look for a "well-balanced body, front legs that point forward with no deviation on the joints or feet and an athletic walk," said Irwin.
In addition to conformation, which describes the leg alignment, and athleticism, racehorse expert and consultant Tony Cobitz recommends that investors zero in on pedigree.
"In terms of picking a yearling that may eventually be able to compete in the Kentucky Derby, pedigrees provide the most efficient process of elimination," he said. "I say that because in contrast to 40 or 50 years ago, only a very small percentage of American horses are bred to stay the ten furlong distance of the Derby."
In addition, investors should be looking at horse size and scope, which refers to a horse's ability to develop and grow.
Reducing Your Risk, Increasing Your Tab
Of course, finding the next Animal Kingdom at a yearling sale is unlikely. If you want to reduce your risk, you're going to have to pony up some serious coin.
An accomplished racehorse is much less risky, because its class level is established and it can and should earn racing income. Of course, that comes with a premium in price.
"I buy mostly horses that have raced a time or two instead of yearlings, because once a horse is seen in motion, the cat is out of the bag and they are infinitely easier to evaluate," Irwin said. "Movement is key to athletic success of a racehorse. Heart or courage can only be seen when a horse is under fire in a race, not walking at a yearling sale."
Prices for the upper echelon of Triple Crown prospects range from $600,000 to $10 million after they have shown elite ability.
"Normal horses that have ability and potential probably are worth three to ten times their yearling price after they have won well," Irwin said.
Of course, there's something to be said for paying more money to own a horse more likely to be a winner.
"I for one would rather pay the premium, because sometimes it takes 10 or 15 yearling buys to get one horse that you want, so why not just wait and buy one that has raced in order to reduce the risk?" Irwin said.
Thomas Clark, a bloodstock agent in Lexington, Ky., also recommends buying two-year-old horses at Breeze-Up sales.
"In a sense, it's a safer approach, because, as a yearling, you have only the ability to physically inspect a horse and watch it walk," he said. "[Buying at a Breeze-Up] gives a seasoned professional a look at how that horse will move at a faster gait."
While horses compete in major races at three years old and may run until four or five, beyond racing, they have extra value through resale, syndication as a stallion and stud fee earnings for breeding. Of course, very few horses go to stud, and still fewer actually earn significant stud fee income. Sure, Tapit, the top American sire, earns $300,000 for stud fees. America Pharaoh, last year's Triple Crown winner, earns $200,000 a pop. But generally, insignificant stallions can be bred for some $1,000 or less.
Investors looking to mitigate risk further, might consider a female horse. An unraced filly, depending on looks and pedigree, will have a more certain residual value. An accomplished female racehorse generally has from 40 to 100% residual value, Irwin said. Female horses can earn money by racing, resale and producing foals that can be sold as yearlings. Because fillies can all produce foals, they have residual value as producers, so they are a safer investment, according to Irwin.
Why Go Whole Hog, When You Can Go Part Horse?
Buying a share of a racehorse or shares of multiple horses can help investors mitigate risk. In security terms, instead of putting all of your money in a single stock, this is more like an index fund or ETF where your money is spread across multiple investments. 
"Figure out how much money you have available for a year and fund the acquisition of a fractional interests in a partnership," Irwin said. "It is a numbers game and the more shots you take, the better your chances. Spread your risk."
Investors can get in for as little as $500 and as much as $100,000 per interest. At Team Valor, the entry level investment during a year is as low as $3,500 and usually runs between $7,500 and $25,000.
"If somebody wants to invest in fractional interests, I would recommend googling 'thoroughbred racing partnerships,'" Irwin said. "My best advice is not to make an impulse buy, but instead thoroughly research the partnerships and see which one appeals to you."
In addition to Team Valor, notable partnerships include Westpoint Thoroughbreds and Eclipse Partners.
For a first place finish this year, the Kentucky Derby will award $1.24 million. The jockey's take will be 10%, and the agent will get 25%. There's additional cash given to the valets, so the owners will divide their share of the remaining 40% or so. Owning even a small share of a horse winning at this stage, which is rare, can deliver handsome rewards. But even a 3% stake in such a long-shot investment would deliver $22,320 -- in this rare instance, probably just canceling out your principal investment and management fees. If the horse is a true winner and continues to deliver in races, you'd see excellent ROI. And the real money would come long term with additional syndication and stud fees. 
Steve Zerda, managing Partner Z Thoroughbred Racing, believes in the virtues of partnerships for those who may be less knowledgeable about this industry.
"A partnership is a great way to learn about the ins and outs of racehorse ownership with only a fraction of the investment. Also the number of horses you can own a piece of increases by utilizing fractional ownership. Horse racing is a numbers game with a good horse many times funding less accomplished runners.
The payoff is organized and efficient.
ZTR sells partnerships in young unraced horses with shares as low as 5%. Some outfits go as low as 1%. Of course, investors have to pay their fair share, based on percentage ownership, of horse training, boarding, and travel fees; think of it as management fees. ZTR bills, for example, expenses quarterly at cost with no markup. The investor pays an estimated quarterly expense in advance and the amount is reconciled the following quarter against actual amounts. A quarterly share of expenses for 5% would typically be about $350 for a horse at Emerald Downs. ZTR distributes purse monies within two weeks of a race to partners by check via mail. All partners receive a K1 Schedule for their income tax returns each year. The partnership will dissolve when the horse is sold, claimed or retired.
As racing fans, however casual, get set to watch the 142nd Annual Run for the Roses, it could be time to start thinking about putting some skin in the game on the horsetrack in a manner other than betting. Unlike picking a losing stock, as long as you're not throwing away more money than you can afford to lose, you're guaranteed at least a certain satisfaction in your return.
"We talk about it as a lifestyle investment," said Terry Finley, founder of West Point Thoroughbreds. "Sure, it's a financial investment, but it's your family, your friends. It's coming out in the morning -- all of those things put together. If you're into it, it grabs you; it's the most amazing thing you're ever going to do."
Editors' pick: Originally published May 7.