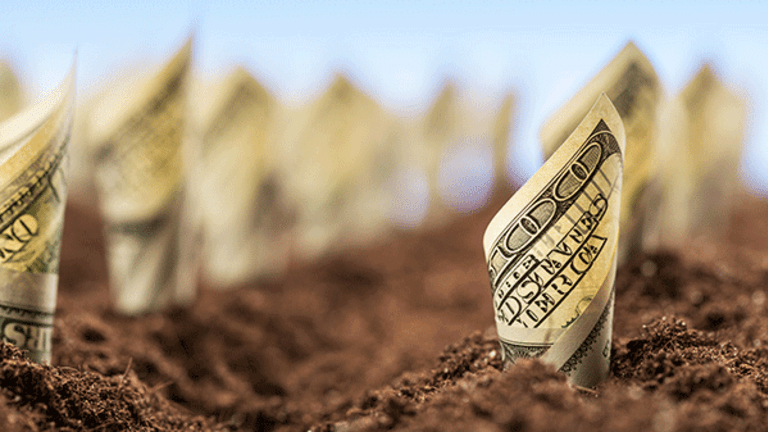 How to Dig Deep for Value in These Exuberant Markets
Look for beaten-down stocks that are trading at discounts to the value of their assets. Finding absolute bottoms in stocks is not as important as you may think.
This column originally appeared at 2 ET on Real Money, our premium site for active traders. Click here to get great columns like this from Jim Cramer and other writers even earlier in the trading day.
In these markets, it's difficult for a deep-value player to maintain sanity. As a value investor and asset manager, I am faced with a tricky problem: What on Earth do I buy? 
I have often quoted the excellent work of FactSet's earnings analyst, John Butters, in my Real Money columns. His report last Friday described the current market valuation perfectly: 
"The current forward 12-month P/E ratio of 17.6 is now above the four most recent historical averages: five-year (15.2), 10-year (14.4), 15-year (15.2) and 20-year (17.2). In fact, this week marked the first time the forward 12-month P/E has been equal to (or above) 17.6 since June 23, 2004." 
So the market's valuation is at a 12.5-year high, and remember, the "E" of the P/E for 2017 -- $131.57 for the S&P 500 based on FactSet's consensus, implying 10.2% growth for 2016's level -- is still overly aggressive and will be subject to consistent downward revisions as we move through the year. 
So stocks as an asset class are overvalued, and finding individual names that meet value criteria is a challenge, to say the least. That old tried-and-true method of looking for "beaten down" names is almost a fool's errand, at this point. 
As of Wednesday's close, there were a grand total of 30 stocks trading at 52-week lows across the three major exchanges vs. 117 names trading at 52-week highs. That list of 30 laggards is not exactly full of household names, and most likely does not constitute an attractive subportfolio. If you believe people will give up the internet and go back to shopping at the mall (think Limited Brands (LB) - Get L Brands, Inc. Report ),  start using TripAdvisor (TRIP) - Get TripAdvisor, Inc. Report again, or you have some knowledge of specific science being produced by biopharmaceutical companies like Galena (GALE) and Catalyst Biosciences (CBIO) - Get Catalyst Biosciences, Inc. Report , feel free to take a shot at a beaten-down name. Just remember that doing so requires extreme caution and massive amounts of due diligence. 
I believe it is wiser to search out sectors that are still beaten down, and look for individual stocks that are trading at discounts to the value of their assets. Finding absolute bottoms in stocks is much less important (and, in my experience, darn near impossible) than taking advantage of dislocations and miscalculation of intrinsic value. 
Energy is certainly a candidate, but with oil prices at levels that are cash generative for E&Ps ($54.40 a barrel for West Texas Intermediate, $56.60 for Brent crude at this writing), I believe the time for buying the independents has passed. As much as I love E&P companies, especially those in the Permian like Diamondback (FANG) - Get Diamondback Energy, Inc. Report , RSP Permian (RSPP) and Callon Petroleum (CPE) - Get Callon Petroleum Company Report , I do believe valuations have caught up to fundamentals. I am not buying those names today and would only do so on a pullback. 
I believe the most attractive sector for investment is dry bulk shipping. I have been writing RM columns on the dry bulk sector in general and my firm's largest holding, Navios Maritime (NM) - Get Navios Maritime Holdings Inc. Report , incessantly for the past 13 months. My editors may be sick of reading them, but as an asset manager, my clients are glad we own them. 
But it's not too late to buy. In the past two days, I have listened to conference calls by Navios and competitor Star Bulk (SBLK) - Get Star Bulk Carriers Corp. Report and am heartened by both managements' upbeat outlooks. The book-to-fleet ratio for dry bulk is the lowest it has been in 15 years, and China's insatiable demand for imported iron ore, coal and grains is actually showing signs of acceleration as we move into 2017. 
One could look at the charts and see NM shares have risen 136.5% in the past 12 months and SBLK shares have risen 232.5% over the same period. According to my calculations, however, Navios is still trading today at less than 50% of net asset value. The move in NM from 80 cents per share to $1.91 has been a beautiful thing for my clients and me, but we are certainly aware that as recently as mid-2014 Navios shares were bumping up against the $10-a-share mark. 
So value may not be immediately obvious in these exuberant markets, but there still are pockets of it, if one is willing to dig into underfollowed sectors. I believe that is a worthwhile pursuit.
At the time of publication, Collins was long NM, although positions may change at any time.