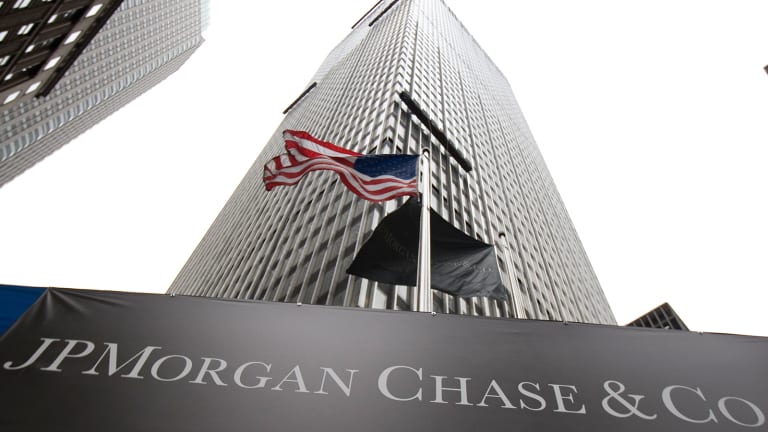 How the GOP Could Kick Dodd-Frank to the Curb -- Without Helping Wall Street
The biggest U.S. banks may be in for a rude awakening: House Financial Services Chairman Jeb Hensarling would change the playing field for companies like JPMorgan Chase and Citigroup.
Wall Street often chafed under reform measures passed by a Democratic Congress after the 2008 financial crisis that included higher capital reserves and a ban on proprietary trading.
A new proposal from a GOP-controlled legislative branch, however, is unlikely to improve the situation, says Dick Bove, an analyst with Rafferty Capital Markets.
The CHOICE (Creating Hope and Opportunity for Investors, Consumers and Entrepreneurs) Act would allow banks to escape provisions of the 2010 Dodd-Frank reform law -- such as a ban on trading for their own profit and the Systemically Important Financial Institution, or SIFI, label that subjected them to greater regulatory scrutiny -- by boosting capital buffers to 10% from about 6%.
The plan, which House Financial Services Committee Chairman Jeb Hensarling of Texas outlined Tuesday, would also eliminate Dodd-Frank's system for winding down collapsing financial institutions in an orderly manner, which he says gives preferential treatment to "too big to fail" banks, in favor of traditional bankruptcy.
The changes are necessary, he argued in a speech at the Economic Club in New York, because Dodd-Frank ultimately failed, stifling economic growth, increasing bond-market volatility and curbing liquidity.
"While a 10 percent leverage ratio may seem high by current standards, history suggests it is far from abnormal," Hensarling said. "Prior to the founding of the Federal Reserve and the creation of federal deposit insurance, i.e., before banks benefited from a federal safety net, the U.S. banking industry's ratio of tangible equity to assets ranged between 13% 16%, regardless of bank size."
What the proposal fails to acknowledge is that "in those periods in history, bank failures were much greater than they are at the present time," Bove said in a phone interview following the speech.
Indeed, period prior to the founding of the Federal Reserve in 1913 and the Federal Deposit Insurance Corp. in the 1930s was marked by numerous bank runs and financial crises, including the so-called "panics" of 1796, 1819, 1837, 1873, 1901 and 1907.
"By forcing a 10% common equity-to-asset ratio on the big banks, it's basically mandating that they have to shrink and they have to shrink substantially," he added.
The current leverage ratio is at least 3% for banks under the international Basel accords, and 6% for globally systematically important institutions, whose failure could imperil the broader economy.
The U.S. Financial Stability Board counts 30 banks in the latter group, with U.K.-based HSBC (HSBC) - Get HSBC Holdings Plc Report and U.S.-based JPMorgan Chase (JPM) - Get JPMorgan Chase & Co. Report topping the list . Other U.S. banks on the list included Citigroup (C) - Get Citigroup Inc. Report,Bank of America (BAC) - Get Bank of America Corp Report , Goldman Sachs (GS) - Get Goldman Sachs Group, Inc. Report , Morgan Stanley (MS) - Get Morgan Stanley Report , Bank of New York Mellon (BK) - Get Bank of New York Mellon Corporation Report, State Street (STT) - Get State Street Corporation Report , and Wells Fargo (WFC) - Get Wells Fargo & Company Report .
Citigroup and Wells Fargo are holdings in Jim Cramer's Action Alerts PLUS Charitable Trust Portfolio. Want to be alerted before he buys or sells the stocks? Learn more now.
"Dodd-Frank's false premise is that an alchemy of Wall Street greed, outsized private risk and massive Washington de-regulation almost blew up the world economy," Hensarling said. "According to their narrative, this necessitated massive taxpayer bailouts and a functional occupation of our capital markets by federal regulators."
By rejecting that line of thought, Hensarling hews to a GOP ideology painting Washington, D.C., as a source of problems rather than solutions.
It wasn't deregulation, like the repeal of a Depression-era law that barred banks from using depositors' cash to speculate in the markets, that prompted the 2008 crisis, Hensarling said, but "dumb regulation."
Among such ill-conceived rules were affordable housing goals, set up in a 1992 law at the end of President George H.W. Bush's administration, that encouraged Fannie Mae and Freddie Mac to make "bad loans," Hensarling said.
That, he said, is what prompts his concern about governmental vices such as "the greed of Washington elites for more power and control over our economy, our lives, and our liberty."
The CHOICE act will try to curb that in part by placing agencies like the Consumer Protection Financial Bureau, the Office of Comptroller of the Currency, and the Federal Housing Finance Agency under the control of bipartisan commissions rather than an appointed director, Hensarling said.
Additionally, financial regulations would have to be approved by Congress before becoming effective. The Financial Stability Oversight Council, created under Dodd Frank, would no longer be able to apply the SIFI label and its previous designations would be revoked.
The Federal Reserve is not off limits either, though Hensarling's bill wouldn't attempt to interfere with the central bank's monetary policy powers. It would, however, see its emergency lending authority restricted, and the budget for its regulatory operations would have to be approved by Congress.
As for Wall Street, the new law would "impose the toughest penalties in history for financial fraud, self-dealing and deception," tripling fines in cases involving ill-gotten gains, Hensarling said. 
Bove, however, remains unpersuaded. Ultimately, the plan devolves into a "small vs. big bank law," he said. 
"What he's trying to do is cripple the big banks to benefit the small banks," Bove said. "If the big banks have got to raise hundreds of billions of dollars in new capital, which they would have to do under a 10% ruling, the return on equity for big banks would plummet, and big banks would not be able to generate the amount of earnings they are generating at the present time, so the big banks would have to shrink."
That's a contention Hensarling didn't dispute in Tuesday's speech.
"Our goal should not be to downsize or super-size banks but to 'rightsize' them under market dynamics," the lawmaker said. 
Regardless of how it happens, shrinking large banks places them at a competitive disadvantage with their peers in China, the world's second-largest economy, Bove said.
"The Chinese are attempting to expand as rapidly as they can worldwide with their financial system, using the banks as the primary drivers," he said. "The Americans are doing everything possible that they can to shrink their position in the world financial markets to get American banks out of the world market."