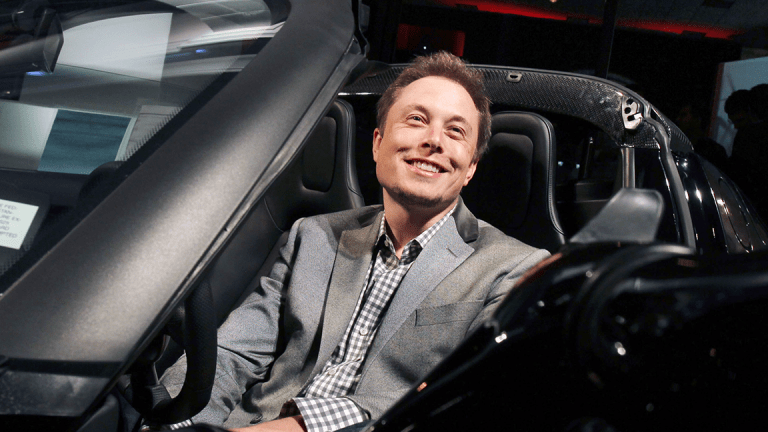 Publish date:
How Tesla Can Raise Capital and Not See Its Stock Get Killed
Raising capital would give Tesla a bad look right now -- unless it was to fund new operations in the opportunity-rich land of China.
Raising capital would give Tesla a bad look right now -- unless it was to fund new operations in the opportunity-rich land of China.
To raise or not to raise? That's the question that many have been trying to answer when it comes to Tesla Inc (TSLA) - Get Tesla Inc Report . 
In the mind of CEO Elon Musk though, raising capital isn't even a question. At least right now.
On the company's most recent conference call, Musk reiterated his desire not to raise capital, either through debt or a secondary stock offering. Instead, he still plans on Tesla being profitable and cash flow positive in the third and fourth quarter this year.
That would alleviate the company's financial needs for the time being, and when Tesla has better footing, perhaps it will then look to raise some more funds. Meaning that once production of the Model 3 is running more smoothly and its financial metrics are improving rather than worsening, raising capital in 2019 may be in the cards.
Everything you need to know about Tesla here.
But why not now? Raising capital now would do so at a wrong time, at least from the standpoint of perception, even if Tesla could use some extra cushion. While Tesla stock is holding up pretty well -- despite being one of the most heavily shorted stocks -- bulls and bears alike know the financial situation isn't exactly great.
From the fourth quarter to the first, Tesla saw its cash balance drop from $3.4 billion to just $2.7 billion, while its debt ballooned from $10.3 billion to $10.8 billion. It also slashed its CapEx budget for the year to $3 billion from $3.4 billion. Pledging its Fremont factory and going through a restructure shows just how badly Tesla doesn't want to raise capital.
If Musk & Co. hit their profitability targets in Q3 and Q4, Tesla may not need to raise capital, and if it does, it can do so with momentum working for them rather than against them.
But there is one way to raise capital this year without hurting the stock: China.
Tesla in China
At his core, Musk can sell -- and it's an essential piece to the Tesla puzzle. Without a charismatic leader at the helm, there's no way Tesla would have gotten to where it is today or received the level of funding it has. So we know Musk could tell a promising story on China to get investors excited.
More so, the news on China is promising when it comes to Tesla. Not long ago, the country announced that it would no longer limit manufacturers to 50% ownership in the country. Previously, automakers like Ford Motor Co (F) - Get Ford Motor Company Report and General Motors Co (GM) - Get General Motors Company (GM) Report   either had to deal with hefty import taxes or could manufacture in China, but not own more than 50% of the operation. Instead, they had to use joint venture (JV) partners, which they opted to do because the opportunity in China was so vast. 
GM has found value in using a JV partner and plans to stick with them (rather than buying them out) going forward. As a result, we recently discussed whether Tesla should use a joint venture partner in China as well. Because Tesla can own and operate 100% of its operations in China, it can realize 100% of the potential reward. However, it's also on the hook for 100% of the potential risk, too.
Anyone who's seen how Tesla's production is going in the U.S. knows it's not a cheap endeavor. It will cost Tesla billions to get up and running in China on its own and that's assuming that things go well from an execution standpoint. Currently, the automaker doesn't have billions to invest in such a move.
But that's where a successful capital raise could come into play.
If Musk can pitch investors on the promise and its plans for China  -- where electric car sales are booming at the moment and where there's substantial demand for Teslas -- I would stack my chips on the side of Tesla raising funds successfully. Particularly if Musk buys stock in the offering too.
Investors have lapped up secondaries from Tesla before and with the "China apple" being dangled in front of them, they'd likely go for it again.
There's no question that Tesla could do it, but it's a matter of whether management will. They've been pretty clear on not wanting to raise funds this year, even though it's pretty clear the automaker could use it. But this is one-way management could do so and receive cheers from investors rather than scorn. 
This article is commentary by an independent contributor. At the time of publication, the author had no positions in the stocks mentioned.