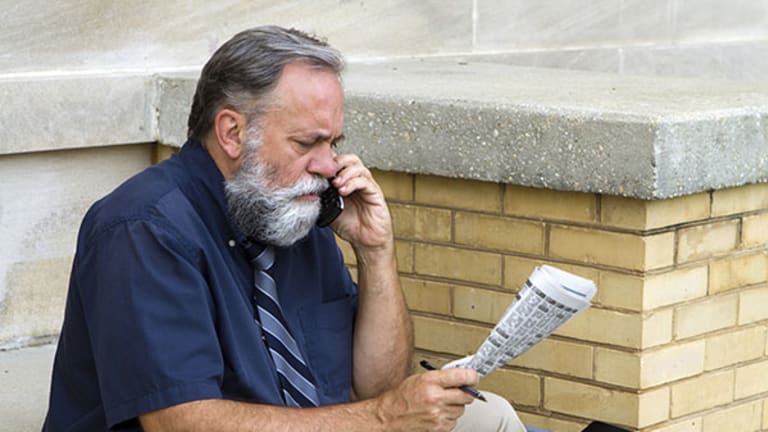 How Tech Trumps Inflation; It's a Bad Time to Be a Unicorn: Jim Cramer's Best Blogs
Catch up on Jim Cramer's ideas from this past week as he discusses how job-killing technology will keep inflation in check, and why most 'unicorns' should not IPO anytime soon.
NEW YORK (Real Money) -- Jim Cramer fills his blog on RealMoney every day with his up-to-the-minute reactions to what's happening in the market and his legendary ahead-of-the-crowd ideas. This week he blogged on:
Why the real reason we're "safe" from inflation is the job-killing power of technology.
Why most so-called unicorn companies are destined to disappoint investors.
Click here for information on RealMoney, where you can see all the blogs, including Jim Cramer's -- and reader comments -- in real time.
Why Raise Rates When Technology's Around?
Posted on Sept. 17 at 11:39 a.m. EDT
Faster, better, cheaper, more with less. That's the undercurrent of every executive's sales pitch out here in San Francisco. You bring their wares in, your company saves money while growing revenues, the holy grail of all successful operations.
But the word these tech chieftains don't talk about is "lower," as in hiring lower-waged people to do the remaining jobs that aren't wiped out by the automation they are promoting.
As I talk with technology leaders, I realize their innovations are perhaps the reason why there's no need to raise interest rates in this country despite strong employment. That's because it's not the kind of rising employment that the Fed needs to fret about. Innovation like what we see on display at the Dreamforce conference is all about companies paying less money to whoever's left in the enterprise after the new technology eliminates the middle manager and the minions who support her.
Sure, there's a bidding war for the highest-level talent out here. However, that's because there is a shortage of code writers, a shortage of computer scientists and computer engineers. Blame the U.S. school system on that, though, something the Fed can't control. Other than that esteemed cohort, there's a surfeit of individuals searching for decent, higher-waged jobs.
You know why there's such a battle to raise the minimum wage all over the country? Technology, that's why. If state and federal governments didn't artificially try to get wages up, they would most likely be plummeting via innovation.
There's a surplus of laid-off, once-higher-paid workers whose jobs have been destroyed -- or we can use the euphemism "disrupted" -- by the technology that's invented 24-7 here and around the nation.
Take Salesforce.com (CRM) - Get salesforce.com, inc. Report . A principal emphasis of this company is to be able to run your business on your cellphone, no matter whether you manage General Electric (GE) - Get General Electric Company (GE) Report or Home Depot (HD) - Get Home Depot, Inc. (HD) Report or Philips (PHG) - Get Koninklijke Philips N.V. Sponsored ADR Report or a host of companies in pretty much every single industry. Think about how many people can be replaced by such a powerful platform. Salesforce.com makes it so the only people you need are revenue producers. Not the expensive support staff. (General Electric is part of TheStreet's Dividend Stock Advisor portfolio.)
You don't produce revenue, you are surplus, dead wood, to be chopped to raise productivity and margins. Consider Amazon (AMZN) - Get Amazon.com, Inc. Report . Here's a company that's about replacing those who build stores, those who sell product and those who support those sales. You cut those people out, as Amazon has, and all you have left are lower-paid people who put things in boxes. (Amazon is part of TheStreet's Growth Seeker portfolio.)
You think Airbnb creates jobs? It creates wealth for those who want to make more money on their living spaces. But it can stop the hotel industry's expansion in its tracks. Or how about Workday (WDAY) - Get Workday, Inc. (WDAY) Report ? That's about automating the human capital management portion of the enterprise. HR doesn't produce revenue, so minimize it. Nor do the people who build and service on-premise computing. Hence why the cloud saves so much money. You don't need nearly as many workers to manage the information flow. Using artificial intelligence, the machines figure out how to interpret and organize the data, replacing thousands of high-paid analysts.
Technology's doing that all over the country. Notice how oil production's not going down that much despite lower oil prices? That's all about technology. The oil service industry's been able to discover and drill and produce for far less than even two years ago, eliminating the highest-paid people in the process.
What do you do with all of those leftover people? They cobble together work lives by begging for the low-paid, part-time tasks that algorithms dictate and assign. Technology's building a people-less society that's inherently deflationary.
That's why there's no reason to raise rates. Technology's doing the job for the Fed. I just hope the people running the Fed, so far removed from what's happening on the ground, understand that higher-paid jobs vanish every day, disrupted by the brilliant minds that surround me here in the Silicon -- not the human -- valley.
A Memo to Unicorn Companies
Posted on Sept. 16 at 4:11 p.m. EDT
We keep hearing about unicorns, these billion-dollar companies waiting in the wings, with amazing valuations and pure paths to disrupt existing technologies. We know them all, we hear of them and we hear of eager anticipation and ever higher valuations for them all, including Uber, Airbnb, Square, Pinterest and so many others that sound and are so exciting and are even ingrained in our lives before we even realized it.
Right now there's a frenzy out here in San Francisco. I am more afraid of being hit by a speeding fastball of money being thrown at a start-up than I am of anything the Giants can throw from the mound. These prospective public companies are being bid up by the same investors over and over again and they scream hot, hot, hot.
But, I say, hot to whom?
Just like what Clint says in that seminal stock movie, Magnum Force, "A man's got to know his limitations." I don't know nearly as much as everyone at Dreamforce, where I am coming from in San Francisco, to determine winners and losers. I don't know which ones are part of a bubble and which ones are ingrained in the firmament.
But I do know one thing they don't out here: I know the stock market and I can tell you that this stock market is uniquely inhospitable to pretty much every single unicorn out there save two. That's right, these venture capitalists can speak endlessly about total addressable markets and the destruction of current competition as we know it. But do they know anything about the real end market? The stock market? Do they know about that kind of demand that ultimately controls the profits the insiders can make?
I do, and to be honest, we don't want any of these companies to come public, because we don't have enough of what these companies really need: money on the sidelines coming in to buy these deals.
Now, let's be sure, I am NOT talking about Airbnb and Uber, which are NOT valued at ridiculous valuations because they are used by so many people that there will be an appetite for both retail investors and institutional investors. These will most likely be bid up huge, not unlike Facebook (FB) - Get Facebook, Inc. Class A Report or Alibaba (BABA) - Get Alibaba Group Holding Ltd. Sponsored ADR Report . We have plenty of room for them, particularly if they limit the number of shares offered.
In fact, those two companies will mistakenly become the poster children of people who talk about a bubble brewing. Trust me when I say these two will make those pundits look like idiots because these companies are so pervasive worldwide, growing fast, and they offer so much value as to be unmistakably loved by the public, all of whom could be prospective buyers of newly minted shares.
No, I am not talking about Airbnb and Uber. I am talking about all of the so-called disruptive companies that make for a more shared, algorithmic economy that deliver things or crowd source anything or enable mobile payments and digital wallets and alternatives to everything allegedly disdainful to the average Joe. Many of the unicorns are variants of these kinds of technologies and let me tell you something, they look like a lot of the disappointments that current litter your screens every day.
Memo to venture capitalists and investment bankers everywhere. We are wise to your games. You will tell prospective buyers that if you want a piece of Airbnb or Uber you have to buy shares in Ubermenschen deliveryRatingscloudBankandeating corp, a business that not only brings you what you want and does what you want but is actually a total substitute for you so you can spend more time playing cool video games and pretending to work at your jobs.
Think of it. Look at the money that's been lost in the cool things that you may use: Yelp (YELP) - Get Yelp Inc Report , Box (BOX) - Get Box, Inc. Class A Report , Twitter (TWTR) - Get Twitter, Inc. Report , HomeAway (AWAY) , GrubHub (GRUB) - Get Grubhub, Inc. Report , Millennial Media (MM) , Rocket Fuel (FUEL) , LendingClub (LC) - Get LendingClub Corp Report and Etsy (ETSYF) . These are the "thanks for nothing" companies, meaning thanks for bringing public companies that ultimately killed our portfolio.
The unicorn companies follow in the footsteps of these companies and these footsteps led right into quicksand that engulfs so many money-losing portfolios.
I think the average investor has tired of exactly these kinds of stocks and without quid pro quos -- buy the couple of winners and take some of the losers -- many of these money-losing companies will find the IPO window nailed shut, boarded up and even, in some cases, armed with claymore mines and quad fifties trained on them.
So, memo to many of the unicorns out there: Never forget that your real end market isn't the consumer, it's the stock customer and in this miserable environment you aren't welcome until you grow not just a horn but some profits, which in many cases are as rare as, well, unicorns themselves.
Action Alerts PLUS, which Cramer co-manages as a charitable trust, is long FB and TWTR.