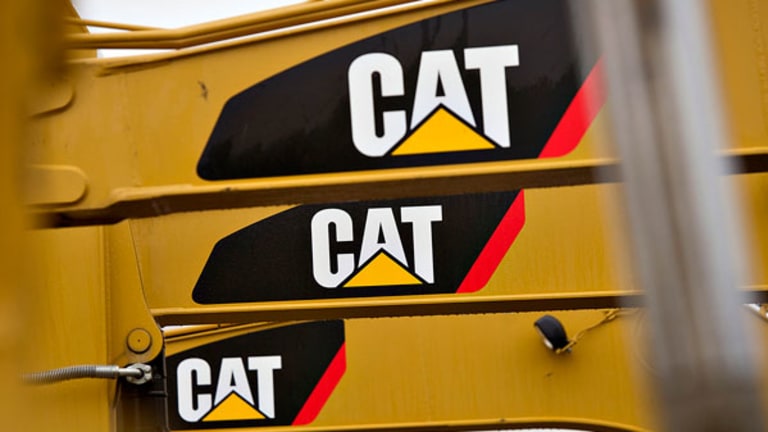 How Stocks Fall Without Getting Cheaper; This Stock Is 2016's Best Story: Jim Cramer's Best Blogs
Catch up on Jim Cramer's ideas from this past week when he wrote about a counter-intuitive value shift in stocks, and heaped praise on a social media powerhouse.
Jim Cramer fills his blog on RealMoney every day with his up-to-the-minute reactions to what's happening in the market and his legendary ahead-of-the-crowd ideas. This week he blogged on:
Why a declining stock price sometimes translates into a more expensive stock value.
What makes Facebook the story of the year ... or possibly even the decade.
Click here for information on RealMoney, where you can see all the blogs, including Jim Cramer's -- and reader comments -- in real time.
Stocks Can Get More Expensive as Their Price Falls
Posted on Jan. 26 at 7:05 a.m. ET
Not all stocks get cheaper as they go down. That's the lesson with the stock of Caterpillar (CAT) , which reports Thursday and it is, unfortunately, incredibly instructive at this difficult moment for Cat's stock specifically and the market in general.
First, let's stipulate some things. No one disputes that Caterpillar makes fabulous machinery. I have been around long enough and spoken to enough CEOs who have bought Caterpillar equipment that its top-notch quality is a given. I mention that because, typically, if you make the best product, and are therefore best of breed, it should matter in the equation.
Right now, though, it doesn't. It is completely irrelevant that Caterpillar's got a long history of excellence dating back to 1886. Nor does it matter that the company's been public since Dec. 2, 1929 -- OK, an inauspicious year, but you get the picture.
What matters is that Caterpillar sells equipment worldwide that's purchased for massive construction projects of all sorts, roads, or buildings, or housing developments or commodity extraction and processing. Right now, sadly for CAT and many companies caught up with these same customers, there's a sharp drop in demand, much more than would have been anticipated just 18 months ago.
How sharp? While I don't expect it to be as vicious as the 2008 to 2009 period when Caterpillar's earnings went from $5.83 to $1.45 as a consequence of the Great Recession, I do expect the decline to be brutal. However, unlike the Great Recession, when Caterpillar's earnings bounced back almost immediately, first to $4.28 in 2010, then to $7.64 in 2011 and all the way to $8.71 where they peaked in 2012, I expect no similar bounce back.
This time, when the company reports Thursday, I expect to see the fourth quarter very weak -- Wall Street analysts are looking for $0.69 vs. last year's $1.35 -- and the earnings for 2016 to come down dramatically from the $4.58 CAT may have made last year.
And therein lays the problem. Caterpillar seems dirt cheap down here, if you look at the rearview mirror. With the stock at around $57, you are looking at a company that would be selling at 12x 2015 earnings and less than 9x 2014 earnings. Remember the average stock in the S&P 500 sells at 16x earnings, so you are getting CAT at a huge discount. But hindsight is 20-20.
If Caterpillar earns, for example, what Goldman Sachs says it will earn in its Friday evening downgrade from "hold" to "sell", namely $3.51, that would put its price-to-earnings multiple at 16.5x forward earnings, which is more expensive than the average stock.
But are its prospects better than the average stock? I would argue, no, not at all. Given that 60% of its earnings come from overseas, I would contend that its prospects are far worse. Or, to put it in English, because Caterpillar's future earnings prospects are so murky, we can't use past history to judge the stock.
But, you say, can we value Caterpillar another way? For example, even in this hideous environment, the stock of Verizon (VZ) went higher after it reported a good number, and given that Verizon gave you a 5% yield going into that quarter, it was worth the risk. Caterpillar now yields almost exactly what Verizon yielded, so why not bet that Caterpillar's got the same dividend support to embolden you to buy it ahead of the quarter?
Simple, because if Caterpillar earns as little as Goldman says it will, then Caterpillar will be spending too much money on its dividend and it would be too risky to bet on that support holding. We've seen this dividend risk develop with many a mining and oil stock here, why can't it happen to a company that's a principal supplier to those companies?
Plus, unlike the last downturn, when Cat's earnings came right back, the cutbacks in capital spending announced recently for the oil, gas and mining companies are monstrous and could be long-lasting if commodities don't turn around in price. Given how weak demand is in China for minerals, and how strapped the oil and gas companies are, I think we are looking at a prolonged decline in orders and earnings. Making matters worse, with 60% of its earnings coming from overseas, the strong dollar will play havoc even with those results.
So, the bottom line is that as Caterpillar's stock goes down, it actually gets more, not less, expensive relative to earnings, and riskier, not safer relative to that yield. And that's why, even down here, the Goldman sell rating seems reasonable and the worries for this great company well-warranted.
7 Reasons Why Facebook Is the Best Story of the Year
Posted on Jan. 28 at 7:28 a.m. ET
First things first: Mark Zuckerberg, please take more paternity leave. One third of this remarkable quarter from Action Alerts PLUS charity portfolio holding Facebook (FB) came during your first month off with your family's new addition.
OK, all kidding aside, the move up in Facebook's stock this morning makes a ton of sense, given that this quarter may be the single best quarter anyone has ever seen. It ticked off every box that stock buyers want to see:
Accelerating revenue growth as quarterly revenues increased 52% and 60% on a constant currency basis, a speed-up from the 44% jump or 53% constant currency for the full year. That's so fast that who even cares about the strong dollar impact on this amazing growth company?
Fed, hold your ears: The company had no economic sensitivity whatsoever, with CFO David Wehner saying "we didn't see anything in Q4 that indicated broad-based macro weakness beyond foreign exchange."
Unlike virtually every single internet company, Facebook can charge more for mobile ads than desktop, which is how more than 80% of its more than 148 million people use Facebook daily, because it has what Zuckerberg said is a "better, more engaging experience."
Yet despite the 100 million hours of video watched daily, Sandberg points out the advertisers have yet to catch up with consumer adoption, even as 2.5 million companies advertise on Facebook. Sandberg says Facebook is under-indexed as an ad medium, despite its tremendous return for investors, including a 20x return for Shop Direct, the U.K.'s second largest online retailer, and an amazing uplift for Halo 5, from Microsoft , a far better medium for video game introduction than any other. "We want to be the best dollar, best ever euro, the best ever pound and the best minute you spend," Zuckerberg says they tell advertisers, and there is no doubt he means it.
This company doesn't have to buy back stock or increase the dividend, because unlike virtually every company I have seen in these slow growth days, the spend gives the company an instant return, which is why you don't have to be wary of the increased expenses, you want them to accelerate. It is going to spend two times what it currently does on Instagram, WhatsApp and Messenger, the latter two not even being monetized, even as Instagram ads out of nowhere are becoming a major stream of revenue. It is going to spend three times on artificial intelligence and virtual reality, because it expects the returns there to be even more massive.
It's entirely possible that Messenger, with its 800 million users, which just grew by 250 million people and WhatsApp, the much ridiculed $19 billion purchase, could be as big as Facebook and Instagram, and Zuckerberg's so confident that he waived the fees for the latter. The monetization stages will be like the Instagram, the mostly maligned $1 billion purchase, once they build a better consumer experience that Zuckerberg says "helps share in a new way that's really important."
The $2 billion Oculus Rift acquisition from less than two years ago is about to explode in a big way, as it is targeting the 250 million Xbox, Playstation and Wii users. Although the company will be supply constrained for the various devices, you are going to see a significant revenue stream from this division in the very near term. It will be hard to see how bricks and mortar advertisers can pass it up, either, especially as it, along with all of the other mediums, dovetails well with television.
How did this all happen? How did Facebook, which initially seemed so mobile-unfriendly, become such a powerhouse for users and therefore advertisers? Simple, Zuckerberg says, "I told all of our product teams when they come in for reviews, really just come in with mobile. If you come in and try to show me a desktop product, then I am going to kick you out. You have to come in and show me a mobile product." He said what he called this "crude leadership tactic" allowed Facebook to develop a great consumer experience, something that is actually enhanced by advertising based on science and art.
All of these changes have created a stock that has gone from relatively expensive at $94 to somewhat cheap at $110, because it now seems that $5.50 could be in the cards for 2018, the length of time you should look at when creating a price to earnings multiple. Who wouldn't pay 20x earnings for this monster?
And that's how you get to the best news story of the year, frankly, if not the decade. Facebook could, like Netflix (NFLX) , change the way we view entertainment, or Google (GOOGL) change the way we research, or Growth Seeker portfolio holding Amazon.com (AMZN) change the way we buy, which is why it is now the cheapest of the high-growth FANG.
At the time of publication, Jim Cramer's charitable trust, Action Alerts PLUS, was long FB and GOOGL.