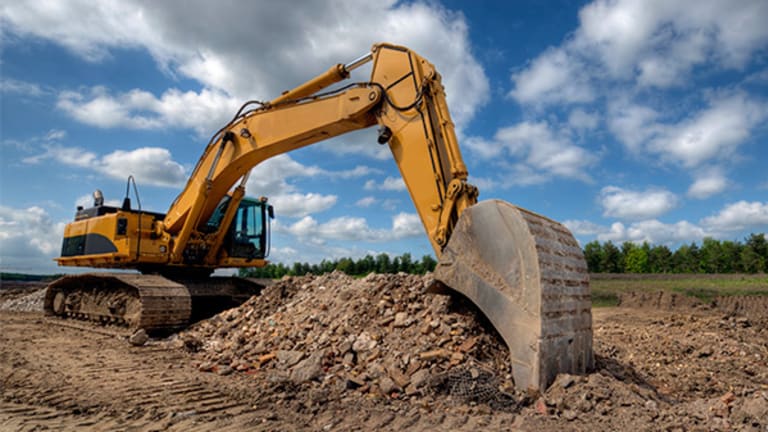 How's Caterpillar Doing? Check These 2 Companies' Results
North American sales were strong for two small rivals of the U.S. giant, which reports earnings next month.
Last week, my colleague Ed Ponsi wrote a compelling article about the technical picture of Caterpillar (CAT) - Get Caterpillar Inc. Report , essentially saying the stock price of the heavy machinery maker should register further gains this year.
Caterpillar is due to report third-quarter earnings on Oct. 25; it is expected to post EPS of 77 cents, some 2 cents higher than a year ago, on revenue of $9.9 billion. These expectations don't seem too ambitious, judging by recent comments from two British companies operating in similar sectors as Caterpillar and which indicated strong growth for their North American businesses.
Three weeks ago, Ashtead (ASHTY) , an industrial equipment hire company, released results for its fiscal first quarter, ended on July 31. It posted growth of 12% in rental revenue year on year, to £660.8 million ($858.3 million), while earnings before interest, taxation, depreciation and amortization (EBITDA) jumped by 9% to £340 million.
These stellar results were helped up to a point by the weaker sterling -- the pound plunged by around 12% against the U.S. dollar since the U.K. voted to leave the European Union on June 23 -- but what mattered most was strong growth in the company's North American business.
Ashtead's U.S. Sunbelt business saw a 14% surge in rental revenue growth, which in turn lead to a 10% jump in operating profit excluding gains on sale of used equipment.
Plumbing and heating supplier Wolseley (WOSYY) is the second British company whose results indicate a possible strong performance for Caterpillar due to what they reveal about the North American market.
In fact, Wolseley is doing so well in the U.S. (but, one could argue, so badly in the U.K.) that it recently announced it plans to reduce by 10% its British branches, a move that could mean the loss of 800 jobs. Still, the company's U.S. business, which is responsible for around 80% of its profits, is doing very well, buoyed by a strong construction sector.
On Tuesday, it released full-year results for its fiscal year ended on July 31, which showed its North American business powering ahead offset by weakness elsewhere. In the statement, the company noted the "good U.S. residential and commercial markets," but added that there was still weakness in industrial markets.
Growth by revenue segment in the U.S. was as follows: residential +10%, commercial +7%, municipal +6%. The industrial segment posted a 10% fall. 
Wolseley's U.S. operation continues to be the company's main priority for expansion, both organic and via bolt-on acquisitions, John Martin, Group Chief Executive, said in a statement.
In July, Caterpillar warned in its earnings presentation that the Brexit vote and Turkey unrest were adding to uncertainty. Although it is still too early to draw a clear conclusion on both issues, these two factors seem to have had less of a negative influence on markets than initially feared.
Caterpillar derives almost 50% of its overall sales from the North American market. While it is true that its U.S. sales decreased by 13% year on year in the second quarter to around $2.2 billion, the two British rivals' results indicate that they could see a recovery in the third quarter.
On the other hand, unlike the two British companies, Caterpillar did not benefit from a weak currency putting the wind in its sales. Perhaps, as the presidential election is getting closer and if Donald Trump does better than expected, a weak dollar would be an issue for the fourth quarter.
Editor's Note: This article was originally published at 8 a.m. EDT on Real Money on Sept. 28.