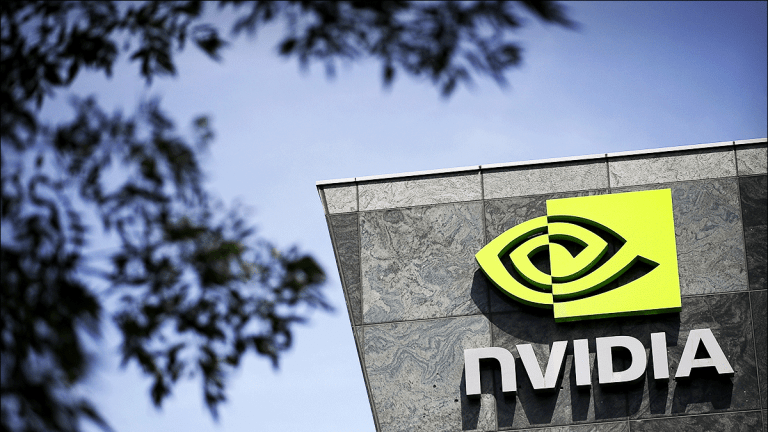 How I Am Playing Nvidia as the CES Heats Up Vegas
Posturing has already begun ahead of the consumer electronics show, as NVDA talks up its new gaming chip.
Posturing has already begun ahead of the consumer electronics show, as NVDA talks up its new gaming chip.
CES, or what older folks like myself refer to as the "Consumer Electronics Show," will begin on Tuesday morning and run through Friday in Las Vegas. The fact that both Verizon Communications Inc. (VZ) - Get Report CEO Hans Vestberg, and AT&T (T) - Get Report Communications CEO John Donovan will deliver keynote addresses would imply significant coverage concerning coming 5G technology and its implications. Other high-profile speakers will include IBM Corp. (IBM) - Get Report Ginni Rometty and Advanced Micro Devices Inc. (AMD) - Get Report CEO Lisa Su. I would think that we'll also hear from the automotive space regarding the development of that industry's autonomous future and the implementation of artificial intelligence.
Digging Out From Under
While the CES extravaganza officially may not begin until Tuesday, the posturing already has begun in the City of Lights.
Nov. 15, 2018. For investors who had placed faith in former GPU (graphics processing unit) champ Nvidia Corp. (NVDA) - Get Report , it was a day that will live in infamy. A day where we found out what we had expected all along, but did not want to believe -- that demand from miners of cryptocurrencies indeed had been significant to Nvidia's growth and had now gone cold.
This weekend from Vegas, Nvidia CEO Jensen Huang announced the new GeForce RTX 2060, now the latest GPU based on the new-ish Turing architecture. What's significant about this new chip? Basically, that because this GPU is priced lower than Nvidia's first three Turing-based offerings at $349 retail, it has the potential to reach tens of millions of gamers globally. The reduction in performance in terms of giga-rays per second and ray-tracing is way beyond my scope. For more info on that, read Eric Jhonsa here.
The thing I care about is the potential for Nvidia to correct itself, and thus for the stock price to recover somewhat. Nvidia considers the new chip more than adequate for the mainstream crowd and still 60% faster than previous generation chips. This new product is expected to be available on Jan. 15.
Don't forget that Huang himself, who is generally upbeat, indicated back on Nov. 15 that existing inventory supplies could take half a year to correct -- thus the severe reduction in revenue guidance. NVDA, now trading at less than 19x forward-looking earnings, will report its fiscal fourth quarter in early February.
Managing Risk
As close followers likely know, I came into those Nov. 15 earnings short NVDA $180 puts that expired the next day, and being both confident in my abilities as a risk manager and born a stubborn Irishman, I took delivery instead of just covering the puts at a substantial loss. My stubborn defiance may have been a bit brash, but to let the folks know, who still doubt just how useful a tool the sale of related options can be in the implementation of risk management, I have been aggressive in my attempt to repair this position ever since.
I started out that Friday making sales of both calls and puts expiring in January 2021, then taking profits in those options when those profits presented themselves, drawing in not just the strike prices but also the expiration dates on each swing in order to reduce the beta of the options exposure as well as my equity risk.
Nearly two months later, the work is not done, but options roll-outs are now down to a weekly exercise where scalps are taken like clockwork every seven days and my net basis on this position (which you know started out at $180) is now just above $149. Yes, I am still down, but I also know what I am trying to do here, and the loss, if forced upon me by possibly being called away one of these Fridays, is now just the cost of doing business instead of being nearly catastrophic.
The first thing that I see upon studying Nvidia's chart is that while relative strength and money flow remain weak, the daily moving average convergence divergence (MACD) has turned for the better, with the nine-day exponential moving average (EMA) actually turning positive. The stock's fall from grace was simply too violent for the use of a Pitchfork model to define trend, so I simply used a Raff Regression to illustrate that decline. The most positive takeaway I see here is that if the late December low was indeed a bottom for this name that is highly exposed to China, the 12th-century Italian mathematician would see this name return to the $180s.
In all honesty, I really do not see that as likely in the short to medium term, and look forward to turning at least some of this long position into cash once I'm either at or close to breaking even. 
(Get Morning Recon delivered directly to your inbox each market day. Click here to sign up for e-mail delivery of Stephen "Sarge" Guilfoyle's Morning Recon, Jim Cramer's Daily Booyah! or other great free newsletters from TheStreet.)
At the time of publication, Guilfoyle was long VZ and NVDA equity and short NVDA calls and puts.