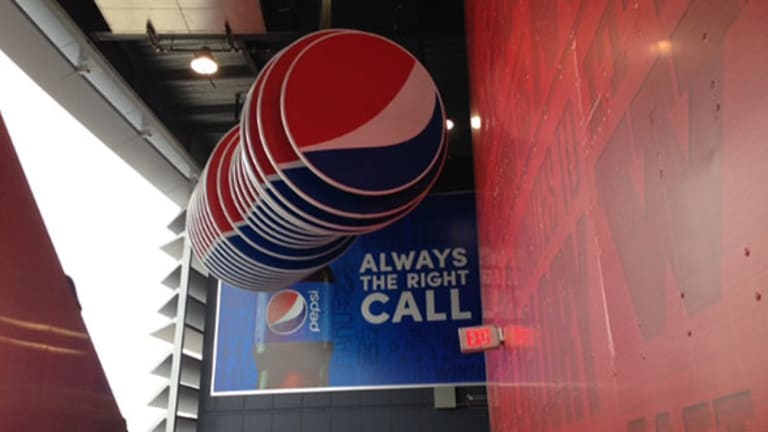 How PepsiCo Just Quenched the Thirst of Investors
Mountain Dew, Gatorade, and some innovative new snacks are driving wins at the beverage and snack giant, said CFO Hugh Johnson.
NEW YORK (TheStreet) -- There was some real juice behind the second-quarter numbers released by snack-and-beverage giant PepsiCo's (PEP) - Get PepsiCo, Inc. Report on Thursday.
PepsiCo reported adjusted earnings of $1.32 a share, surpassing the consensus forecast of $1.24. Reported revenue declined 6% year over year to $15.9 billion, but organic revenue, which excludes the impact of currency translation, rose 5.1%.
PepsiCo's quarter was supported by success in newer products, such as naturally sweetened Mountain Dew in a glass bottle, Mountain Dew Kickstart energy drinks and the innovative Doritos Roulette, which contains several random extra-spicy chips in each bag.
Organic sales in PepsiCo's key Americas beverage business rose 3%, while volume gained 1% mostly fueled by strength in non-carbonated drinks. Profits also  increased 10% as the company pushed through price increases and benefited from ongoing cost savings initiatives. A weaker spot for the company was Quaker Foods North America, where volume fell 1% and revenue dropped 1.5%. 
"The steps we are taking to manage our businesses responsibly -- such as taking pricing actions and optimizing our global sourcing -- are clearly contributing to high-quality top and bottom-line year-to-date results and position us well for the remainder of 2015," said Chairman and CEO Indra Nooyi in a statement. The company reiterated that it anticipates mid-single-digit organic revenue growth this year. But, PepsiCo hiked its core constant currency EPS growth target to 8% from 7% previously.
Shares rose a fraction to around $96 recently.
"The power of the combination of beverages and snacks really played out well and I think we can see that Pepsico is doing everything right with new products and marketing," said TheStreet'sJim Cramer, co-portfolio manager of the Action Alerts PLUS Charitable Trust Portfolio. "It's working and the organic growth is quite surprising. There's also a cessation of the soda wars that's quite impressive."
Exclusive Look Inside:
You see Jim Cramer on TV. Now, see where he invests his money and why.Learn more now.
TheStreet talked with PepsiCo's CFO Hugh Johnston to discuss the quarter. On Wednesday, Johnston was promoted to the role of vice chairman, with expanded responsibilities in overseeing the company's global business and information solutions function. The business provides information technology systems and solutions across PepsiCo, and is an area Johnston is familiar with as a board member of AOL.
TheStreet: The North Americas beverage business continues to be a bright spot in terms of volume and pricing. What areas of the business are driving that?
Hugh Johnston: One, on the Mountain Dew carbonated soft drink side, it's doing terrifically well. The second big factor is that Gatorade continues to really perform well; the market share on Gatorade is back above 80% again. [Also] as consumers continue to shift from carbonated soft drinks into non-carbonated soft drinks, our market share across the non-carbonated drinks are almost always higher than the competition -- and generally that shift will be a big win for us. You certainly saw that in the quarter as well.
TheStreet: PepsiCo's unit sales in its snack business seemed to slow down in the second quarter compared to the first. Could you explain what happened?
Johnston: The biggest thing we have done is repositioned some of the packaging. We are featuring more of what we call the XL size and less of the XXL size, so that is a little bit of a hit on pound volume, but it's a win from a revenue and profit perspective.
TheStreet: What is the state of supermarket sales right now?
Johnston: The center of the store, generally speaking, is slow, without a doubt. The good news is that unlike some of our competitors, we are not as exposed to the ready-to-eat cereal category because that one is particularly challenged. Oatmeal is still very much on trend. The snack bar business is still very much on trend. Our business skews to the healthier and more snackable. 
In the categories we play in, for the first half of the year, we are gaining market share, whether it's ready-to-eat cereal, snack bars, or oatmeal. Now what we are doing is investing more behind advertising and marketing. I think you will see much more of the impact of that in the back half of the year, and you will see the business respond to that.
TheStreet:China's stock market has been in a free fall. Is PepsiCo seeing any changes in demand in the country?
Johnston: No, we haven't seen anything meaningful in terms of read-through on that.
TheStreet: As CFO of PepsiCo, what was your first thought when seeing the NYSEhalted trading for a few hours on Wednesday?
Johnston: I am not an expert on that, but from what I saw PepsiCo stock on the other platforms traded fine on Wednesday. It was interesting to watch from the sidelines.