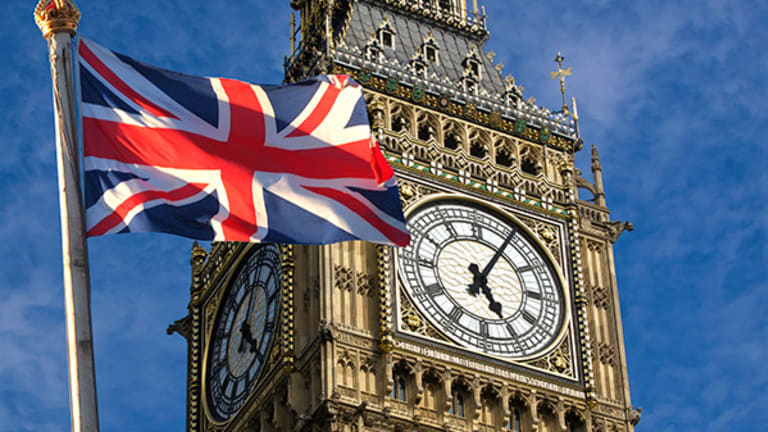 Publish date:
How Past Financial Shocks Prepared Biggest U.S. Banks for Brexit
U.S. banking giants from JPMorgan Chase to Goldman Sachs reassured customers and employees Friday that they're prepared to deal with the changes required by Britain's departure from the European Union.
U.S. banking giants from JPMorgan Chase to Goldman Sachs reassured customers and employees Friday that they're prepared to deal with the changes required by Britain's departure from the European Union.
If the Clash's "Should I Stay or Should I Go" described the acrimonious debate before Britain's vote to leave the European Union, the punk band's apocalyptic "London Calling" may have prophesied the world's worries the day after the decision.
Released at the height of the Cold War, the song's hook references a BBC tagline from broadcasts to occupied countries during World War II. Its dour lyrics contemplate everything from another ice age to a nuclear meltdown, but one of the less vivid lines may be the most apt: "London calling to the imitation zone; forget it, brother, you can go it alone."
Going it alone, however, is likely to cause significant disruptions both in London and for companies far outside the city, particularly the largest U.S. banks.
Given its history as a global financial center and its access as a European Union member to the continent's markets, London was, before the vote, an ideal location for financial firms. JPMorgan Chase (JPM) - Get Report , Goldman Sachs (GS) - Get Report , Morgan Stanley (MS) - Get Report , Bank of America (BAC) - Get Report and Citigroup (C) - Get Report each employ thousands of workers at U.K. operations and garner billions of dollars in operating income from the country, according to an analysis by brokerage firm Keefe, Bruyette & Woods.
All five sought to reassure customers and employees on Friday, even as their stocks plunged amid speculation that the resulting market volatility and devaluation of the British pound might impair trading results. There's also the possibility that the U.S. Federal Reserve might further delay interest rate increases, hurting lending margins. 
Executives at the firms said they had plans in place to deal with the possibility of a British departure, as well as experience dealing with market upheaval. Each of the banks has been in business for more than a century, and their U.K. income accounts for only a fraction of total income.
Additionally, all have substantially increased capital reserves -- a financial cushion against economic downturns -- since the 2008 financial crisis, which took down the investment bank Lehman Brothers and saw Bear Stearns and Merrill Lynch acquired by JPMorgan and Bank of America, respectively.
Results of annual tress tests released by the Federal Reserve on Thursday showed each of the companies had more than enough of a buffer to withstand a severe economic downturn, one with unemployment of as much as 10% and negative interest rates.
"It is to our advantage that we work in an organisation that has a long history of thriving on change, be it regulatory, market or strategic," Alex Wilmot-Sitwell, president of Charlotte, N.C.-based Bank of America's European, Middle East and African businesses, wrote to employees in a memo obtained by TheStreet. The company has about 5,545 workers in the U.K., according to Keefe Bruyette, and $5.2 billion in operating income, or about 6% of its total.
The firm's focus "must not be on ourselves but on ensuring that we are squarely behind our clients during these unprecedented times," Wilmot-Sitwell wrote. "Across each of our areas of business, we have many clients who will be reflecting on the changes that they will need to make in the light of the U.K.'s decision. We must make sure that we are a vital contributor to that strategic dialogue and the first port of call when they are ready to transact their business."
Among the banks affected most by the decision would be JPMorgan and Goldman, Keefe Bruyette analyst Brian Kleinhanzl predicted in an interview before the vote. JPMorgan garnered $7.7 billion in 2014 operating income in Britain, or about 8% of the companywide total; Goldman's $6.3 billion represented 18.5%.
EXCLUSIVE LOOK INSIDE: Citigroup is a holding in Jim Cramer's Action Alerts PLUS charitable trust portfolio. Want to be alerted before he buys or sells the stock? Learn more now.
How JPMorgan structures its European businesses going forward will depend on Britain's degree of engagement with the rest of the Europe, with details that will be negotiated over a period of years, CEO Jamie Dimon said in a note to employees obtained by TheStreet.
"For the moment, we will continue to serve our clients as usual, and our operating model in the U.K. remains the same," he wrote. "In the months ahead, however, we may need to make changes to our European legal entity structure and the location of some roles. While these changes are not certain, we have to be prepared to comply with new laws as we serve our clients around the world."
Dimon had told bank employees earlier this month that a vote to leave the European Union might affect as many as 4,000 of its 16,000 employees in the country.
"We will always do our best to take care of our people and do the right thing during times of change," he said in Friday's memo. The bank also recognizes "the potential for market volatility over the next few weeks, and we are ready to help our clients work through it."
New York-based Goldman, which has 6,410 workers in the U.K., has "been focused on planning for either referendum outcome for many months," CEO Lloyd Blankfein said in an e-mailed statement. "Goldman Sachs has a long history of adapting to change, and we will work with relevant authorities as the terms of the exit become clear. Our primary focus, as always, remains serving our clients' needs."
The bigger risks to U.S. banks are all in the long-term, Keefe Bruyette's Kleinhanzl said in the interview.
An important one is whether Britain retains passporting privileges that allow banks in any EU country the right to conduct business throughout Europe without obtaining a separate license in each country, London law firm Ashurst said in a report.
A vote to leave would "challenge London's role as the venue of choice for global firms to conduct their European business," Ashurst partners Rob Moulton, James Coiley and others noted in the report. "Whether it survives such a challenge depends in part upon the deal that the U.K. manages to negotiate on exit, and in part upon London's legendary ability to reinvent itself where necessary."
The full extent of the vote's "considerable" impact won't be apparent for some time, New York-based Morgan Stanley said in a statement. 
"There will be at least a period of two years before an actual exit takes place, so there will be time to implement any changes required to adjust our business to the new environment," the bank said. "Morgan Stanley will continue to monitor developments very closely and will adapt accordingly while prioritizing the interests of our clients, our shareholders and our employees."
Economic conditions will be a focus for not only the banks themselves but for regulators including the Federal Reserve, and its monetary policy committee.
The central bank had indicated it might raise short-term interest rates as many as four times this year after boosting them by 25 basis points in December for the first time since the 2008 financial crisis. It later halved that forecast because of market gyrations in January and February, and many traders now expect only one increase.
Morgan Stanley predicts it won't come until December. On Friday, Bank of America, which had earlier projected a September hike, bumped its forecast back to the end of the year as well.
Moody's Analytics still views September as a possibility, albeit a narrow one, said economist Ryan Sweet.
"Everything would need to go according to plan," Sweet said. "Economic data would need to bat 1,000 and financial markets would need to settle down for the Fed to be able to really follow through with September. I think it's more likely that they'll wait until December."
Such a delay would further curb interest income at banks, which typically are able to bolster that revenue stream by passing higher rates on to borrowers more quickly than depositors. Net interest margin, a gauge that compares interest income to credit assets, narrowed to an average 2.54% at the end of last year from above 3% before the crisis for JPMorgan, Citi, Bank of America and Wells Fargo, according to an analysis of regulatory filings.
The U.K. will probably experience a recession as a result of its decision, but that wouldn't necessarily hurt the U.S. economy severely, Sweet said.
"The biggest concern is financial markets," he said. "They're ultimately going to decide if this is just another bump in the road for the U.S. expansion or if they're going to cause Brexit to have a more significant effect on our economy."
If Friday's drop, which included a slide of more than 600 points on the Dow Jones Industrial Average and a 7.3% drop on the KBW Bank Index, is the worst, the U.S. can weather that relatively easily.
"Our economy doesn't respond to day-to-day fluctuations in equity prices," Sweet said. "If financial markets continue to tighten over the next couple of weeks, then it would have a more meaningful and sizable effect," hurting consumer confidence and spending.
Morgan Stanley's stock led declines among the biggest banks on Friday, tumbling 10% to $24.52. Citi fell 9%, and Goldman, JPMorgan and Bank of America each fell 7%.
Trading in the days prior to the referendum -- where many investors were betting that U.K. voters would choose to remain -- amplified the selloff, said David Ellison, senior vice president at Hennessy Funds, which oversees about $6.5 billion.
"The financial markets are a lot like Vegas," he said. "It looks like this is a lot worse than it is, because of the casino-like nature of the financial markets."
Despite the short-term challenges for markets, European upheaval may ultimately prove beneficial to U.S. banks overall, Dick Bove, an analyst with Rafferty Capital Markets, said in a telephone interview. 
"They'll benefit from an enhanced competitive position," Bove said. "American banks are considered to be in reasonably good condition, and if you're looking at European banks which may not be in such great condition, then for customers inside the U.S., the European banks are not going to be meaningful competitors."
Further, with both the pound and the euro dropping against the dollar, "that is a stimulus to greater economic activity here," he said. "It lowers the price for everything, which means more credit-card activity."
For financial-company investors, the relevant question is the outlook over the next couple of months, said Stan Bokov, chief operating officer of TradingView, a social media platform for non-professional traders in more than 80 countries. 
"I think the bounce-back will be fairly fast," Bokov said in a phone interview. "There is no real alternative in Europe to London. In Madrid, there's no infrastructure, and the local macro setup is not favorable. France has constant social and political disruption. There's just nowhere else to go."