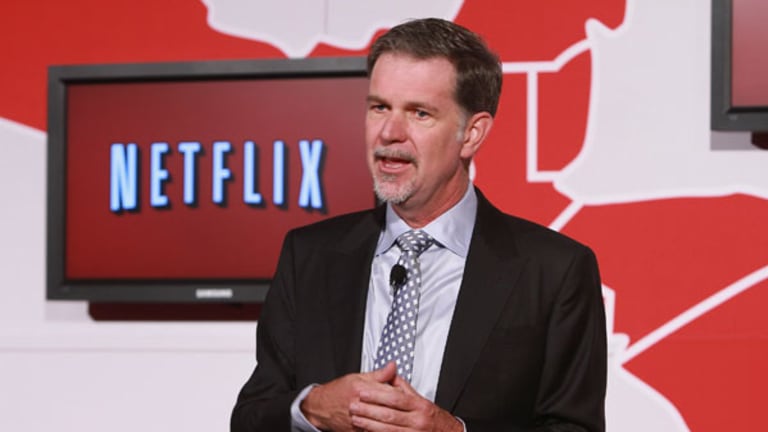 How Netflix Taught Me a Pandora Lesson
Changing your position on a company or stock -- even frequently -- makes more sense than marrying yourself to emotional arguments.
NEW YORK (TheStreet) -- I wasn't surprised by Pandora's (P) post-earnings plummet.
As detailed in Monday's Pandora Needs to Fire Its CEO or Hire Somebody to Help Him, the company's go-go growth phase is pretty much behind it. As such, Pandora requires something fresh and new to reignite growth or otherwise keep investors excited. But nobody at Pandora -- from the company's poorly qualified CEO Brian McAndrews to its co-founder and former Chief Strategy Officer Tim Westergren -- seems to want to go there. Read the story at the link for details on that as a I digress and reflect on one of my own realized shortcomings.
This reflection applies to everything from investing to the debate we're having over the potential for Apple (AAPL) - Get Apple Inc. Report (and others) to take down considerable chunks of Microsoft's (MSFT) - Get Microsoft Corporation Report enterprise business. It's about resisting the emotions that marry you to a position and turn what's best left as a rational undertaking into a seemingly righteous fight.
Don't Marry a Company or Stock Unless They've Granted You Massive, Can't Miss Stock Options
It's really that simple.
If you're one of the filthy rich executives at a company such as Pandora it's easy -- and makes perfect psychological sense -- to fight the good fight. To rally behind your company. To treat the bull versus bear debate as some sort of jihad, crusade or similar struggle. You have picked, or for those waiting for option grants to vest, are about to pick what amounts to free money from a tree. I'd maintain loyalty in the face of reality if a company made me a hundred-thousandaire or, better yet, multi-millionaire. But if you're a retail investor slug or media hack such as myself, you really have no business making an emotional investment one way or the other.
In some respects, I did that with Netflix.
Throughout 2011, I was bearish. And for good reason. In fact, much of the logic behind my bearishness still stands. That said, after 2011's crash I should have pivoted from bearishness to all-out bullishness. To my credit, I made a partial shift predicting NFLX's rise from the mid-$60s in summer 2012 to its blastoff into and past the $300s the following year. But I was sure to delineate between company and stock, calling the stock a buy at the same as continuing to classify the company on the brink of collapse. Even if there is some merit to the latter, I should have moved away from that contention because, after all, I could have always gone back to it, as warranted, at a later date. Instead, I stayed the course.
And why did I stay the course? It's simple. I felt as if I had to see the NFLX bear case through. In some circles, I became the spokesperson for it. I became invested in being right. And, in all honesty, it was pretty cool to have a considerable number of readers and such rally around the bear case I was hard charging. Looking back, it would have made a ton more sense to give the company its due -- unconditionally -- even though that would have meant knocking myself down a notch and pooping on the party.
But it's all good. Because the Netflix experience taught me a Pandora lesson.
As much as I don't like the fact that the people at Pandora now dislike me (or worse), I had no choice but to aggressively make the turn from ardent bull to hyper-critical bear. Not simply because Wall Street has been so horrid covering this stock/company, but because it's just the right thing to do. (More on that in Monday's earnings postmortem). I compared the trajectory I suspect the company is headed in to the one I vision they should be headed in. They're incongruent. I challenged Pandora publicly and privately on this comparison. I didn't like the response I received -- publicly and privately -- so I made the seemingly abrupt shift. And, insofar as you can base the efficacy of company-related thoughts on stock price performance, I've been 110% on the mark.
But being right is what it is. In life and in investing/covering companies, it's a fleeting proposition. An obsession with seeing a position through because you just know you are, or in a perfect world, should be right is a fool's game. I'd rather get ripped for flip-flopping or being wrong than not fleshing out a critical narrative. And the only way you can develop robust story lines around companies and stocks is to consider them from multiple angles. This process can -- naturally -- put you on multiple sides of the fence over time.
Bottom line -- you have to be willing to shift no matter how caught up you are in an argument. If Pandora shows me something tomorrow that makes me think they're back on track, I'll become bullish again. Because the real value doesn't lie in getting the stock or even the story right every single step of the way. We all win -- at least as far as I see my contribution to cutting through the noise -- if we're constantly working narratives that provide investors and innocent bystanders perspectives they can intellectually chew on.
--Written by Rocco Pendola in Santa Monica, Calif.
Rocco Pendola writes for
TheStreet
. He lives in Santa Monica. Disclosure: TheStreet's editorial policy prohibits staff editors, reporters and analysts from holding positions in any individual stocks.