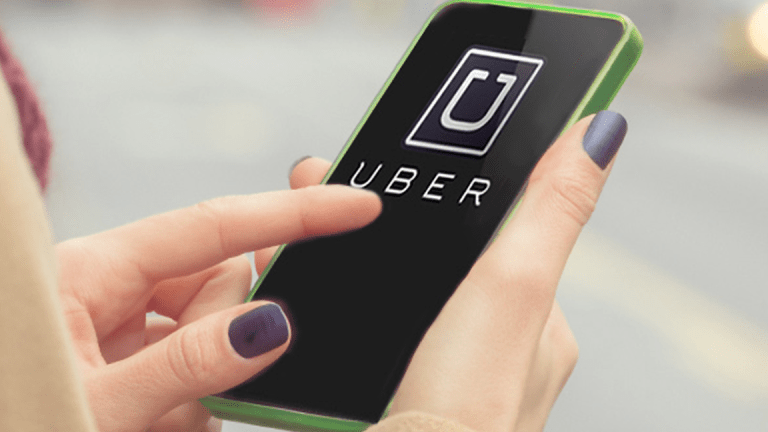 A 'Mistake': Inside Uber's Relationship With Saudi Arabia
Uber's CEO is facing heat after defending Saudi Arabia's role in the Khashoggi murder.
Is Uber (UBER) - Get Uber Technologies, Inc. Report chief executive officer Dara Khosrowshahi covering for the same Saudi Arabian regime that has invested heavily in the ride-sharing services firm - and who stands accused of murdering a U.S. journalist?
That's the question many in the media, Wall Street and in international government circles after controversial comments made by Khosrowshahi in recent comments to "Axios on HBO" television show.
In the interview with the digital news platform, Khosrowshahi said the 2019 murder of Washington Post journalist Jamal Khashoggi shows that "the (Saudi) government said they made a mistake. It's a serious mistake, but we've made serious mistakes, too right?"
"With self-driving, and we stopped driving and we're recovering from that mistake," he added. "I think that people make mistakes, it doesn't mean that they can never be forgiven. I think they have taken it seriously."
The Khashoggi Murder - and an Accusation Against the Saudi Crown Prince
The comments come after the recent one year anniversary of Khashoggi's murder by the Saudi regime on October 2, 2018. Khashoggi, a frequent critic of the Saudi government, was murdered and dismembered at the Saudi Arabia consulate in Istanbul, Turkey by a team of Saudi-based agents.
Khashoggi was at the consulate on a civil matter, seeking official documentation of his recent divorce so he could remarry. His fiancée, Hatice Cengiz, a 36-year-old Turkish graduate degree student, was waiting outside for Khashoggi while he was in the consulate.
According to Turkish authorities, Khashoggi was ambushed and murdered pre-emptively by a Saudi hit squad, under orders from Saudi Crown Prince Mohammed bin Salman. After 18-days of denying any involvement in Khashoggi's murder, a Saudi government official stated on October 20, 2019 that the journalist was inadvertently killed in a chokehold by a Saudi agent who "overstepped" his orders to question Khashoggi.
At the same time, The Saudi regime also denied that Khashoggi was killed under the orders of Crown Prince bin Salman.
On November 15, 2018, Saudi Arabia arrested eleven country natives that the government said were directly responsible for the murder. In the indictment, the Saudi government called for the death penalty for five of the men charged in Khashoggi's murder.
Two days later, the U.S. Central Intelligence Agency stated that Khashoggi was killed under the orders of Crown Prince bin Salmon, who continues to deny the direct charges. In a later interview with "60 Minutes" the Crown Prince says that as the leader of Saudi Arabia, he bears "full responsibility" for Khashoggi's murder.
Khosrowshahi Backtracks
As the investigation continues into Khashoggi's death, Uber's Khosrowshahi is already backtracking on his comments to Axios on HBO.
One hour after his November 10 interview, Khashoggi phoned Axios to revise his comments. "I said something in the moment that I do not believe," Khosrowshahi stated, according to Axios. "When it comes to Jamal Khashoggi, his murder was reprehensible and should not be forgotten or excused."
On November 11, Khosrowshahi followed up with a Twitter message expressing his "regret" for the language used in the Axios on HBO interview. "There's no forgiving or forgetting what happened to Jamal Khashoggi & I was wrong to call it a "mistake." As I told (Axios journalist) @danprimack after our interview, I said something in the moment I don't believe. Our investors have long known my views here & I'm sorry I wasn't as clear on Axios."
In the Axios interview, Khosrowshahi has compared the Khashoggi killing to a fatal accident with one of Uber's self-driving vehicles that occurred in Arizona in 2018. That "mistake" resulted in the death of a pedestrian who was misidentified by the Uber self-driving system as an unknown object.
While cleared of any criminal negligence in that case, Uber has undertaken an internal review of its self-driving vehicle program, shut down its Arizona testing program, and temporarily halting its self-driving program.
How Much of Uber Does Saudi Arabia Own?
One reason that Khosrowshahi's comments defending the Saudi regime were deemed to be so controversial is the ample financial backing the Saudi's have delivered to Uber.
The relevant data is in Uber's S-1 filings with the U.S. Securities and Exchange Commission, which shows that Saudi Arabia's Public Investment Fund has a 5.3% ownership stake in the drive sharing company.
There's more. The Saudi Public Investment Fund is also a big backer of Softbank's massive Vision Fund (it has over $100 billion in assets), which has a 16% stake in Uber ownership.
Additionally, Yasir bin Othman Al-Rumayyan, the director of Saudi Arabia's Public Investment Fund, is an Uber board member described by Khosrowshahi as "very constructive" and is a valuable business advisor resource that the Uber CEO "greatly" respects.
The bulk of Saudi Arabia's investment in Uber comes from a $3.5 billion direct investment in the company back in 2016, which resulted in the Saudi's holding 72.8 million shares of Uber, which recently went public. The investment was - and remains - the largest lump-sum investment from a foreign government in a U.S. startup.
That investment has gone sour for the Saudi's, as that original $3.5 billion stake in the company shed $1.1 billion in value as a result of Uber's generally declining share price through the end of October (the company's initial IPO stock price was $45 per share.)
Those losses could continue in the fallout after Khosrowshahi's comments. As of midday on November 11, Uber's stock price has remained in the $27-per-share trading range, but technology investors may back off an already underperforming stock after its CEO's ill-advised defense of the Saudi's role in Khashoggi's murder.
Other Big-Time Uber Investors
Saudi Arabia may be one of the largest investors in Uber, but it's certainly not the only big-name investor.
Besides Saudi Arabia and SoftBank, Uber investors of note include Benchmark Capital Partners (an early eBay (EBAY) - Get eBay Inc. Report investor), Alphabet Inc. (GOOGL) - Get Alphabet Inc. Class A Report (Google's parent company), and company co-founder and former CEO Travis Kalanick, who holds an estimated $5 billion investment in the drive sharing giant.
Kalanick had just sold about $500 million in Uber stock after the company's IPO lockup period closed. That move was more likely about Kalanick's financing of his latest venture, CloudKitchens, which also has attracted Saudi-based investment dollars.
Otherwise, it's difficult to say how Uber investors will react to Khosrowshahi's comments to Axios, or if they're curbing their investments in the company.
Prior to that interview, the Uber CEO has begun distancing himself from his Saudi investors, electing to avoid attending Saudi Arabia's annual investment conference in 2019, and also opted to miss this year's event, although Khosrowshahi has said this year's Saudi conference omission was due to a "scheduling conflict."