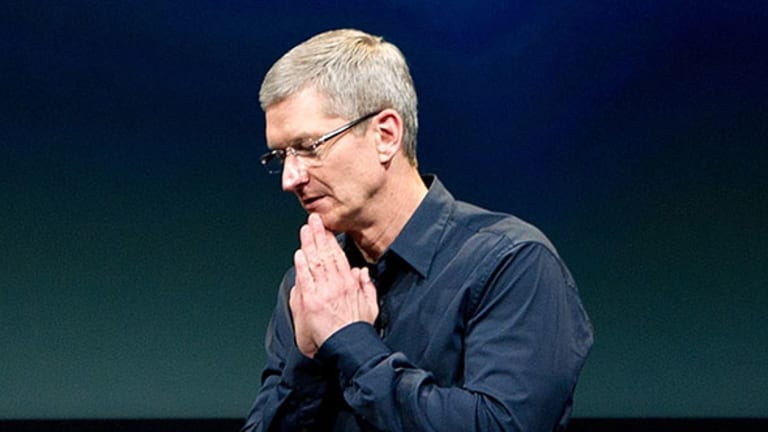 Publish date:
How Long Can Tired Apple Hold Up the Tech Sector?
The stock has clearly outperformed the FANG group over the last month but money flow is weakening.
The stock has clearly outperformed the FANG group over the last month but money flow is weakening.
The Nasdaq Composite Index has clearly year-to-date outperformed the Dow Jones Industrial Average, S&P 500, Russell 2000. A small group of stocks that are highly weighted in the Composite are responsible for a large percentage of its gains: the FANGs. We are all familiar with the names, Facebook (FB) - Get Report , Amazon (AMZN) - Get Report , Netflix (NFLX) - Get Report , Alphabet (GOOGL) - Get Report  and of course, Apple (AAPL) - Get Report , which accounts for about 13% of the weighting in the Nasdaq.
Recently the FANG stocks have been weakening, which has had a negative impact on the composite, leaving Apple the leader over the charted one-month period. It appears that Apple is doing the heavy lifting at this point in time and the question is -- can it continue to support the weight of the entire technology sector? A check of the weekly chart shows the stock has signs of technical fatigue.
View Chart »View in New Window »
Apple has rallied 85% from its 2016 low up to today's high and the trend, on face value, looks intact, with the stock tracking above its rising Bollinger band centerline 20-period average. There are, however, several internal issues that underlie the pure price action. The relative strength index has entered an overbought condition, a sign that the positive momentum may be short-term overdone. More importantly, the TRIX indicator, a triple exponentially smoothed moving average, is crossing below its 21-period signal average. This is the first bearish crossover on the indicator since the 2015 downtrend and only the second crossover since the 2016 bullish crossover. This recent TRIX bearish crossover should be monitored very carefully.
Apple has been in rally mode since June, bouncing off the Bollinger band centerline and going to make new highs, but money flow has been moving in the opposite direction. Chaikin money flow has dropped dramatically since July and has not recovered, and the Chaikin oscillator, an average of the 3-day and 10-day moving averages of the accumulation/distribution line, has been in bearish divergence to price and is crossing below its centerline.
Apple has been the counter-weight to the recent action in the FANG stocks, but what if it fails? In that case, if the FANG stocks have not yet recovered, the logical conclusion is that the technology averages will see a deep pullback.
More of What's Trending on TheStreet:
The author is an independent contributor and at the time of publication had no position in the stocks mentioned.