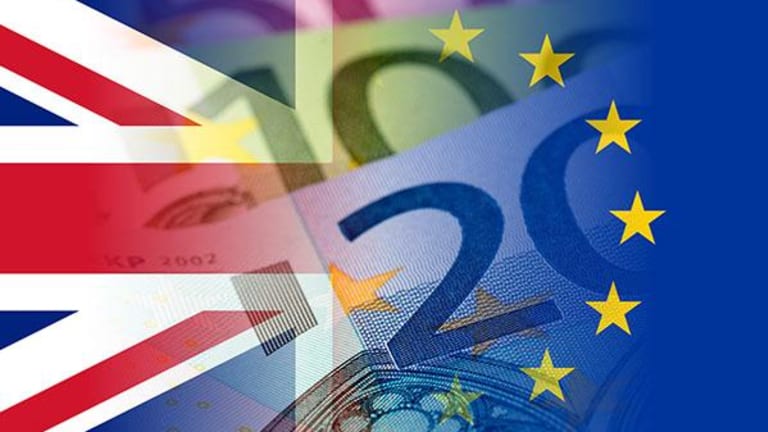 How Invesco Got Slammed by Brexit -- And the Fallout for Other Money Managers
Asset manager Invesco was among the hardest-hit equities on Friday, but one analyst says now might be the time to buy.
Asset manager Invesco was among the hardest-hit equities on Friday, but one analyst says now might be the time to buy.
With London playing a central role in the global financial system, stocks across the industry have taken a beating from Great Britain's vote to leave the European Union. Some have fared better than others, though.
Among publicly traded asset managers, Oaktree Capital (OAK) - Get Report  and Och-Ziff Capital (OZM) both closed down less than 3% on Friday, beating the S&P 500's loss for the day.
Asset management giant Invesco (IVZ) - Get Report was one of the hardest-hit stocks, trading down 14% on Friday, roughly double the decline for the sector. "Trading in IVZ stock appears to have been used recently as somewhat of a proxy for the referendum," Barclays analyst Kenneth Hill said in a note to clients this morning.
For asset managers, the biggest short-term risk is exchange-rate exposure, with the British pound down 10% against the dollar since Thursday's vote. The Euro has also fallen roughly 3%.
Funds with big holdings in foreign currencies, and the pound especially, will feel the most pain in the immediate aftermath. Invesco reported at the end of last year that a 10% decline in the pound would shave 5% to 6% from its annual earnings, which were $964 million in 2015.
Invesco has hedged its currency risk with put options on the pound that increase in value as the currency weakens against the dollar, but it's unclear how much of the loss those deals will cover. An Invesco spokeswoman declined to immediately comment.
Still, the gap between Invesco's currency stress-test report and it's real-world plummet suggest there could be a buying opportunity as the stock gets punished. "We see much of IVZ's key risk (currency-exchange losses) as largely hedged," writes Hill, adding that the price shock to the company on Friday "provides a compelling entry point for investors."
In general, the financial services sector is one to be careful about, but it may hold opportunities said Mark Doman, CEO of the multi-family asset management office Doman Group. 
"There is a currency question we're trying to figure out, but we're looking for buying opportunities," he said. "For long-term investors this is a pretty unique opportunity."