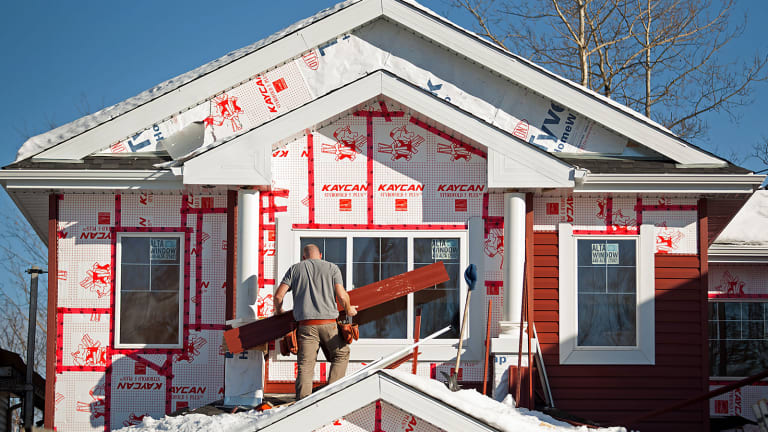 Standard Pacific's Merger With Ryland Signals More Deals Among Small Builders
After the merger between Standard Pacific and Ryland, smaller homebuilders may be next in line for consolidation, according to one analyst.
After the merger between Standard Pacific and Ryland, smaller homebuilders may be next in line for consolidation, according to one analyst.
NEW YORK (TheStreet) -- The merger of Standard Pacific  (SPF)  and Ryland (RYL)  into a single homebuilder valued at $5.2 billion may signal more deals in the industry, particularly among smaller firms.
"The smaller the homebuilder, the more likely it is they will merge," said Erik Oja, an analyst with S&P Capital IQ. "Some of the smaller ones include Meritage Homes (MTH) - Get Report, M.D.C. Holdings (MDC) - Get Report, KB Home (KBH) - Get Report, Beazer Homes USA (BZH) - Get Report and Hovnanian Enterprises (HOV) - Get Report."
Major mergers are rare among homebuilders, Oja noted. The last was PulteGroup's (PHM) - Get Reportpurchase ofCentax for $1.4 billion in 2009.
In the latest deal, Standard Pacific will carry out a 1-for-5 reverse stock split, then issue 1.019 of its shares for each share of Ryland, the companies said. Upon completion, Standard Pacific investors will control about 59% of the new company, which would have had total revenue of $5.1 billion in the year through March 31. Standard Pacific stock was rising by 7% in midday trading Monday.
"Combining two industry leaders with nearly 100 years of homebuilding experience between them puts us in a strong position to benefit from the continued housing market recovery," Standard Pacific Chief Executive Officer Scott Stowell said in a statement.
When growth in housing construction begins to slow, more companies will feel pressure to cut costs through combinations, Oja said.
"The homebuilders had a couple years of really good price increases on the homes they were selling, but that climb can only continue for so long," he said.
The industry as a whole "is in bad need of rationalization," said TheStreet's Jim Cramer, portfolio manager of Action Alerts PLUS.
"I vastly prefer Lennar (LEN) - Get Report to either or both of these two companies," he said, referring to Standard Pacific and Ryland. "If you think that housing is really going to perk up, buy Wells Fargo (WFC) - Get Report, which is our biggest financial in ActionAlertsPlus.com."
Yields on the benchmark 10-Year Treasury, which tend to drive mortgage rates, are around 2.36%, compared with 2.12% at the start of the year. The average rate on a 30-year fixed mortgage eclipsed 4% last week for the first time since last November, according to Freddie Mac.
Higher rates make it more expensive for consumers to purchase homes, which doesn't bode well for housing construction. Plus, the Federal Reserve continues to seek an opening to raise the target interest rate, which it cut to around zero during the financial crisis.
How that would affect a 30-year mortgage is unclear, Oja said. "The Fed might just do a 25 basis-point increase on short-term rates, which I think will have a slight effect on mortgage rates."
The homebuilders seem to agree. Confidence in the industry jumped to its highest point in nine months, according to the National Association of Home Builders' monthly Housing Market Index, released on Monday.
Meritage Homes climbed 2.3% to $44.45 on Monday afternoon while M.D.C. gained 3.4% to $29.73, KB Home rose 0.8% to $15.03, Beazer added 1% to $18.59 and Hovnanian increased 1% to $2.70.