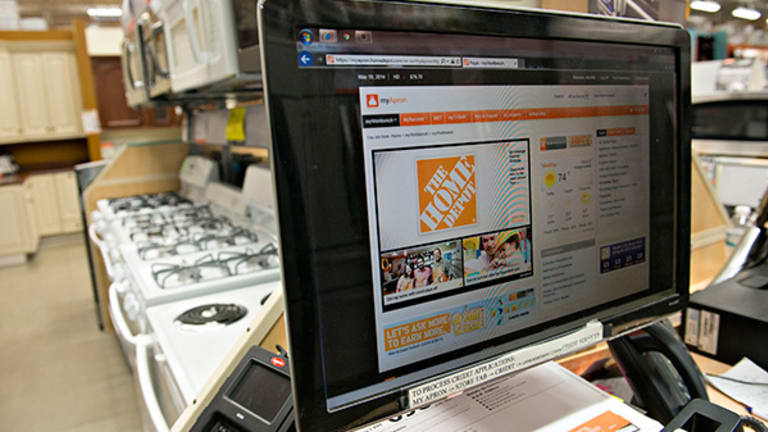 How Home Depot Grew Its Online Sales by Over $1 Billion Last Year
Sales at Home Depot's online business are surging, and investors need to start paying attention. TheStreet talks with Home Depot's online chief Kevin Hofmann.
NEW YORK (TheStreet) -- Joe the Contractor may not be tripping over himself to order a white toilet from HomeDepot.com for a job, but Susie Homemaker is jazzed about ordering a custom outdoor patio set in April.
And in large part it's the interest by Susie Homemaker that is causing sales at Home Depot's (HD) - Get Home Depot, Inc. (HD) Report online business to surge, and why investors need to start paying attention to its e-commerce business as a long-term growth driver.
Last year, Home Depot's online sales grew by more than $1 billion, or 36%, as consumers, feeling more confident in the value of their homes, shopped for pricey appliances, fancy bathroom fixtures and custom outdoor patio sets. The company began selling KitchenAid appliances in the second quarter, and continued to expand the assortment online to include such things as pizza ovens and premium grills throughout the year.
The business represented 4.5% of Home Depot's annual sales in 2014, or roughly $3.7 billion, up from $2.4 billion in 2013. By comparison, online sales at rival Lowe's (LOW) - Get Lowe's Companies, Inc. (LOW) Report totaled $1.4 billion in 2014, representing 2.5% of the chain's total sales.
In the first quarter of 2014, Home Depot's online sales rose a better than expected 40%, adding a full percentage point to Home Depot's U.S. same-store sales growth of 3.3%. In the fourth quarter, online sales growth slowed to 32% from the previous year, but it was tough to improve on the previous year's 50% growth.  
At the helm of Home Depot's online business is Kevin Hofmann, an admitted tech gadget guy who is active and relevant on Twitter. He is also someone who finds joy in "removing friction from customer shopping and buying habits." To him, the robust online sales growth already being experienced by Home Depot is just the beginning. His team combs through click-stream data in real-time to learn what customers are buying. This data can then used to introduce new products and more effective marketing, as well as to improve the search capabilities on the site.
"We still have so much we have to light up from a fulfillment capacity, while there is an endless sea of refinements to make the customer experience better," said Hofmann in an interview with TheStreet.
To sustain its burgeoning digital dominance, it will be vital for Home Depot to speed up shipment times and reduce out-of-stock merchandise messages. It's addressing those issues in two ways.
Home Depot is in the process of opening several new distribution centers dedicated to handling online orders. These centers will support Home Depot's efforts in "interconnected retail," the industry's new buzzword for ensuring customers get what they want, when they want it, wherever they are. Home Depot currently has two of these centers open, and will cut the ribbon on the third in Ohio this year. Once all three are fully operational, Home Depot said it will be able to deliver products to 90% of the nation in two days or less.
Another improvement in the works is a "deliver merchandise from store" program, which the company was piloting in two stores as of November. The program is designed to maximize the company's investments in inventory and ensure that online customers receive "out of stock" messages as seldom as possible.
Unlocking the potential inherent in shopping on mobile devices is also key to Home Depot's digital future, and is already leading to outsized sales gains. Home Depot's mobile app has been downloaded 9 million times, and Hofmann said online traffic and conversions to customers have been increasing significantly.
Hofmann said that mobile app users right now are mostly using it to prepare for their trips to an actual store by consulting product locators, but eventually, the plan is to vastly expand the number of items users can purchase via the app.
"We have these beautiful 2,000-plus stores that are strategically located, and our mobile strategy is to try and put a store in your pocket," Hofmann said.
This article is commentary by an independent contributor. At the time of publication, the author held no positions in the stocks mentioned.