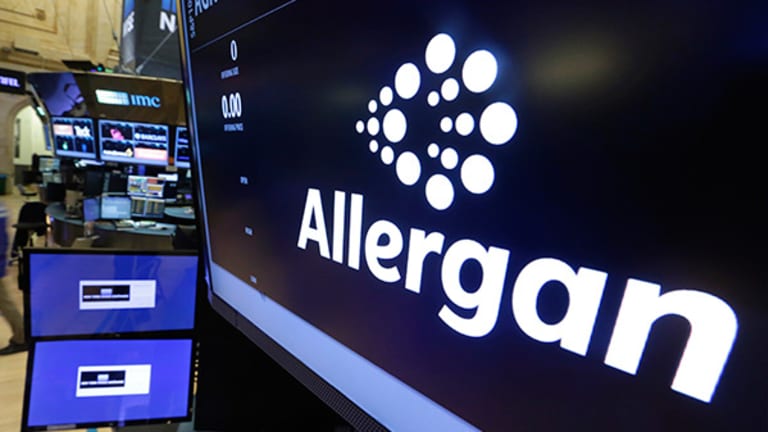 How A Girl from India Came to Rule JPM's North America M&A Group
Getting M&A insight from JPM's Anu Aiyengar is like winning the lotto.
Growing up in India, Anu Aiyengar never expected to become one of the most powerful women in M&A.
"In India, you either studied to become a doctor or an engineer," says Aiyengar, now head of JPMorgan Chase & Co.'s  (JPM) - Get JP Morgan Chase & Co. Report  North American M&A group. She just knew she wanted to "study, work and be financially independent."
Aiyengar joined JPMorgan in 1999 and ""Sometimes I would go entire days where I never saw another female." 
Back then, she explained, "people weren't sure if a woman could be successful in M&A."
"That's no longer true," she said, despite the fact that the number of women in M&A still is exceptionally low.
The pace of change has so far been slow, but the corporate world seems to be on the verge of turning a corner. As far back as 2013, the Harvard Business Review published a study that showed that companies that have more women on their boards of directors make smarter decisions surrounding mergers and acquisitions - and pay less for acquired companies.
JPM's North America Head of M&A Talks Deals and How to Bring In More Women
Thankfully, its changing, albeit slowly. For instance, there were women at the table when Becton, Dickinson agreed to acquire C.R. Bard Inc. for $24 billion in a cash-and-stock transaction. And they were there when Reckitt Benckiser Group completed its acquisition of Mead Johnson Nutrition Co. for $17.9 million.
That's still not the norm though.
So Aiyengar still often sits as the lone woman at the deal table. But that makes her insight into the M&A markets even more valuable.
The current environment is basically flat compared to last year. Global M&A volume year-to-date is around $2.12 trillion, which is the same on par with 2016, though there have been a slightly higher number of deals in 2017, according to JPM's data.
And while Gilead Sciences Inc.  (GILD) - Get Gilead Sciences Inc. Reportagreed to buy Kite Pharma Inc.  (KITE) in a $11.9 billion deal and United Technologies Corp.  (UTX) - Get n.a. Report   is close to purchasing Rockwell Collins Inc.  (COL)  , in what could be the biggest aerospace acquisition deal in history, don't expect that to be the standard.
"The number of deals north of $10 billion are meaningfully down," says Aiyengar, adding that the frenetic pace of acquisitions (and large acquisitions, more specifically) over the previous three years was not sustainable.
North America deals in particular are down about 10% over the same period.
No surprise, many point to Washington, D.C.
"The little bit of continued uncertainty ...around what would happen from a regulatory perspective...tax perspective...having some clarity on both of these would enable boards to be more courageous," says Aiyengar.
Part of the hesitation is fear of regulatory roadblocks. Close to $842 billion (769 deals) were withdrawn in 2016, according to JPM's recent 2017 M&A Global Outlook. That's actually the highest withdrawn deal volume since 2008 and the combination of a challenging regulatory environment and acquirers' aggressive pursuit of growth-enhancing targets is to blame, say the report.
In North American, 65% of all withdrawn deals were the result of The Committee on Foreign Investment in the United States (CFIUS) concerns and the U.S. Treasury Department's ruling on inversions last year. Additionally, antitrust legislation led to the withdrawal of a number of deals in the U.S. and Europe.
For instance, U.S. drug maker Pfizer Inc.  (PFE) - Get Pfizer Inc. Report  and Ireland-based Allergan plc (AGN) - Get Allergan plc Report walked away from their $160 billion merger because the companies wanted to move overseas to cut taxes and President Obama blocked it.
Honeywell International Inc.  (HON) - Get Honeywell International Inc. Report  and United Technologies canceled their combined sales of $97 billion because of regulatory scrutiny.
And Halliburton Co.  (HAL) - Get Halliburton Company Report  and Baker Hughes (BHI)  parted ways because of antitrust hurdles.
"No one wants to bring a deal to the table that they can't get to close," says Aiyengar. So we need more certainty in these areas to spark growth.
And while we are seeing more cross border deals, even post Brexit -- she points to the Reynolds American Inc.   (RAI) -British American Tobacco plc undefined deal -- the biggest trend she is seeing is in the cross section of industries - where tech and the consumer come together. Deals like Amazon.com (AMZN) - Get Amazon.com Inc. Reportand Whole Foods, WalMart Stores Inc.  (WMT) - Get Walmart Inc. Report  and Jet.com are what she expects to see more of.
She also is expecting to see more women at the table in the future.
We here at #AlphaRising certainly are expecting that as well.
For more from Tracy Byrnes and Alpha Rising:
EY's Kerrie MacPherson: "If You Can See It, You Can Be It"