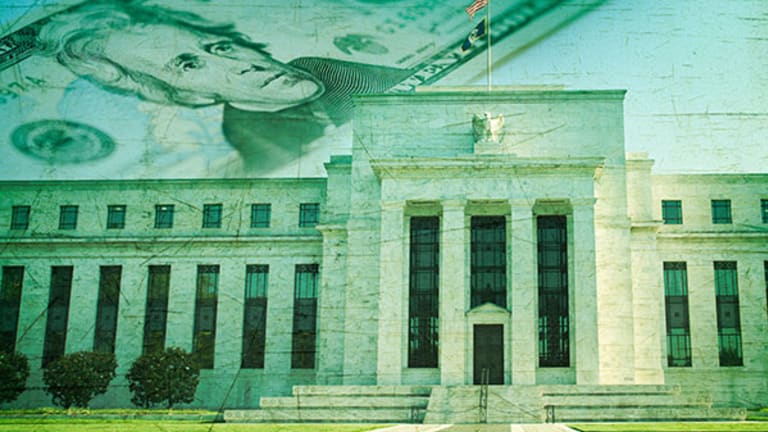 How Fed's Delay on Interest Rates Hurts Both You and Big Banks
Banks from JPMorgan Chase to Citigroup are looking for rate increases to boost interest revenue. Average net interest margin has fallen from 3.4% in 2006 to 3.1% last year.
This article, originally published at 7:07 a.m. EDT Thursday, April 30, has been updated to correct Wells Fargo's net interest margin for 2014.
NEW YORK (TheStreet) -- Big banks weren't expecting much help on interest rates from this week's Fed meeting, and they didn't get it. In some ways, neither did you.
The banks, from JPMorgan Chase (JPM) - Get Free Report to Goldman Sachs (GS) - Get Free Report and Bank of America (BAC) - Get Free Report are looking for rate increases to boost the revenue they earn from interest. Consumers, meanwhile, may begrudge the more expensive home and car loans that accompany higher rates but will benefit from better returns on bonds, CDs and savings accounts. Small investors who own bank stocks will find their holdings appreciate more rapidly.
Bank stocks "are only likely to rise at faster rates than the market if they can push their profits higher," banking analyst Dick Bove said in a note earlier this week. "To do this, they need higher interest rates and a stronger economy."
Banks generally have lagged behind the broader market for the past five years, with returns for for the S&P 500 Financials Index trailing the broader S&P 500 by more than 30 percentage points. By comparison, in the five years through March 2007 -- a year before the financial crisis -- banks outpaced the S&P 500 by 3 percentage points.
Executives say one of the main reasons for poorer performance is interest income, which the industry typically measures through a benchmark known as net interest margin, or NIM. The gauge compares the difference between the interest banks charge on loans and the interest they pay on deposits to the average of their income-producing investments.
To see how that changed in the low interest-rate environment after the financial crisis, compare the margin for 2006, when the federal funds rate at yearend was 4.25%, to today, when the rate has been between 0% and 0.2% for more than six years.
Bank of America's margin dropped from 2.8 to 2.25 and Wells Fargo's from 4.83 to 3.11. JPMorgan's fell from 2.39 in 2007 to 2.18 in 2014.
Overall, the average net interest margin for banks has fallen from about 3.4% in mid-2006 to 3.1% at the end of 2014, according to research by the St. Louis Fed. A spike around 2010 reflected a change in federal rules on how banks value some assets, rather than a change in economic conditions.
The benefit from higher interest rates would likely be big: JPMorgan might see a $4.5 billion, or 20%, after-tax increase in net income by 2017 just based on rate hikes alone, CFO Marianne Lake said during an Investor Day presentation in February.
Lake's analysis assumed a rate hike beginning in the second half of this year and rising to 2.25% by 2017. It's worth noting that 2.25% is a conservative estimate as a chart released in March showed Fed members estimated rates hovering around 3.1% by 2017.
"Most forecasters continue to expect a first hike in June, in line with the clustering of Fed officials around 'mid-2015' as a likely liftoff date," Goldman Sachs (GS) - Get Free Report said in a January 2015 report. "Our baseline remains September, and we view the risks as increasingly skewed to the later side. If core inflation falls as low as 1%, we think that the liftoff would probably move into 2016."
It may seem that with banks paying almost nothing on deposits, there would only be gain -- even in a low-rate environment. However, that hasn't been the case. And it's visible in the stock price, since financials, while up, have generally lagged the S&P.
"The profitability of mortgage lending for retail banks comes more from the origination fee than the interest margin, as most loans are sold into the secondary market," said Greg McBride, chief financial analyst with Bankrate.com.
An additional wrinkle is that interest rates were lowered for a reason -- to encourage borrowing, which implies that people and businesses were unwilling or unable to take out loans. Today, not only are banks earning a small amount in interest, they also have not seen high volume in loan originations, in part because of tougher lending standards.
Wells Fargo, a bank known for its mortgage lending, has responded by expanding in other business lines, such as investment banking, to diversity its revenue sources.
"The low interest-rate environment has been a reality Wells Fargo has been managing through for several years now," Mary Eshet, a spokeswoman for the bank, said in an email. "However, we have still managed to deliver earnings growth and revenue growth through the post-financial crisis era, as Wells Fargo's diversified business model has shown its resiliency."
These sentiments were echoed in Wells Fargo's earnings call with analysts on April 14, when executives discussed the narrowing of its net interest margin by 9 points from the last quarter of 2014. The change, they said, was due to deposit growth.
"As you might imagine, we evaluate our interest-rate risk position continuously, and frequently weigh options to alter the overall sensitivity of the balance sheet," Wells Fargo CFO John Shrewsberry said on the call. "We consider factors such as the expected growth in loans and deposits, performance under a wide range of rate scenarios, and the tradeoffs between the protection from lower rates afforded by adding duration and the consequences of those actions in higher-rate scenarios."