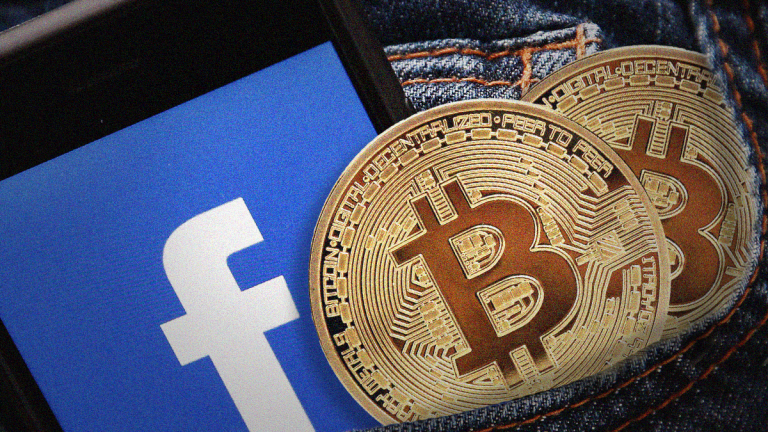 How Facebook Might Make Money From Its New Cryptocurrency
Facebook released a white paper on Libra, its forthcoming cryptocurrency, on Tuesday.
Facebook is  (FB) - Get Meta Platforms Inc. Report moving into crypto with a new currency named Libra, and experts believe it could be successful -- and lucrative -- if it plays its cards right.
On Tuesday, the social media giant released a white paper laying out the details behind the new cryptocurrency, as well as a blog post announcing a new Facebook subsidiary named Calibra to provide financial services built around Libra. 
Facebook shares were up 1.9% to $192.56 on Tuesday morning, and rose sharply on both Friday and Monday on reports about the forthcoming cryptocurrency. 
In a note on Friday, RBC Capital Markets' Mark Mahaney and Zachary Schwartzman identified several areas where Facebook's forthcoming crypto token -- which is expected to launch on a test basis in 2020 -- would be a natural fit. Those areas are peer-to-peer payments, commerce, applications and gaming, with the token delivering speedy transactions for users regardless of the status of the fiat currency where they're located.
It won't happen overnight, however.
"We believe this strategy is a multi-step process, starting with a focus on user engagement through messaging and leading to further monetization with each subsequent, deeper step -- a similar strategy that has worked well for Facebook's Core Advertising business," the RBC co-authors wrote.
Earlier this year, Facebook CEO Mark Zuckerberg also said that the company intends to evolve into a more privacy-focused social network, and Libra could serve as the linchpin of its future monetization potential, focused around commerce and payments rather than strictly advertising. At present, advertising accounts for the vast majority of Facebook's revenue.
Facebook has recruited an initial group of 28 organizations to help govern Libra as part of the Libra Association, reportedly charging each of them a buy-in of $10 million to help support Libra. The Association includes payments firms such as Visa (V) - Get Visa Inc. Report , Mastercard (MA) - Get Mastercard Incorporated Report and PayPal (PYPL) - Get PayPal Holdings Inc. Report ; tech firms such as Booking Holdings (BKNG) - Get Booking Holdings Inc. Report , eBay (EBAY) - Get eBay Inc. Report , Lyft (LYFT) - Get Lyft Inc. Report , Spotify (SPOT) - Get Spotify Technology S.A. Report , and Uber (UBER) - Get Uber Technologies Inc. Report ; telecom firms such as Vodafone Group (VOD) - Get Vodafone Group Plc Report ; and a handful of blockchain companies, venture capital firms and nonprofit and multilateral institutions. 
In its white paper, Facebook said the Association would be an independent, not-for-profit membership organization, but according to Dave Balter, CEO of Flipside Crypto, it's possible that those partners will get access either to exclusive data or metrics and/or the ability to make money over time.
"One theory would be [that partners] have the ability to earn capital," he said, such as by charging interest or other fees.
Ben Tsai, president of the crypto-focused investment and asset management firm Wave Financial, said he could imagine a number of monetization pathways for Libra over time.
"They could, for lack of a better word, 'tax' everyone in the ecosystem," he said. "For example, Apple charges 30% on the App Store -- that's been a point of contention in the ecosystem, but [developers] still do it."
Taking a longer view of how Facebook's Libra could play out, if adopted widely across its user base over time, it's conceivable that Facebook could start behaving much in the same manner as a traditional financial services company.
That could involve facilitating cross-border payments and charging a fee, or even offering their own financial services for which they could set their own interest rates, Tsai speculated.
It's important to note that there would be substantial regulatory hurdles to Facebook offering its own financial services. But if it's difficult to imagine Facebook playing a significant role in the banking system in the developed world, it may well be the case that U.S. users aren't necessarily the target of Facebook's crypto plans.
The RBC report noted that particularly in the sphere of peer-to-peer payments, there could be a "vast opportunity" in emerging markets marked by government instability and high inflation. Tsai echoed that notion.
According to Tsai, a Facebook cryptocurrency might easily surpass "the usefulness of some of the weaker [global] currencies that have very high inflation right now."
Facebook and MasterCard are holdings in Jim Cramer's Action Alerts PLUS Charitable Trust Portfolio. Want to be alerted before Cramer buys or sells these stocks? Learn more now.