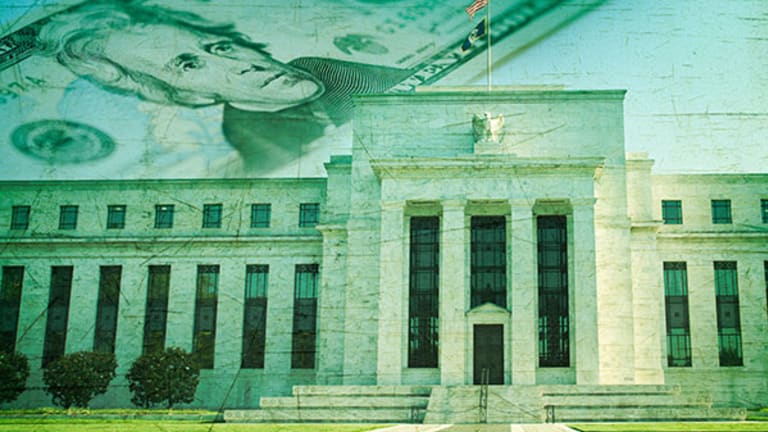 How Donald Trump Might Play Chicken With Federal Reserve
Look out for President-elect Trump's desire for faster growth to collide with the Federal Reserve's reluctance to let the economy overheat. How might Trump try to make the Fed flinch?
Now that the Federal Reserve has resumed draining the proverbial punchbowl, investors should look out for President-elect Donald Trump's desire for faster economic growth to collide with the Fed's reluctance to let the economy overheat.
If further Fed rate hikes end up standing in the way of Trump's plans, the result may be an epic game of chicken. How might Trump try to make the Fed flinch?
He could double-down on his campaign trail threats to send Fed chairwoman Janet Yellen packing, for one. Although the Federal Reserve Act is supposed to prevent the president from running the nation's central bank like an Apprentice board room, the law explicitly protects only the seven members of the Fed's Board of Governors from arbitrary firing.
That might give Trump an opening to install a new Fed chair before Yellen's term expires in February 2018, leaving Yellen to stay on as a member of the board.
No president has ever tested this loophole, though, and the political and financial fallout could prove costly. Instead, Trump may be more inclined to stick with the simpler plan he outlined in a May interview. "When her time is up, I would most likely replace her," the then-candidate told CNBC.
But Trump need not wait until 2018 to start making the Fed great again.
Right away, he could stack the Fed's Board of Governors with sympathizers, a tactic once employed by his idol Ronald Reagan to hamstring Fed chair Paul Volcker. Trump will have two board seats to fill the moment he takes office, with still more vacancies likely to arise in the near future -- the vast majority of governors serve just a fraction of their full 14-year terms.
But board-stacking may get Trump only so far. If the current governors hang around to counterbalance Trump's influence, his next chance to fill a vacancy won't come until early 2020. By that point, any effect a third Trump pick has on monetary policy would come too late to yield benefits in time for Trump's reelection campaign.
Another wrinkle is that the governors' effect on monetary policy is diluted by the fact that regional bank presidents also service on the Federal Open Market Committee, which sets rates. The New York Fed president has a permanent seat, and four other seats rotate between the remaining 11 district presidents.
For more control, Trump could turn to Congress. With a unified government and a populist wind at their backs, Trump and his Republican allies will have their best shot yet at bridling the Fed if future rate hikes are seen as too aggressive.
The president-elect has already expressed support for so-called "Audit the Fed" legislation, for example, which would open the door for Congress to second-guess individual Fed monetary policy decisions. He has also talked up limits on the Fed's discretion to set monetary policy. Such a tweak to the Fed's mandate was included among the possibilities that investment bank Nomura highlighted earlier this month in a list of ten gray swan events for 2017.
Even the threat of legislation could be enough to alter the Fed's calculus. "The members of the FOMC have their antennae on about what's going on over at the Hill," said Sarah Binder, a senior fellow at the Brookings Institution.
Whether Trump pursues any of these strategies remains an open question, but if further Fed rate hikes lead to a showdown with the new president, forget punchbowls -- expect fireworks.
Jon Hill is a New York-
based journalist specializing in business, finance, and economics.