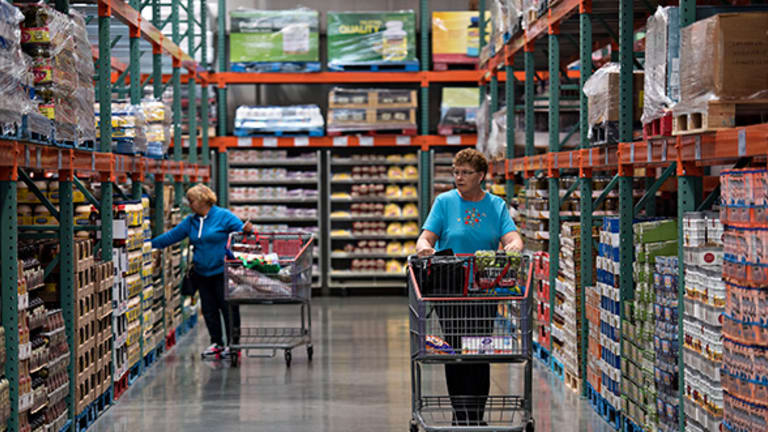 How Costco Is Winning Its Battle Against Wal-Mart's Sam's Club
The two companies' latest results show why Costco is dominating its warehouse club rival.
The two companies' latest results show why Costco is dominating its warehouse club rival.
NEW YORK ( TheStreet) -- Costco Wholesale (COST) - Get Report continues to win the warehouse club war it's fighting against Wal-Mart's (WMT) - Get Report Sam's Club division.
And it's doing it by continuing to be ruthless in keeping prices low, mostly on food. "Others try to make more, we try to make fair," said Costco's CFO Richard Galanti on a conference call Thursday referring to the company's pricing philosophy.
That strategy paid off particularly well in the first quarter as Costco's rock-bottom prices, despite rising food costs, helped it to outperform Sam's Club. Costco's U.S. same-store sales, excluding the impact of lower gas prices and currency swings, increased 5%, while Sam's Club's same-store sales, excluding the impact of lower gas prices, declined 0.5%, reversing a 0.5% increase achieved a year earlier. 
Sales in what Costco calls its "food and sundries" category increased by a low to mid-single digit percentage, depending on the category, while at Sam's Club, sales of fresh and frozen food notched a low-single digit percentage gain.
Costco's overall earnings outpaced analyst forecasts by 1 cent although revenue fell short of expectations, largely due to falling gas prices and the strong dollar. The stock was down about 1% in midday trading Thursday.
Wal-Mart, by contrast, missed its first quarter earnings estimates by 2 cents, in large part to lagging performance at Sam's Club. The company's warehouse business, which has more than 600 stores throughout the U.S. and Puerto Rico vs. 474 for Costco, represents about 12% of Wal-Mart's annual sales.
"Our first quarter results were disappointing, as comp sales missed guidance, and we delivered softer net sales and profit than last year," said Sam's Club president and CEO Rosalind Brewer on a pre-recorded conference call. Brewer, who was named to her position in January 2012, hinted that Sam's Club continues to trail its rivals on price. "We continue to invest in price to drive value for our members," Brewer said.
According to a recent study from the consumer reports style website Cheapism, Costco offers better value on its items than Sam's Club.
While a shopping cart of 30 common items rang up 7% less at Sam's Club than at Costco ($321.43 vs. $345.81), Costco ended up offering greater value than Sam's Club when larger package sizes at Costco were taken into account. Costco notoriously has some of the biggest package sizes of food, condiments and other essentials in the warehouse club sector.
The chain is also becoming increasingly price competitive on organic foods, which both it and Sam's Club have focused on enhancing in the past year.
Further, Cheapism noted Costco mails out coupon books monthly and clearly marks sale items in its warehouses. At Sam's Club, direct mailings are less frequent and discounted sale items are harder-to-find in stores.
For its part, Sam's Club has increased the number of organic foods it sells by 20% since the start of the year. It also has rolled out a new pharmacy program that provides its "Plus" members with free or discounted prescriptions for five diseases -- Alzheimer's, diabetes, mental health, vitamin D deficiency, and prostate health.
This article is commentary by an independent contributor. At the time of publication, the author held no positions in the stocks mentioned.