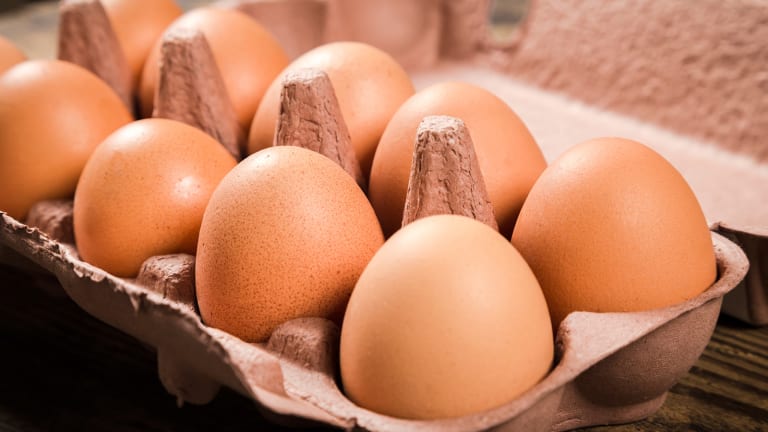 How ConAgra, McDonald's Could Take a Hit From Skyrocketing Egg Prices
Avian flu has caused the price of eggs from commercial farms to surge as much as 250% since April. Here are the companies that will be affected.
NEW YORK (Real Money) -- Suppliers of U.S.-bred poultry are in crisis mode as the U.S. Department of Agriculture continues to receive reports of avian influenza outbreaks, primarily from farms in the Midwest. The price of eggs from commercial farms has shot up by more than 250% since April in certain places.
Avian influenza, also known as the bird flu, affects wild birds, including ducks and seagulls, as well as livestock raised for food supplies such as chickens, turkeys, ducks and geese. It spreads among flocks when healthy birds come in contact with sick birds, as well as through contact with contaminated farming equipment and other materials. The virus is transmitted through bird feces and secretions from the nose, mouth and eyes. It's also found on outer surfaces of eggshells from infected birds.
According to the Centers for Disease Control and Prevention, the H5 bird flu, the variety causing the outbreak, has not been detected in humans and currently poses a low threat to the public -- unless you count their wallets and purses.
Farms in Iowa, Minnesota, Idaho, Nebraska, South Dakota, North Dakota, Indiana, Wisconsin, Kansas, Oregon, Missouri, Washington and California have been affected by the outbreak that began at the end of December. According to Secretary of Agriculture Tom Vilsack, roughly 220 or so facilities that have been affected with some 47 million birds -- turkeys, chickens, laying hens -- affected. That's about 10% of the laying hens in the country, roughly 7%-8% of the turkey population. Those figures are sharply higher than the 187 outbreaks and nearly 42.2 million birds affected by the avian flu as of May 27, according to the U.S. Department of Agriculture.
I touched recently on how the avian flu would affect companies such as Sanderson Farms (SAFM) - Get Sanderson Farms, Inc. Report, Pilgrim's Pride (PPC) - Get Pilgrim's Pride Corporation Report and Tyson Foods (TSN) - Get Tyson Foods, Inc. Class A Report, but further evidence is mounting that the egg industry will be the hardest hit. According to Iowa Public Radio, a dozen eggs from commercial farms currently cost $2.26, up from 64 cents in mid-April.
This increased cost of eggs is having a multitude of impacts on those that use shell eggs, as well as liquid eggs that are used in the processing of foods, pharmaceuticals and other products. Restaurants have started to turn to alternative egg sources and plant-based egg substitutes, not the ones like Egg Beaters offered by ConAgra (CAG) - Get Conagra Brands, Inc. Report, which is produced using real eggs.
Faced with an egg shortage, fast food restaurant Whataburger has hit breakfast eaters in the stomach by slashing breakfast hours to 5 a.m. to 9 a.m. from 5 a.m. to 11 a.m. The culprit is the hard-hit egg supply. How long until McDonald's (MCD) - Get McDonald's Corporation (MCD) Report, home of the Egg McMuffin, cuts its breakfast hours?
After having owned ConAgra shares as a way to play wage stagnation that would prompt consumers to eat at home, we exited the shares recently because of the uncertainty of the effect the mounting egg crisis would have on the company's Egg Beater and other egg-related businesses.
Even though Post Holdings (POST) - Get Post Holdings, Inc. Report has warned it will be affected by the egg supply, Wall Street has yet to adjust its expectations for ConAgra. To me, that puts far more risk than reward ahead for CAG shares. For those wondering, we also exited our SAFM position.
This article is commentary by an independent contributor. At the time of publication, the author held no positions in the stocks mentioned.
Follow Chris Versace on Twitter and Facebook.