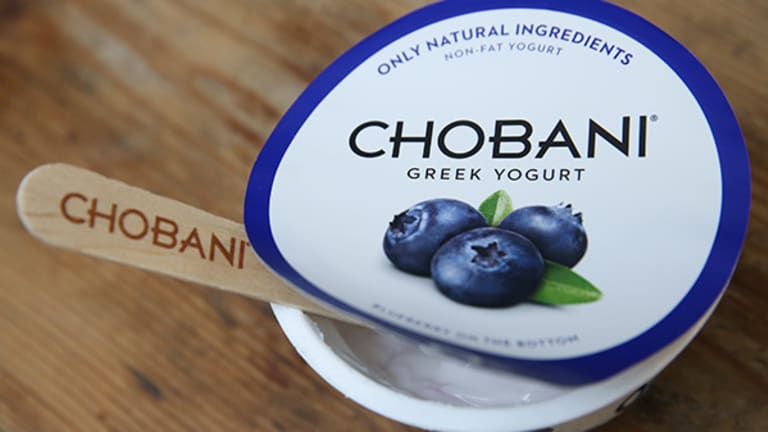 How Chobani Plans to Continue Dominating the Greek Yogurt Market
Chobani largely created the Greek yogurt craze in America. Here are its plans to stay on top in the increasingly competitive business.
NEW YORK (The Street) -- Chobani largely created the recent craze for Greek yogurt but now finds itself having to defend its turf from deep-pocketed and well-connected rivals General Mills (GIS) - Get Report and Danone (DANOY) .
Their solution to the new competition? A barrage of new Greek yogurt-based products that meet different consumer needs.
"We are pushing the boundaries of Greek yogurt and how you consume it throughout the day," said Peter McGuiness, Chobani's chief marketing officer, in an interview at the company's café in New York City.
Chobani, which still boasts more than one-third of the U.S. market share for Greek yogurt according to data tracking firm Nielsen, is in the midst of introducing a host of new products that extend the thick and tangy yogurt beyond just a healthy breakfast snack. Think waistline-friendly Greek yogurt infused with peanut butter for dessert, or one with real coffee in it for a pick-me-up during lunch. 
Over the next several weeks, supermarket shelves will start to be stocked with products such as "Peanut Butter Dream," Chobani's take on a Reese's peanut butter cup, and "Strawberry Summer Crisp," a flavor that resembles a bite into a strawberry shortcake. As for Chobani's new oats platform, it will gain seven new products, headlined by an oatmeal-inspired brown sugar raisin flavor.
"It's our take on oatmeal, in many ways we are trying to source from oatmeal, as instant oatmeal is a $1 billion category," McGuinness said.
The products will sport updated packaging that emphasizes health claims, part of Chobani's new "Love This Life" ad campaign. Packages will mention, for example, "Only Natural, Non-GMO Ingredients" and "40% Less Sugar than Regular Fruit Yogurt."
Highlighting its products' health claims could help the privately held company stay in the good graces of increasingly health-conscious Americans. The company received a $750 million investment from private equity firm TPG in April 2014.
With its new marketing and the creation of new occasions to eat its flagship product, Chobani is seeking to counter the effects of a sales slowdown in the red-hot category. After increasing by a double-digit percentage in recent years, sales of Greek yogurt slowed to a single-digit percentage growth rate toward the end of last year.
For 2015, some forecasts hint that growth in the Greek yogurt category could be nonexistent given the more crowded aisles, placing the heat on Chobani, General Mills and Danone to bolster their efforts to innovate.
The fresh round of products from Chobani will join the recent introduction of yogurts called "flip" (pictured above), which comes with crunchy mix-ins, as well as an all-natural light version.
"Light is growing rapidly as people are shifting from light regular yogurt to light Greek yogurt to get the protein," points out McGuinness.
Chobani has even gone so far as to take aim at the boring baby food aisle dominated by Gerber, a subsidiary of Nestle. It recently released its all-natural "tots" line, with two flavors -- mango spinach and banana pumpkin -- that are packaged in squeeze packs.
"Babies need better options too, there is a lot of bad stuff out there -- we will launch more baby options," said McGuinness. Chobani isn't the only one targeting all-natural baby food. Hain Celestial's (HAIN) - Get Report Ella's Kitchen organic baby food brand has gained increased shelf space at Wal-Mart (WMT) - Get Report and Target (TGT) - Get Report this year.
Meantime, the success of Chobani's lone retail outlet in Manhattan's trendy SoHo neighborhood points the way toward other possible expansion options.
Since opening in 2013, Chobani's cafe has doubled in size to 800 square feet and has also doubled the size of it menu, venturing into savory yogurt concoctions featuring chopped-up cucumbers and olive oil to spread on tortilla chips, hearty soups, and sandwiches with a Mediterranean flair. Same-store sales at the location are up a stellar 100% from this point last year.
"We definitely think we are onto something, and do want to open many more," said McGuinness.
Chobani could also find its way onto the menus of fast-food restaurants, which are increasingly looking to bolster the healthy options they offer.
When asked about this possibility, McGuiness said, "We have been approached and are looking at it."
With its non-GMO Greek yogurt and positive social messages, Chobani would seem to be an ideal fit for the serving line of fast-growing burrito chain Chipotle (CMG) - Get Report. The company recently declared its menu to be free of controversial GMOs.
This article is commentary by an independent contributor. At the time of publication, the author held no positions in the stocks mentioned.