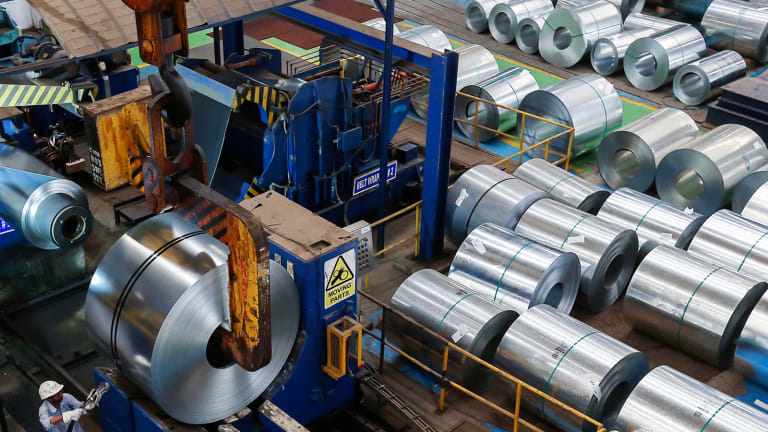 How Chinese Steel Slowdown Might Hurt Your Portfolio
The slowdown in Chinese steel output is as worrying as if your 17-year-old son who'd been eating you out of house and home suddenly and inexplicably lost his appetite.
NEW YORK (The Street) -- China's steel producers seem to have indigestion. It's a sign that things are not quite right in the world's second-largest economy, where steel is used in industries from construction to automobile manufacturing.
It's as worrying as if your 17-year-old son who usually eats you out of house and home suddenly and inexplicably lost his appetite. For years, China's economy voraciously dined on steel bars for breakfast, lunch and dinner.
To see how that's changing, take a look at the chart showing year-to-year growth for China's steel production, based on data for crude steel output from the World Steel Association. It says the data it collects account for about 98% of global production. China produces about half of that each year.
The recent drops might seem modest, less than 2% year to year for the first four months of this year (the latest available data). But it's actually worse than it seems.
It was 1981 when China's yearly steel production last dropped. That was right at the beginning of President Ronald Reagan's first term, and the year before Sun Microsystems, now part of Oracle (ORCL) - Get Oracle Corporation Report was founded.
Or put another way, in nearly three-and-a-half decades, China hasn't slowed its steel production once -- not even in the Great Recession of 2008 and 2009 did production retreat.
Yet last year, it basically stalled; and this year, we've seen a steady decline.
Who really hurts from this?
Clearly, producers of iron ore and coal will suffer. Steel is made from those two materials, and Australia and Brazil both export literally boat loads of the stuff to China. If the trend continues, expect iron ore producer Vale (VALE) - Get Vale S.A. Sponsored ADR Report and diversified miner BHP Billiton (BHP) - Get BHP Group Ltd Sponsored ADR Report to suffer.
It also means the construction industry in China is likely really hurting. In China, approximately 55% of steel demand is from the building trade, according to estimates by professional services company EY, based in London.
Given the role of banking in construction I'd expect the local banks to suffer also.
A recent working paper published by Norges Bank says steel output is closely related to World GDP and is a better predictor of it than some other indicators. 
The paper doesn't focus on China specifically, but given the share of global output by that country (around 50%) I'd say anyone with investments in that country might want to be concerned. Why? Because if steel production is closely related to world GDP, then it must be even more closely related to China's GDP.
Therefore, you might consider avoiding the iShares China Large-Cap ETF (FXI) - Get iShares China Large-Cap ETF Report, which tracks a basket of shares listed in Hong Kong.
This article is commentary by an independent contributor. At the time of publication, the author held no positions in the stocks mentioned.