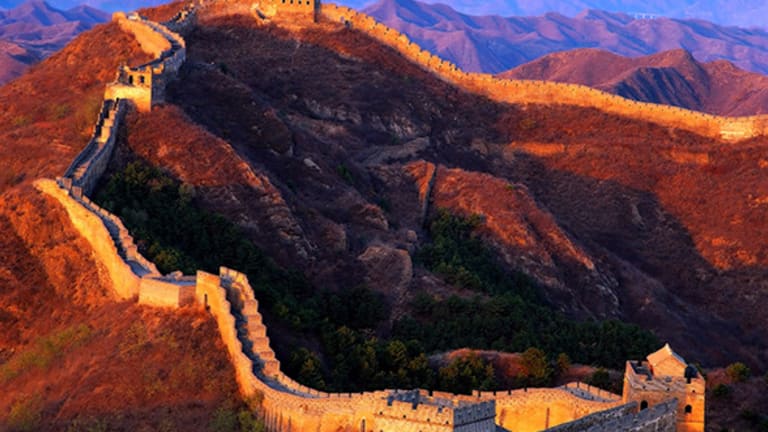 How China Could Respond to Trump Trade Sanctions
Wall Street tries to predict how China is likely to react to blocked deals, import tariffs and currency manipulation charges by the Trump administration.
-- Ron Orol is a regular contributor to The Deal, a sister publication of TheStreet that offers sophisticated insight and analysis on all types of deals, from inception to integration. Click here for a free trial.
Blocked deals, higher import tariffs and a currency manipulator label -- all possible sanctions that the Trump Administration has threatened to impose on China in response to what it says are unfair trade practices -- should provoke a response of some sort from Beijing. But folks on Wall Street wonder exactly what will that be.
Shanghai-based economist Andy Xie predicts that the Trump administration's anti-China agitations will become a catalyst to restructure the Chinese economy in a way that avoids a major fight with the U.S. The alternative, says the former Asian-Pacific chief economist at Morgan Stanley, is a trade war with toxic implications.
"China will negotiate," Xie said. "China has no domestic opposition so the opposition has to come from overseas. My view is Trump will be very good for China. He will want a good deal. It's not like Trump wants a fight. He is posturing because he wants a good deal."
Barry Naughton, chairman of Chinese International Affairs at the University of San Diego, said he believes that China's response will be "slow and careful" because Beijing has so much at stake. "The Chinese have done a remarkable job so far of portraying the U.S. as protectionist and hostile to Chinese investment," Naughton said. "Which it isn't and the numbers show that. China has many more areas off limits to U.S. investment-no purchases of oil wells or certain dual-use machinery or Chinese entertainment assets."
But if a fight does come and China is faced with higher export tariffs and the end of cross-border dealmaking, in the short-term, look for China to start a silent, behind-the-scenes, campaign against U.S. exports to the country, axing purchases of U.S.-built Boeing airplanes, U.S. farmed soy beans and corn, for example. Merger and acquisition activity would shift elsewhere, to other continents and countries.
"I don't expect China to impose a specific tariff on U.S. exports to the country but there would be a quiet response," Naughton said. "This is a country where the communist party has a phone to every company."
In recent months, hedge fund managers have revived worried talk that Beijing can meaningfully retaliate by selling its vast treasure-trove of U.S. Treasury bonds. However, Michael Pettis, a senior fellow at the Carnegie Endowment for International Peace in Beijing, argues that China has no choice but to buy foreign assets such as Treasuries so it can run a current account surplus.
"As long as it has a current account surplus, China is a net buyer of foreign assets, regardless of what happens to its reserves," said Pettis. "China doesn't buy Treasuries because it has a bunch of money left over it needs to figure out what to do with. China has no choice to buy foreign assets so it can run a current account surplus."
While each cross-border deal represents a potential flashpoint, Pettis suggests that the new, more hostile attitude in Washington toward Chinese acquisitions of U.S. companies dovetails with a wider effort by Beijing to stem the flow of excess domestic liquidity into speculative foreign investments.
"Capital outflows have been enormous as China's lost a quarter of their reserves over the past two years," Pettis said. "Beijing has been trying to stop money from leaving China, so if the Americans want to stop Chinese acquisitions of U.S. companies, that would put them on the same page as the Chinese government."
Consider Dalian Wanda Group's $1 billion acquisition of Dick Clark Productions Inc., the producer of the Miss America Pageant and "So You Think You Can Dance" television program. The deal has raised eyebrows in both Washington and Beijing. Protectionist U.S. senators, including Texas Senator and former GOP presidential hopeful Ted Cruz, have raised concerns about Chinese companies gaining "significant" influence in the U.S. movie industry. Earlier this month reports emerged that the deal may have been stalled due to efforts in Beijing to stem the flow of capital out of China. However, even with that opposition, the deal now is expected to close in the next few weeks.
Despite the chill from on high, Chinese companies are pushing back, looking for stable investments abroad. Case in point: HNA Group Co., a private Chinese conglomerate controlled by billionaire Chen Feng, recently acquired SkyBridge Capital, the U.S. fund of hedge funds set up by Trump associate Anthony Scaramucci. And the expectation is HNA wants to expand further into the U.S.
But with the climate for these kind of transactions worsening in both Washington and Beijing, look for less trans-Pacific dealmaking in the months to come, even if the prospect of a trade war recedes.