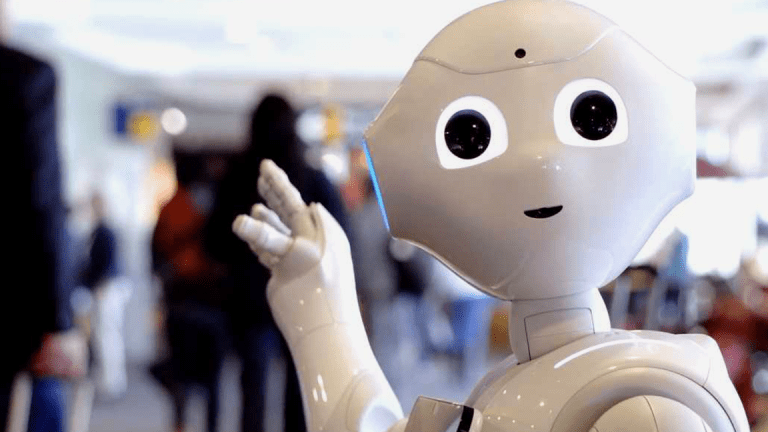 How Dale Earnhardt Jr., Bourbon, Nursing Rooms and Robots Boost Airport Appeal
U.S. airports are trying harder to become more than just transfer points, establishing attractions using Dale Earnhardt Jr., robots, Kentucky bourbon, and nursing rooms and competing on Wi-Fi quality.
A new survey showed that airline passengers are increasingly happy with U.S. airports.
Also, at the Pyramid Ale Taproom at Oakland International Airport, a four-foot-tall humanoid robot named Pepper assists travelers by providing menu recommendations and directions to gates, restrooms and even other restaurants.
We have absolutely no idea whether these two facts are connected in any way. But both are part of today's airport reality.
Regarding Pepper, take a look at the photo of the robot that accompanies this story.
We would add only that HMS Host, which manages concessions at more than 120 airports worldwide including Oakland International, will soon bring Pepper to other yet-to-be-disclosed airports. This is something to be aware of, just in case.
Regarding the J.D. Power North America airport satisfaction survey, released last week, one of the conclusions was: "Many airports have also found success in improving customer satisfaction through creative use of high-touch traveler outreach initiatives.
"Phoenix Sky Harbor, for example, deploys a team of therapy dogs for passengers to pet while they wait to board," the firm said, in a prepared statement. "San Francisco International features a pet therapy pig that roams the terminal looking for pets and selfies; and Cincinnati/Northern Kentucky Airport has more than 30 stress-relieving ponies on staff with which travelers can interact."
Some travelers like therapy dogs, some like therapy pigs, some like stress relieving ponies, and some like humanoid robots. Really, in the airport of today, it is entirely your choice whom or what you choose to engage with.
However, we have a few favorites to list.
Let's start at Charlotte Douglas International Airport, the second-biggest hub for American Airlines Group Inc., (AAL) - Get American Airlines Group, Inc. Report , where local hero Dale Earnhardt Jr. is co-owner of a restaurant, Whisky River.
The restaurant is located in Terminal E. About half of American's 677 daily departures are operated with regional jets, which depart from Terminal E and fly to Southern cities like Jacksonville, N.C. and Jacksonville Fla.; Greenville, N.C. and Greenville S.C., and Wilmington, N.C., the city where American predecessor Piedmont Airlines originated in 1948.
So placement is not random.
"This location works well," Jack Christine, Charlotte deputy aviation director, has said. "There's a good mix of local regional passengers going through here. It has a more Southern feel."
Earnhardt is the best-known driver for NASCAR, a business that originated in North Carolina and never totally succeeded in an effort to become a bit more homogeneous and a bit less Southern.
In fact, given some NASCAR owners' position on NFL player demonstrations, NASCAR may be going backward. But Dale Jr. however is forging ahead.  On Monday, he tweeted, "All Americans R granted rights 2 peaceful protests. Those who make peaceful revolution impossible will make violent revolution inevitable JFK."
HMS Host spokeswoman Lina Mizerek said Whisky River and Gibson Cafe at Nashville International Airport are two airport venues that occasionally offer live music. "And, yes, Dale Earnhardt Jr. tries to stop by Whisky River whenever he's flying in/out of Charlotte Douglas," Mizerek said in an email.
Sticking in the South, at Blue Grass Airport in Lexington, Ky., the Cork & Barrel Wine & Bourbon Bar opened in July.
It was built using timbers from the historic Old Crow Distillery in Frankfort, Ky.
The airport is the second location for a Lexington retailer. The bar offers more than 100 types of bourbon to drink, carry home, or ship.
Just as Earnhardt symbolizes North Carolina, bourbon symbolizes Kentucky, which produces 90% of the world's bourbon.
From Lexington, four carriers serve 19 destinations -- this  includes American's flight to Charlotte.  This may ring a bell with travelers contemplating a tour of Southern airports with locally themed amenities.
Further west, Denver International Airport boasts a host of airport attractions.
First, the airport said last week that it had opened three nursing rooms for traveling mothers who are nursing. Rooms are located in Concourses A, B and C. They all have muted colors, comfortable seating and limited access that requires access codes provided through an intercom at the nursing room door.
"We have been working to better meet the needs of our passengers and that includes offerings for nursing mothers on the go," said airport CEO Kim Day in a prepared statement.
Secondly, Denver said it provides the fastest Wi-Fi among the world's top airports, citing testing from March to May 2017 by internet speed test company, Ookla.
According to Ookla, Denver has "the fastest Wi-Fi we've seen at any airport on the planet," with an average download speed of 78.22 Mbps, topping the list of more than 50 major airports tested across North America, Europe, Asia and Africa."
And third, Denver -- like Charlotte and Lexington - has a locally themed outlet for alcohol.
Starting Thursday, the airport will host the fourth annual "Beer Flights" beer garden, offering travelers samples of 10 Colorado beers through Oct. 9.
More of What's Trending on TheStreet:
This article is commentary by an independent contributor. At the time of publication, the author held no positions in the stocks mentioned.