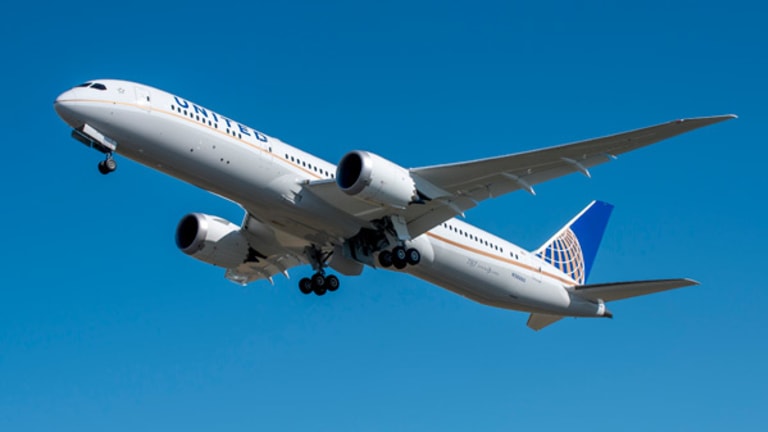 How Boeing 787-9s Are Boosting United Airlines at San Francisco Hub
United Airlines is growing at its San Francisco hub -- making the most of its newer, longer-range 787s.
United Airlines (UAL) - Get Free Report says the continuing rapid international growth at its San Francisco hub is being fueled by its newest airplane, the Boeing (BA) - Get Free Report 787-9.
Since March, United has added non-stop flights from San Francisco to Hangzhou and Xian in China as well as to Tel Aviv, Singapore, and Auckland, New Zealand. Of the five, four are flown with the 787-9, while Xian is flown with a 787-8, a smaller airplane with a shorter range.
Boeing introduced the 787-8 in 2011. United put 219 seats on the aircraft, which has a range of 8,458 statute miles. Boeing delivered United's first 787-9 in 2014. The carrier put 252 seats on its 787-9, which has a range of 8,786 miles. United has 18 787-9s and 12 787-8s.
"The poster child for the 787-9 is Singapore," said Brian Znotins, United vice president of network. "No other airplane in our fleet can fly that route."
The 8,446-mile flight, which began in June, is the longest 787 route in the world, as well as the longest scheduled flight by any U.S. carrier. Previously a bigger airplane was required to carry sufficient fuel, but a bigger airplane would have been too big for the route.
"As a network planner, my goal is to give business travelers back time in their lives," Znotins said. "I believe business travelers want to be home for their kids' soccer practice, and if I can get you to and from Singapore non-stop [instead of with a connection], I just gave back two or three hours."
Before starting its SFO-Singapore flight, United looked at the 787-9's performance on the Los Angeles-Melbourne route it started in October 2014. "You get some experience with the airplane, like how much fuel it burns," Znotins said. "LA-Melbourne made us comfortable to launch Singapore."
SFO-Tel Aviv began in March -- largely, Znotins said, because United corporate customers demanded it. "We had a strong grass-roots effort," he said. "The phones were ringing off the hook -- they wanted non-stop service. We put the service out there, and it was good right out of the gate."
When United decided to cancel its Houston-Lagos flight in June, a result of weakness in the oil economy that dominates both cities, that made an aircraft available. United put a 787-9 on the busy SFO-Tel Aviv route.
San Francisco- Hangzhou began in July with thrice-weekly service.
Znotins called Hangzhou "the San Jose of Shanghai," because like San Jose, Calif., it is a technology center that is located just outside of a more prominent city, about 100 miles from Shanghai. By car, "there's a lot of traffic," he said. "It's not an easy trek."
United had sought to begin a second SFO-Shanghai flight in May, but when slots at Shanghai's Pudong International Airport were unavailable, the carrier elected to move its Hangzhou launch to 2016 from 2017. The time from decision to the launch was brief. "Hangzhou might have been a [787] eight, but the eights were busy," Znotins said.
SFO-Shanghai is currently flown with a Boeing 747. United will use two 787-9s when it moves to double daily service this winter.
SFO-Auckland also began in July. Znotins said that because United and Air New Zealand are Star Alliance partners, the two carriers can offer connections in each other's hubs, which means United can fill a 787-9.
"There's not a huge population beyond Auckland, but it's better than a dead end," he said. It is not, however, better than Frankfurt, where two-thirds of United passengers connect on flights operated by partner Lufthansa.
Thrice weekly SFO-Xian service began in May, the first non-stop flights between the U.S. and the interior China city best known for ancient life-sized statues of terracotta warriors.
"Xian is a little different from the others," Znotins said. "It's a huge city, but we don't see a lot of business demand, so we decided on seasonal service," and on the smaller 787-8.
This article is commentary by an independent contributor. At the time of publication, the author held no positions in the stocks mentioned.