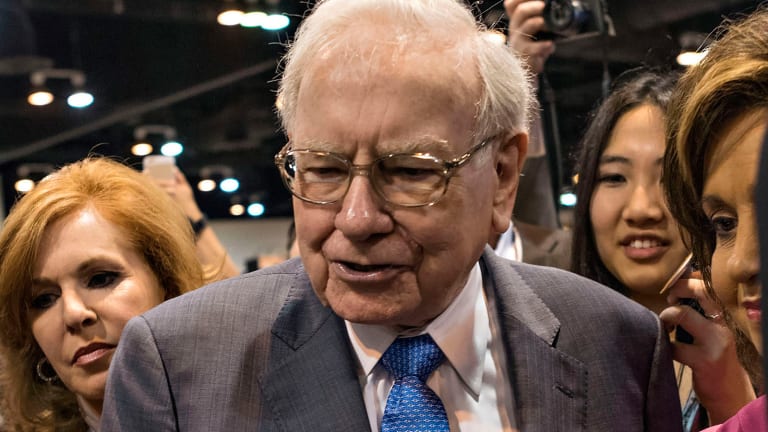 How Big is Warren Buffett's Payoff From $6 Billion Railroad Upgrade?
When Warren Buffett's Berkshire Hathaway reports earnings on Friday, investors will likely focus on the performance of Burlington Northern railroad and the GEICO insurance business.
NEW YORK (TheStreet) -- Don't despair about Warren Buffett's Burlington Northern because railroad shipments industrywide were down in the three months through June. Or because Burlington delivered lackluster performance in 2014.
The Fort Worth, Texas-based railroad, which accounts for about one-tenth of revenue at Buffett's Berkshire Hathaway (BRK.A) - Get BRK.A Report, may post earnings growth of 10% for the second quarter, Nomura analyst Clifford Gallant projected in a note to clients. Buffett is investing $6 billion, or about 26% of the railroad's estimated revenue, in improving its operations this year after it disappointed customers with service failures in 2014.
"Outlays of this magnitude are largely unheard of among railroads," Buffett said in the letter. "Our huge investments will soon lead to a system with greater capacity and much better service. Improved profits should follow."
Gains at the railroad in the second quarter would contribute to operating earnings growth of as much as 14% from last year for the parent company, Gallant projected. Berkshire Hathaway, which Buffett took control of 50 years ago, should also benefit from 8% premium growth at insurance company GEICO, known for its talking-gekko commercials, and light gains in an equity portfolio that includes American Express (AXP) - Get American Express Company Report, Wells Fargo (WFC) - Get Wells Fargo & Company Report, IBM (IBM) - Get International Business Machines (IBM) Report and Coca-Cola (KO) - Get Coca-Cola Company Report.
Berkshire Hathaway is expected to report earnings of a $3,038 a share, excluding some items, the average of estimates in a Bloomberg survey of analysts. That would compare with $2,630 a share a year earlier. Sales may increase 6% to $52.9 billion.
Buffett has become a billionaire at the helm of Berkshire, earning the nickname "Oracle of Omaha" for his financial acumen, while shareholders who bought and held the company's stock in the past half-century have become millionaires. In the past five years alone, Berkshire has posted gains of 77%, though shares have dipped 5% in 2015.
TheStreet's ratings service designates the stock a "buy," noting Berkshire's revenue and cash-flow growth have outpaced the 7% average for the financial services industry. 
And Nomura's Gallant reiterated his own "buy" rating on Berkshire's shares in advance of Friday's earnings report, "given our view of steady and strong operating earnings ahead, the opportunity created with a growing pile of cash, and ultimately, the high quality of the group of businesses under the Berkshire roof."
That includes Burlington, which Buffett has referred to as one of Berkshire's "Powerhouse Five" non-insurance businesses. The railroad maintained flat carload volumes in the second quarter, even as carloads at the largest North American railroads dropped 2.3%, according to data from the Association of American Railroads.
Earnings growth in the first quarter of 2015 was led by a 44% gain at Burlington Northern, which Buffett acquired in 2010, as shipments of coal and agricultural products increased and the business benefited from equipment improvements, expanded lines and new hires, according to a regulatory filing.
Meanwhile, a 10% gain in premiums at GEICO last quarter was heavily eroded by a 17% increase in insurance payouts and related expenses, as cheaper gas put more drivers on the road and wintry weather caused them to have more accidents.
Friday's report will come amid speculation that activist investor Bill Ackman's acquisition of a 7.5% stake in Mondelez International (MDLZ) - Get Mondelez International, Inc. Class A (MDLZ) Report signals he may push for a takeover by Kraft-Heinz, in which Buffett has a 27% holding.
Kraft-Heinz was formed earlier this year with the merger of Kraft Foods Group and H.J. Heinz, owned by Brazilian private equity firm 3G Capital and Buffet's Berkshire.
Jim Cramer, portfolio manager of the Action Alerts PLUS charitable trust portfolio, told TheStreet on Thursday that he thinks Ackman "will want something to happen" with Kraft Heinz. One twist in that scenario is that Mondelez, a Deerfield, Ill.-based cookie and candy maker, was separated from Kraft just a couple of years ago.