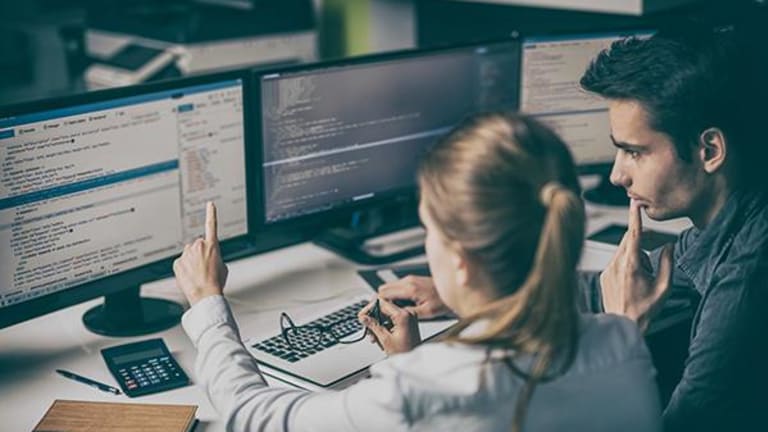 How Artificial Intelligence Will Help Financial Advisors Provide Better Guidance
As more financial advisors adopt the use of artificial intelligence, the technology will help them avoid spending their time answering mundane questions and focus more on financial planning.
As more financial advisors adopt the use of artificial intelligence, the technology will help them avoid spending their time answering mundane questions and focus more on financial planning.
As more financial advisors adopt the use of artificial intelligence, the technology will help them avoid spending their time answering mundane questions and focus more on asset allocation or financial planning.
The fear that artificial intelligence will replace financial advisors like other jobs is common, but the intent of the technology is to give investors more tools and sophisticated information immediately. Instead of waiting or relying on their advisor to answer questions such as how the fees of an ETF compare to those of a mutual fund over the next ten years or how increasing the monthly contribution to an IRA by $100 affects their returns, clients can receive answers from artificial intelligence and rely on their advisors for more nuanced deep-dives.
As artificial intelligence matures through its various disciplines such as machine learning, image and text classification, natural language processing or speech recognition, the technology is designed to conduct very routine and specific tasks and able to replace some jobs held by humans.
The technology is programmed to mimic human conversation based on "its programming and mining tons of data to figure out what the best answer may be," said Grant Easterbrook, co-founder of Dream Forward 401(k), a New York-based low-cost 401(k) plan provider.
The current, traditional operations that many larger financial services firms employ when a client has a question tend to be frustrating, since the turnaround time can be very long. Often when an investor calls, he is told that only a specialist can address his query and receiving a reply can take days and require the individual sending in more documents by fax or mail, Easterbrook said. 
The trend to address questions online is only increasing, especially for Millennials who want to receive answers instantly through their smartphones or tablets. Financial advisors who utilize artificial intelligence can become more effective and efficient.
"Millennials have a much lower tolerance for this kind of service having grown up with technology," said Easterbrook. "Artificial intelligence can help reduce all of this friction and allow advisors to focus only on financial planning where they add the most value."
As artificial intelligence has expanded into the financial services sector, it can automate the repetitious work such budgeting or determining fees or returns that advisors currently handle, said Matt Schulte, a CFP and head of financial planning at eMoney Advisor, a Radnor, Penn.-based financial planning platform for advisors.
"Now there is a focus on developing tools to help advisors and clients engage," he said.
Artificial intelligence would not compete with financial advisors, but would instead free up their time to discuss an investor's goals and strategies. Dream Forward 401(k) is using the technology to answer basic financial planning issues that can be automated such as figuring out what an emerging market is, whether someone can cash out a 401(k) or IRA account and the fees involved or offering basic investment guidance and helping users with investment selection after determining their risk level. The software can also answer simple questions such as whether an item can be deducted on their taxes.
"Our artificial intelligence can answer a question on the spot and is designed to handle the upfront work, which is something advisors don't generally want to be doing anyway," he said. "Advisors can be looped in when their clients ask the AI about rollovers, funding college or buying insurance. When investors have more complex questions, they can call and speak to traditional advisors from companies such as Barnham Financial Group. "
More complicated answers sought by investors can also be answered by artificial intelligence, such as inquiring about investing in a 401(k) sooner or the returns of the funds if they were allocated in a different investment such as bonds instead of stocks, said Michel Morvan, CEO of The CoSMo Company, a San Francisco-based software company and a former professor of computer science at the University of Montpellier in France.
Artificial intelligence is not likely in the near term to answer more complex financial planning issues investors have or making emotional decisions such as whether to pay down a mortgage to prepare for private school tuition payments, should a bonus be allocated into a 529 or be used to pay down more of the mortgage or other complex tax questions, said Easterbrook.
"This kind of complex multi-goal planning with tax considerations and tradeoffs would be difficult for the artificial intelligence to get right," he said. "Even if the regulators allowed it, it'd be quite a liability for the company."
One advantage of the technology is that it can help investors stay on track to ensure they are saving enough money for their retirement portfolio.
"The goal is to create a new kind of 401(k) that 'holds your hand' throughout the process," Easterbrook said.
The use of artificial intelligence combined with other technology, such as the Amazon Echo, will give investors more information about their finances, said Cheryl Nash, president of investment services for Fiserv, a Brookfield, Wis.-based technology provider for the financial services industry.
"Instead of asking Alexa what the weather is today, you will be able to ask her, 'how am I doing against my financial goals?'" she said.
Advanced artificial intelligence tools could make recommendations for investments, based on the previous performance of the assets, Morvan said. The tricky part will be determining the level of responsibility.
"What if the customer follows the recommendation and loses all his or her investment?" he said. "Is that the responsibility of the AI provider or the investor?"
Rate of Adoption by Advisors and Investors
Adoption by investors will "likely be slow" because of misperceived ideas of who is managing their money, said Nash.
Millennials are likely the fastest generation to adopt this technology since many are already engaging with their advisors via Google Hangouts or Skype, email or even social media.
Advisors who opt out of using the technology will face the Millennial generation who believe it is a no-brainer, said Morvan.
"They will not understand if their financial advisor doesn't offer access to them and very soon will not trust an advisor who does not propose their use," he said.
The average investor is more likely to embrace artificial intelligence than a typical advisor, said Larry Miles, a principal at AdvicePeriod, a Los Angeles-based registered investment advisor.
"Most all investors will accept it," he said. "With AI, advisors will be able to focus on what really matters to clients. AI will change everything and advisors who embrace it will win. I would guess that many advisors are woefully out of date with its technology because they don't understand and are scared of it."
Advisors who are not just focused on generating profits from selling assets to their clients will be able to use artificial intelligence to increase their business, said Bijan Golkar, CEO of FPC Investment Advisory in Petaluma, Calif., who plans to implement the technology.
"It will allow the really good advisors who want to be a mentor and scale their business so they can work with people who do not have seven figures and are really trying to save," he said. "It will help an investor feel more empowered about their assets and also learn about an advisor's investment philosophy quickly."
Editors' pick: Originally published June 7.
--
What's Hot
Alibaba, day two notes: After a monster run in its stock on the heels of a bullish investor day, Alibaba (BABA) - Get Report founder Jack Ma saw his net wealth rise $8.5 billion to $41.8 billion. He is Asia's richest man, according to the Bloomberg Billionaires Index.
Why not stay long this tech stock, momentum lives on: Chipmaker Nvidia (NVDA) - Get Report is the best-performing S&P 500 component this quarter. The stock is up a robust 54% in June as Wall Street has become even more bullish on the company's prospects.
Must watch digital TV: Apple (AAPL) - Get Report CEO Tim Cook will deliver the commencement address at the Massachusetts Institute of Technology on Friday. He has big shoes to fill after a well-received speech by Facebook (FB) - Get Report founder Mark Zuckerberg at his alma mater Harvard.
ROBOTS: There really isn't any additional information needed on this one. Softbank Corp. (SFTBY) has struck a deal to pick up Alphabet's (GOOGL) - Get Report robot-maker Boston Dynamics. TheStreetshows you inside of five seconds what Boston Dynamics does -- it's really cool stuff.