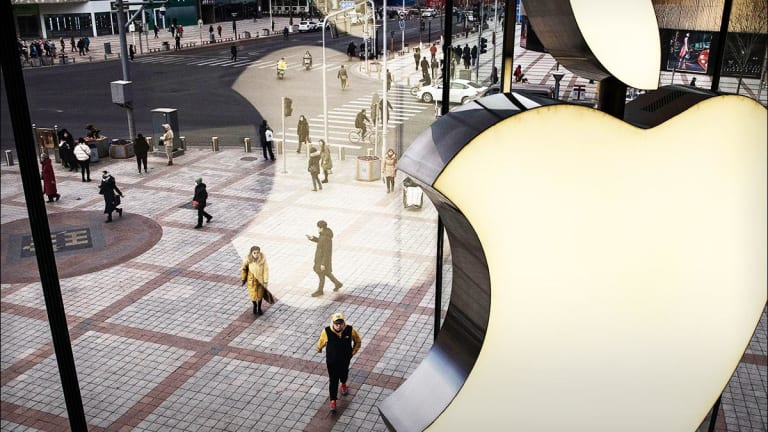 For Apple, a Recession Could Prove Especially Painful
Apple's stock proved resilient in the last recession -- but things are quite different this time around, with Apple grappling with longer iPhone upgrade cycles and an uncomfortable position at the center of the U.S.-China trade conflict.
In a recession, Apple could find itself in a particularly tight spot. 
Recessions negatively affect companies of all types, but Apple (AAPL)  would occupy an especially unique position in any future downturn: The iPhone giant is among the most valuable and influential companies in the U.S. economy, but it's also at the nexus of the escalating U.S.-China trade conflict, which some believe could accelerate the onset of a recession, and further worsen their prospects should the trade war continue.  
"With respect to the U.S., Apple could be more at the core of it than anybody else," said Chester Spatt, a professor of finance at Carnegie Mellon and former chief economist at the SEC. "It's not just that their demand could decline, but the demand could be lowered relative to their competitors. They perhaps have considerable vulnerability."
The prospect of a recession paints recent efforts by Apple CEO Tim Cook, who has met with President Trump several times to discuss tariffs, in a distinctive light. Speaking to reporters last week, Trump recounted a conversation with Cook in which the Apple chief argued that his company's main competitor, South Korea-based Samsung (SSNLF) , would have an advantage if tariffs were imposed on iPhones. 
If Apple were compelled to raise prices on iPhones to offset costs -- Wedbush analyst Dan Ives estimated recently that tariffs could lead to a price increase of $75 to $100 for iPhones, although JPMorgan's Samik Chatterjee has pointed out that could be mitigated by lower memory prices -- that could present Samsung with a key pricing advantage, and worsen any blows to demand from a recession. 
"This is basically part of the broader argument about the distortionary impact of tariffs," Spatt added. 
During the last recession, Apple's stock proved far more resilient than many. In the fall of 2009, for example, it posted both record profits and record sales of iPhones and Macs. But that was when the iPhone was still new and a must-have gadget for Apple lovers, and that powered Apple through a deep downturn and beyond.
Things are quite different now. Growth in iPhone sales -- and premium phone sales in general -- have been on the wane for years, with upgrade cycles steadily getting longer. According to a recent report from Strategy Analytics, the average time to upgrade an iPhone is 33 months. The average iPhone has been active for 18 months, compared to 16.5 months for the average Samsung phone.
Apple has made progress in diversifying its business away from the iPhone, recently reporting double-digital growth in both its wearables and services segments. The services segment, which makes up around 20% of Apple's revenue, is poised to grow further with several new offerings launching this year: Apple Card went live this month, while Apple TV+ and Apple Arcade are due to launch this fall.
iPhone sales are still central to Apple's overall financial performance, making up 48% of its total revenue last quarter -- and an economic downturn could exacerbate already slowing trends, according to Romeo Alvarez, technology analyst at William O'Neil + Co. Should Apple find itself in a position where it must lower sales estimates like it did in the January quarter, he said, it could produce another extreme reaction in the stock. After Apple lowered its fourth quarter revenue estimates on Jan. 2, its stock price tanked nearly 10% in one day.  
"They might have to lower guidance, and if you look at what happened last time, the drop could be significant," Alvarez said. 
Apple's newer, lower-cost services offerings-- such as Apple Arcade, which will be priced at $4.99 per month after a free trial -- could still prosper in a recession, though they may grow more slowly than otherwise, Alvarez added.
"The margins on those businesses are very high," he said. "Is that enough to compensate for a slowdown in the iPhone business? I think that's the question."
Apple shares were down 1.13% on Tuesday to $204.16 and are up 30.7% year to date. 
Save 57% With Our Labor Day Sale. Join Jim Cramer's Action Alerts PLUS investment club to become a smarter investor! Click here to sign up!
Apple is a holding in Jim Cramer'sAction Alerts PLUS Charitable Trust Portfolio. Want to be alerted before Cramer buys or sells AAPL? Learn more now.