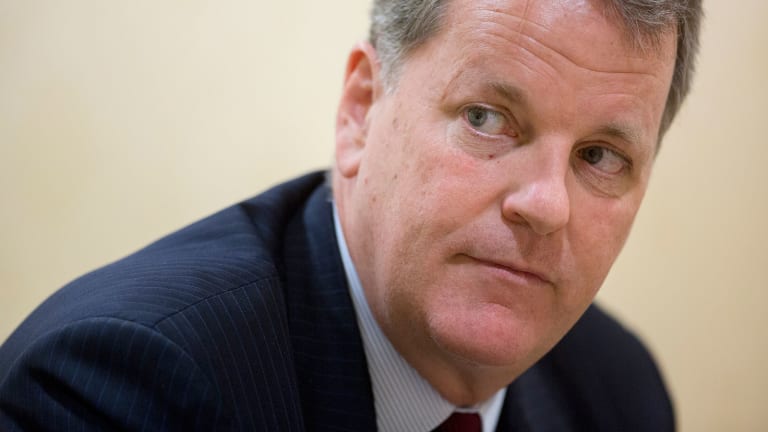 How American CEO Doug Parker Wants to Change the Airline Industry by Working With Labor
American Airlines CEO Doug Parker defied history when he awarded pilots and flight attendants an unnegotiated $830 million raise. He is being called 'a servant leader.'
Last week, a retiring American Airlines (AAL) - Get American Airlines Group, Inc. Report executive praised CEO Doug Parker, calling him "a servant leader" and noting, "Doug taught me through his actions that you can be the leader you are in your heart."
Usually, it is meaningless when a retiring executive praises the CEO. This time was different because Terri Pope, who will step down June 2 as American's vice president of hub operations in Charlotte, is a popular and inspiring leader with a rare skill -- she knows how to treat people.
Like a lot of aging baby boomers, I have worked for hundreds of bosses. Terri Pope was the best one.  A large proportion of the others were incompetent.
She is not the only Charlotte leader who speaks highly of Parker. Another is Bob Frear, chairman of the Charlotte chapter of the Allied Pilots Association.
After American awarded $830 million in pay raises to pilots and flight attendants in April, Frear acknowledged in a letter to pilots that he had been Parker's "most outspoken critic" among pilot leaders. Yet he commended Parker for the bold step and said, "He needs our support to be proven right."
Add up the comments by leaders from different ends of the spectrum in Charlotte, American's second-largest hub, and it is hard to avoid the conclusion that Parker, in his 16th year as an airline CEO, is exceptional.
If so, then giving $830 million in raises, outside of normal contract negotiations, may be his defining accomplishment.
The move was panned by Wall Street. Shares fell 9% over the next three trading days. But on Tuesday, shares closed at $46.66, very nearly the closing price on the evening American announced the pay raises. And some on Wall Street are reconsidering the initial harsh reaction.
The move "raises costs in the near-term but also signals a willingness to engage and treat employees with respect, which we think creates significant goodwill and fosters an environment for meaningful operational improvement," Barclays analyst Brandon Oglenski wrote in a report on May 15.
The airline industry is peculiar. In a country where many people seem to delight in union bashing, it is both heavily unionized and highly profitable. American is 85% unionized. Parker long ago figured out that he should work with unions.
The realization enabled the 2013 merger between American and US Airways, which Parker headed. The key labor leader was Laura Glading, then president of the American flight attendants' union. The role established Glading as one of this century's most influential labor leaders. She was quickly ousted by members who decided she was too close to management.
In 2016, Dan Carey was elected president of the Allied Pilots Association. He immediately started to advocate for a mid-contract pay increase. A lot of people seemed to think he was nuts. Most have rethought.
It is tempting to make that last sentence the conclusion to this story. But let's push on.
Starting in 1989, I covered Miami-based Eastern Air Lines for
The Miami Herald
. Eastern shut down in January 1991 after a bitter labor management conflict and a historic strike.
Eight years earlier, in 1983, Eastern implemented a widely applauded employee ownership plan.
Workers agreed to major concessions including wage cuts worth more than $800 million in return for an equity stake of about 20% and two seats on the board.
Charlie Bryan, leader of the Eastern local of the International Association of Machinists, was among the first union leaders to join a corporate board. Bryan, who led the strike, later told me that implementing employee ownership was a high point of his career. Also, Joe Leonard, who joined Eastern as a senior vice president in 1984 and eventually became president, later told me he signed on partially because he was inspired by the high degree of labor management cooperation.
Eastern and American have little in common besides the Miami hub -- it is one of the the world's best hubs, just look at a map -- that former American CEO Bob Crandall bought cheaply from Eastern in 1990. Also, it is hard to imagine, but Eastern was once what American is now, an envied company with positive labor management relations.
In other words, it is too early to make an enduring judgment on Doug Parker's noble experiment. We can say he is someone who tried. We cannot yet say he succeeded.
Ted Reed worked for Terri Pope at US Airways for several months in 2005.
This article is commentary by an independent contributor. At the time of publication, the author held no positions in the stocks mentioned.