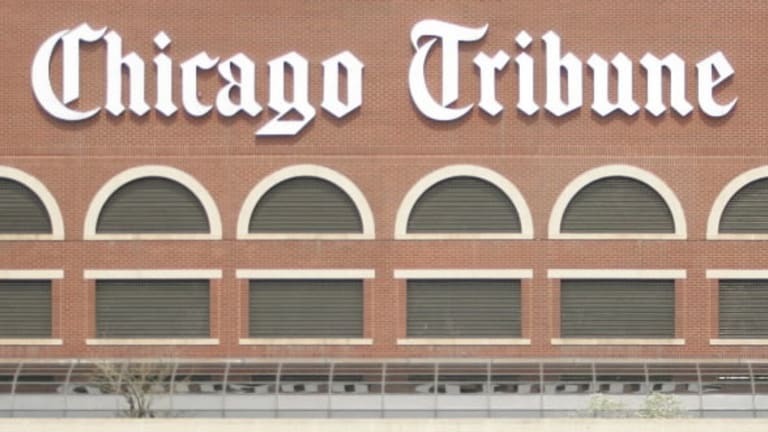 How a Strong No-Confidence Vote and Lawsuit Could Drive a Tribune-Gannett Combination
The USA Today publisher is betting shareholders oppose Tribune Publishing's board in a move that would set up deal talks. If not, shareholders might sue.
Gannett  (GCI) - Get Gannett Co., Inc. Report is betting that a strong vote of no-confidence in Tribune Publishing's   (TPUB) board next Thursday, June 2, will be enough to drive the Chicago-based media company to agree to its $864 million hostile acquisition effort.
The unusual vote, set for Tribune Publishing's annual meeting, will have no binding impact on the company's management or board. However, a strong negative vote, even one where only as little as 45% of participating shareholders oppose the incumbent directors. could be enough to embarrass Tribune Publishing and push it to the negotiating table. And if they don't move towards a deal, it is a strong possibility that some Tribune Publishing shareholders could file a lawsuit in Delaware charging that two recent share issuances constituted an illegal effort to thwart Gannett's hostile proposal.
Case in point: Tribune Publishing issued common shares in February that it sold to its non-executive chairman, Michael Ferro's investment vehicle, at a price of $8.50 a share, a discount of $0.50 from Tribune Publishing's closing price on Feb. 3, the day prior to the announcement of the investment. Ferro holds a 16.5% stake in Tribune Publishing through Merrick Media LLC, an investment firm that he oversees. Tribune describes the private placement transaction to Merrick Media as a deal that brought "growth capital" to Tribune Publishing to help it invest in digital initiatives.
In addition, on Monday, Tribune Publishing announced it received a $70.5 million investment from Nant Capital in exchange for a 12.9% stake the Chicago-based publisher. Nant's founder, Patrick Soon-Shiong, will also receive a seat on Tribune Publishing's board.
The media company also described that investment as "growth capital" but Widener University Delaware Law School professor Lawrence Hamermesh suggested that to issue shares to what appear to be friendly investors might induce other shareholders, including Gannett if it owns a stake, to see if a lawsuit may be warranted. Tribune Publishing is incorporated in Delaware.
One investor, Towle & Co., was so enraged by the moves, which he suggested were defensive actions on the part of Tribune Publishing, that he suggested in a letter made public Wednesday that the decision to dilute his position by issuing 4.7 million shares to Nant Capital "was most distasteful" and that "stacking the board and ownership in favor of one particular view is not good governance."
Hamermesh said that if he were a lawyer representing investors, the Ferro and Soon-Shiong share purchases are something he would take a look at--particularly if a majority of shareholders oppose Tribune's directors and the media company doesn't engage with Gannett. "This sounds like it is straight out of the 1980's hostile-bid defense playbook," he said.
Hamermesh said the situation was comparable to a lawsuit filed in Delaware Chancery Court by now-defunct activist firm Shamrock Holdings against Polaroid in 1989. Shamrock's Stanley Gold had launched a hostile tender offer to buy Polaroid, which responded by issuing convertible preferred shares to a firm set up by former Lazard Freres & Co. managing director Lester Pollack. Pollack also received a board seat.
The bid ultimately failed and the Delaware court ruled in favor of Polaroid, in part, says Hamermesh, based on the point that there was no explicit commitment by the new investor, Pollack's firm Corporate Partners, to back management and oppose the hostile bid. "It was a close case because there were some defensive aspects to the issuance of shares to Pollack's firm," said Hamermesh. "Any case involving Tribune would be factually nuanced, however, and the outcome would depend on what the directors were told and what the economic and defensive impact of the transaction would be."
Charles Elson, chief of the University of Delaware's Center for Corporate Governance, said a lawyer would have to evaluate whether the Ferro and Nant investments acted as an entrenchment device or whether Tribune needed the capital for the purpose of benefiting the company going forward. "One outcome is that the share issuances enrage other shareholders so much that they lose confidence in the company's management and vote against directors," said Elson.
Already battle lines are being drawn in anticipation of the vote Thursday. Ferro's 16.5% stake is expected to back Tribune Publishing's efforts to remain independent. On the other side of the equation are two large investors urging the media company to engage in negotiations with Gannett.
Towle, which owns 1.4 million shares, or roughly a 4% stake, charges that Tribune Publishing has "abandoned its fiduciary responsibility." The fund also suggests that "the majority of unaffiliated shareholders" want a Gannett transaction. In addition, asset manager Oaktree Capital Group owns a 15% stake and urges Tribune Publishing to set up an independent committee to consider the Gannett proposal.
Nant's Soon-Shiong won't be permitted to vote his 12.9% Tribune Publishing stake for or against the company directors because the shares were acquired after the record date for next week's meeting.
That leaves the large contingent of institutional investors and some hedge funds that haven't spoken publicly about the campaign and are the ones that will make or break Gannett's campaign and bid. These include BlackRock, Vanguard Group and State Street, which own 5%, 2.5% and 1% respectively. These institutions and others may be more likely to back keeping Tribune independent after the two major proxy advisory firms, Institutional Shareholder Services and Glass Lewis, came out recently with reports recommending shareholders support Tribune Publishing's board.
Nevertheless, even a 45% opposition vote could have a major impact. Shamrock famously succeeded at ousting Disney CEO Michael Eisner from his chairman position in a 2004 "just vote no" campaign where roughly 43% of participating shares opposed him in an uncontested election.
A failure for Gannett this year could drive the media company to try again in 2017, this time with a traditional director-election proxy fight. However, such a contest could be even more difficult with a possible 30% stake opposed to a hostile acquirer.
"Nant's Soon-Shiong will be able to vote his shares for management next year," Hamermesh noted.
Larry Kramer, Chairman and interim CEO of TheStreet, sits on the boards of both Gannett and TheStreet.