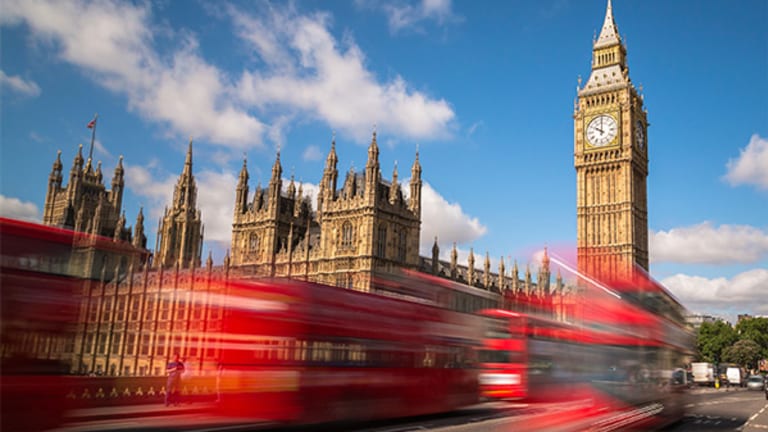 How a 'Brexit' Vote Would Turn the Financial World Upside Down
A decision by U.K. voters to leave the European Union would force banks like Goldman Sachs, JPMorgan and Citigroup to rethink how they do business, costing jobs and revenue.
Publicly, President John F. Kennedy supported Great Britain's request to join the European common market in 1961.
Privately, however, he had his reservations, writing to an administration official that the move might have "extremely serious" effects on the U.S. economy, which had maintained its share of Western European manufacturing trade even as Britain's declined. 
The administration had encouraged "the expansion of the common market for political reasons," Kennedy wrote in August 1961. "If it should have an extremely adverse effect upon us, a good deal of responsibility would be laid upon our doorstep."
More than 40 years later, U.S. officials are once again concerned about the economic repercussions of the United Kingdom's relations with its neighbors, but this time for the opposite reason: The country's voters will decide Thursday whether to leave the European Union and go it more or less alone. 
Because no EU member has left before, the impact is largely unknown, which in itself is a bogeyman for global financial markets. Already, U.K. officials have warned that trade with a rebuffed Europe would likely become more onerous after a departure, and the British pound would probably weaken. Many U.S. banks that have used London as a base for European operations might lay off workers and relocate offices; JPMorgan Chase (JPM) - Get JPMorgan Chase & Co. (JPM) Report  CEO Jamie Dimon warned British employees about the possibility earlier this month.
A departure "would be very significant for the United Kingdom and for Europe as a whole," Federal Reserve Chair Janet Yellen told the Senate Banking Committee on Tuesday. "It would usher in a period of uncertainty," she said, and there "could be a period of market volatility that would affect financial conditions and the U.S. economic outlook."
The referendum was one of the reasons Yellen cited in the U.S. central bank's decision not to raise interest rates in June, despite previous speculation by several members that it would.
In that regard, the Brexit debate has curbed profit for U.S. banks even before United Kingdom voters decide what to do. While lower interest rates tend to favor economic growth, they curb interest income for banks.
Short-term rates in the U.S. were cut to nearly zero during the financial crisis and kept there until December 2015, when the Fed's monetary policy committee approved a 25 basis-point hike. The central bank signaled afterward it might raise rates as many four times this year, but halved that forecast amid volatility prompted by unclear data about slowing economic growth in China.
Citigroup is a holding in Jim Cramer's Action Alerts PLUS charitable trust portfolio. Want to be alerted before he buys or sells the stock? Learn more now.
Uncertainty about how the United Kingdom's departure might work, and the after-effects, might spur even more volatility.
"The biggest impact is what happens next if they actually do vote to leave and then there are other countries that decide to leave," said Brian Kleinhanzl, one of the authors of a report by brokerage firm Keefe, Bruyette & Woods dissecting a U.K. exit.
"There's a risk of contagion, of increased uncertainty," he said in a telephone interview. "That is usually not a good environment for trading activity or investment banking activity overall."
Banks would likely have a two-year transition period as the British government negotiates the details of its departure and what level of participation in European trade deals the country might retain. A crucial detail for banks is the Union's so-called passporting legislation, which gives banks in any member country the right to conduct business throughout Europe without obtaining a separate license in each country, London law firm Ashurst said in a report.
That's why many banks chose to establish a United Kingdom subsidiary as a hub for European operations, Ashurst noted, and some of them have already started talking about moving their hub elsewhere. Britain could retain its passporting privileges by remaining in the European Economic Area, but that wouldn't address many Britons' political concerns: London would still have to make a large contribution to the EU budget, and it wouldn't be able to restrict immigration.
A vote to leave would "challenge London's role as the venue of choice for global firms to conduct their European business," Ashurst partners Rob Moulton, James Coiley and others noted in the report. "Whether it survives such a challenge depends in part upon the deal that the UK manages to negotiate on exit, and in part upon London's legendary ability to reinvent itself where necessary. No matter where you stand on the Brexit debate, the devil is in the detail."
Employment is among the most easily quantifiable aspects of the banks' relationships in the UK, said Keefe Bruyette's Kleinhanzl. JPMorgan has 16,000 workers there, compared with 8,000 at Citigroup, 6,410 at Goldman Sachs, 5,545 at Bank of America and 5,000 at Morgan Stanley. Kleinhanzl estimated that each firm might cut as much as 25% of those positions.
JPMorgan and Goldman would be among the "most exposed to the potential negative fallout, due to the relatively large amount of income each company generates," in the U.K., he wrote. JPMorgan garnered $7.7 billion in 2014 operating income in Britain, or about 8% of the companywide total; Goldman's $6.3 billion represented 18.5% and Morgan Stanley's $4 billion accounted for 12%.
Leaving the EU would be "a terrible deal for the British economy and jobs," JPMorgan CEO Jamie Dimon told company workers in England during a town hall meeting broadcast by Bloomberg TV. "Today, we can service EU companies here, with systems, technology, research, investment banking, sales and trading. We can't do it here after a Brexit."
The New York bank would have to assign teams of people to analyze the situation and determine the optimal response, Dimon noted, and as many as 4,000 jobs across the United Kingdom could be affected.
For clients of Citigroup, also based in New York, "the EU staying together as it is, is the best outcome," CFO John Gerspach said during an April earnings call. As for the company itself, Citi has operations in many of the European Union nations and "a lot of potential options," including Ireland, if the United Kingdom opts to pull out.
Considering Britain's history with the EU, a Brexit would be somewhat ironic. The country spent more than a decade trying to join the European economic community, the federation's six-nation predecessor. Its application was rebuffed twice by French President Charles de Gaulle before his successor agreed to the request in the early 1970s.
Admission gave Great Britain, challenged after two world wars by the loss of imperial holdings that had fueled its economy for decades, a welcome boost. Throughout European history, "the realisation of common interests always outlived the most bitter national rivalries," the British government noted in a 1967 document outlining its second application.
Enthusiasm for a more unified Europe grew even stronger after the end of World War II, in which Nazi Germany overran France and was repelled from Britain only after a long and costly air war, the government noted. After its defeat by the Allied powers, Germany was split in two, with its eastern half aligned with the Soviet Union, the communist bloc that had transformed imperial Russia.
"Several factors contributed to the strengthening of the European idea," the British government said then. "Two world wars severely weakened the European economy," and "the United States and the Soviet Union have each become extremely powerful -- far stronger than any western European country."
Indeed, concerns about the strength of individual European nations compared with their combined power would still apply today. 
The economic risks of a departure are, by themselves, "firmly to the downside," Christine Lagarde, managing director of the International Monetary Fund, said in a June 17 speech in Vienna.
The financial services industry, which accounts for about 8% of Britain's economy and 3.5% of employment, is particularly vulnerable, the Fund said in a separate report. About half of the world's biggest financial institutions, including investment and commercial banks and hedge funds, have located their European headquarters in the UK.
Consequently, a Brexit "could have profound effects on the UK financial system, its global standing, and its contribution to the economy," the IMF cautioned. "Although the comparative advantages of the UK financial sector are well established and predate EU membership -- and its importance as a global hub is underpinned by a wide range of factors -- exit would almost certainly reduce market access to the EU of both domestic and foreign financial companies based in the UK."
See full coverage of the Brexit debate here.