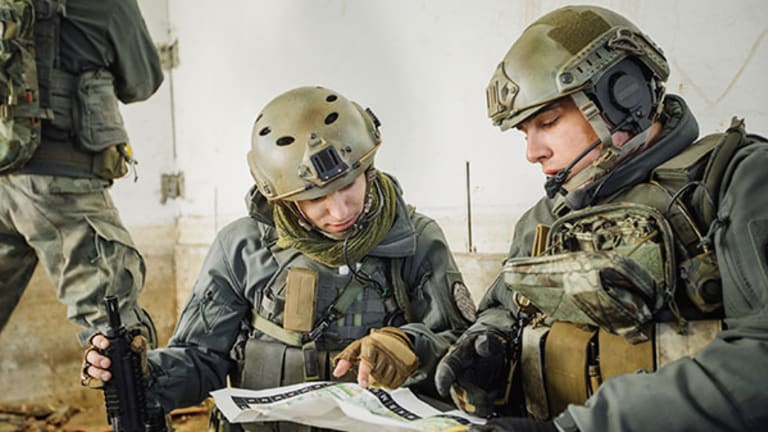 How 16 Ex-Military CEOs are Trouncing Wall Street
Putting your money into these 16 companies, whose CEOs served in the U.S. military, would have left you (a lot) richer than just following the S&P 500.
The language that Corporate America's chieftains use to talk strategy often makes it sound like they're discussing battle plans.
Which is less surprising when you realize that some of the ones who perform best in the roles actually served in the U.S. military. In fact, an analysis by TheStreet, using data from subsidiary BoardEx, which analyzes corporate relationship patterns, found that 16 sitting CEOs with experience in the armed forces posted an average return of 8% in the past year, far outpacing the S&P 500, which declined.
Like the S&P, the returns aren't even: Some gained much more than 8% in the period, while others declined. The benefits of military training extend beyond the purely financial, however. Executives with such training are less likely to be involved in corporate fraud, are usually fiscally conservative and perform better under stress, according to a working paper from the National Bureau of Economic Research.
Teamwork, discipline, a focus on long-term viability and the ability to navigate uncertain terrain are also assets.
"If you're not comfortable today with ambiguity, you're in a lot of trouble as a leader," said Erica Peitler, a leadership performance coach who runs her own consulting firm. Leadership trainers today often use the acronym VUCA, derived from military jargon, which refers to volatility, uncertainty, complexity and ambiguity.
"You can understand why military professionals are trained for a 'VUCA' world," she said. "We've now taken that into the corporate world because that's what we are dealing with now, as well."
Here's a look at the companies whose CEOs are taking advantage of their military experience, ranked in order of return:


1. Cameron International 
While 44-year-old Scott Rowe hasn't been CEO of $13 billion oil-drilling equipment maker Cameron International (CAM) for very long, he's held other senior leadership positions there during his nearly 13-year tenure.
Not only did Rowe, whose yearly pay is about $3.1 billion, graduate from West Point with a bachelor's degree in engineering management and serve in the Army, he received a master's in business administration from Harvard University. 
The Houston-based company reported revenue profit of $2.61 a share in 2015 on revenue of $8.8 billion.
The stock price, meanwhile, has soared more than 50% $66.22 in the past 12 months. Cameron agreed earlier this year to sell itself to Schlumberger  (SLB) - Get Schlumberger N.V. Report  for about $14.8 billion.
2. Equinix 
A West Point graduate with a bachelor's degree in engineering, Steve Smith, 58, has been the CEO and president of $22 billion Internet infrastructure company Equinix (EQIX) - Get Equinix Inc. Report since 2007.
Smith served eight years in the U.S. Army, including a stint as aide-de-camp, or confidential assistant, to the Commander-in-Chief of the U.S. Armed Forces in the Pacific.
Earning an estimated $11.5 million in 2014, Smith has been in the industry for nearly 20 years. The Redwood, Calif.-based company's shares rose 42.6% over a 12-month period, from $238.65 in 2015 to $319.36 currently. And since Smith took over the company in 2007, the stock has more than tripled.
Owning more than 145 data centers in 40 metro areas, the company attributes its success to sizable growth in data streaming, digital media and advertising and counts Amazon, Cisco, IBM, and Microsoft as customers.
With over $2.7 billion in revenue in 2015, up 16% year-over-year, the company forecasts a 30% revenue jump to $3.55 billion in 2016.


3. J.M. Smucker 
Richard Smucker, 67, has been CEO of Smucker's (SJM) - Get J.M. Smucker Company (The) Report since 2011 and plans to step down this year. He served in the U.S. Army Reserves from 1970 to 1976. 
With a market cap of $15 billion, the family-run business has kept up with emerging changes in food products and prices for over 110 years. Its products include fruit spreads, peanut butter, and packaged coffee sold under brands including Pillsbury and Jif. 
The Orrville, Ohio-based company earned revenues of $5.7 billion in 2015, up from the prior year. Net income was $345 million, or $3.33 a share. Its stock price has jumped from 14% over the last 12 months, from $113.39 to $128.77.
In 2015, the company acquired Big Heart Pet Brands for approximately $6 billion.


4. Raytheon
CEO Thomas Kennedy, 59, previously served as a captain in the U.S. Air Force where he helped "develop and field a space product while working on space launch vehicles," according to Raytheon's (RTN) - Get Raytheon Company Report  website.
Kennedy took the reins at the defense contractor in 2014 after nearly 30 years with the Waltham, Mass.-based company, where he also held positions as vice president and chief operating officer. 
Because he was in the Air Force, he says, "I understand our customers' mission needs and that helps me guide the company to translate our customers' challenges into the best solutions."
Since "so much is riding on performance, in the military you get a sharp eye for what people are good at: There's no faking it," said Kennedy. "As we tackle our customers' toughest problems, I reach out across our network of 61,000 employees to get their ideas."
Raytheon has climbed more than 10% in 12 months, from $112.35 to $123.86. Since taking over the company in 2014, Kennedy has increased the stock by 26%. For the fourth quarter of 2015, Raytheon reported net sales of $23.2 billion, up 2% from the prior year.
The company recently announced a 9.3% increase in its dividend, from $2.68 to $2.93, and won a contract to build 52 missiles for the U.S. Missile Defense Agency.
Kennedy holds a doctorate in engineering from the University of California-Los Angeles and bachelor's and master's degrees in electrical engineering from Rutgers University and the Air Force Institute of Technology, respectively.
 "The strongest ideas come from diverse, disciplined collaboration, and our veterans know that the momentum created by an aligned organization operating toward a common purpose is so powerful," Kennedy said.
5. Pacific Gas and Electric Company (PG&E) 

Serving as an officer in the U.S. Navy nuclear submarine program, Anthony Earley, 66, also qualified as a chief engineering officer, according to the company website.
The military veteran became chairman, CEO and president of PG&E (PCG) - Get Pacific Gas & Electric Co. Report  in September 2011.
Since then, the stock price has surged 45%, from $40.58 to its current price of $58.96. It gained 12% in the past year. For the fourth quarter of 2015, the utility posted net income of $1.5 billion, or $3.12 a share, down 6% from a year earlier.
6. Verizon Communications

Lowell McAdam, 61, the CEO and chairman of Verizon Communications (VZ) - Get Verizon Communications Inc. Report  , previously served six years in the U.S. Navy's Civil Engineer Corps.
A licensed engineer, he also scored a Naval ROTC Scholarship and earned a bachelor's degree in engineering from Cornell and a master's degree from the University of San Diego.
"You are doing things that matter," Lowell said of his military experience in an interview with Veterans Advantage when he was given the "Top Vet" award. "They can be life-and-death situations, and they are certainly important. And you must learn early on the meaning of delivering on your commitments, doing what you say."
Verizon's stock price has risen more than 7% in the past 12 months and almost 48% since McAdam became CEO in 2011. Adding 1.5 million customers during the fourth quarter, the company reported 2015 revenues of $131.6 billion, up 3.6% from the prior year.
In 2015, the Military Times ranked Verizon the No. 1 employer for vets, followed by other top companies including USAA, Lockheed Martin, and BAE Systems. 
"The veterans we've hired have had such a positive impact that we increased our number of such hires by 90% from 2013 to 2014. Verizon hired nearly 2,000 veterans last year and now employs nearly 13,000," the company wrote on its website.
Verizon acquired AOL in June for $4 billion and launched Go90, a free mobile video service. 
7. Snap-On
CEO Nick Pinchuk, 68, is a Vietnam veteran who served in the Army Signal Corps and rose to the rank of captain. He took the top job at Snap-on (SNA) - Get Snap-On Incorporated Report  , a professional equipment and tool manufacturer, in 2007, and the stock price has more than tripled since then.

"In Vietnam, you learned the lesson of being confident and collected under pressure," Pinchuk said in an interview with Veterans Advantage in 2010. "And what you saw more graphically than in any other situation is that in such a pressure environment, your team can get rattled, but they look to you, as their leader, for stability." 
The Kenosha, Wis.-based company employs approximately 11,500 people with a market cap of $9 billion. The company reported net income of $479 million, or $8.10 a share, last year on revenue of $3.4 billion. Its shares have gained 10% in the past year.



8. Johnson & Johnson

Influenced by his father's service in the Korean War as well as close military friends, Johnson & Johnson (JNJ) - Get Johnson & Johnson Report CEO Alex Gorsky said he had dreamed of attending West Point since he was in sixth grade.
Gorsky, who's now 55, graduated from the military academy in 1982, successfully completed the Ranger and Airborne schools and described the training for those programs as some of the most challenging experiences of his life.
"No matter how high the wall, how wide, how deep the water, whatever it was, you would figure out a way to make it through successfully," Gorsky said. "Always trying to see the glass as being half full and persevering through a lot of challenges to get to your ultimate goal is certainly something I learned in Ranger School."
He went on to serve six years in the military, ending his career with the rank of captain. In his current role, he tries to make employees feel like they're part of a mission bigger than themselves, something military commanders do frequently. 
Johnson & Johnson's mission statement, written more than 70 years ago and known inside the company as "Our Credo," helps. "When we get 'Our Credo' right, we do well across all areas of our business," Gorsky said.
The top line of the statement stresses the company's belief that "our first responsibility is to the doctors, nurses and patients, to the mothers and fathers and all others who use our products and services." Its second responsibility is to fellow employees, its third is to the local and world communities and its final one is to stockholders.
Since Gorsky became CEO and chairman in 2012, the company's stock has increased by 62%, from $66.21 in April of 2012 to $107.28. The shares have climbed 8.5% in the past year.
The New Brunswick, N.J.-based pharmaceutical, medical device and consumer healthcare company posted $70 billion in sales during 2015, a 5.7% decrease from the prior year, which the company attributes to a negative currency-exchange rate and declining sales of medical devices.


9. Advanced Auto Parts
Interim CEO George Sherman served in the U.S. Air Force for seven years before he was appointed to lead the $11.8 billion auto-parts company. He took over in January, after previous Advance Auto Parts (AAP) - Get Advance Auto Parts Inc. Report CEO Darren Jackson announced his retirement.  
"With increased scale and reach, including loyal do-it-yourself customers and an expanding presence in the fast-growing commercial segment, we are well positioned to drive growth and achieve our margin targets," Sherman said in a statement.
Sherman joined the company nearly three years ago as president, after previously working at Best Buy, Home Depot, and Target. 
The auto parts company's shares, currently valued at $161.09 are up almost 8% over the past 12 months.
Based in Roanoke, Va., the largest "automotive aftermarket parts provider" is estimated to have total sales of $9.74 billion for 2015, up slightly from 2014 sales of $9.69 billion.
10. American Tower

American Tower (AMT) - Get American Tower Corporation (REIT) Report   chairman and CEO James Taiclet, 54, was a military pilot, flying C-141 Starlifter cargo planes during the first Gulf War. 
Shares of the communications real estate company have climbed almost 910% since Taiclet took over in October 2003, when the stock price hoovered around $9.94. Revenue for 2015 was $4.8 billion, a 16% increase from the prior year, and net income was $685 million. 
"We strengthened our positioning across our major markets, including in our home U.S. market," Taiclet, a graduate of the U.S. Air Force Academy who received a master's degree in public affairs at Princeton University, said in the company's fourth-quarter earnings statement.
Managing over 100,000 sites worldwide, the Boston-based company has a market cap of $42.2 billion and leases towers to firms such as Verizon Wireless. Its shares gained 4% in the past year.



11. Universal Health Services
Alan Miller, 77, is the CEO, chairman, and founder of hospital management company Universal Health Services (UHID) .
He ended his military career as a captain after serving in the Army's 77th Infantry Division.
With a market cap of $11.6 billion, Pennsylvania-based Universal Health operates 24 inpatient acute-care hospitals, three free-standing emergency facilities and 213 inpatient and 16 outpatient behavioral health care sites, according to the company's latest SEC filing.
The company earned revenue of $9 billion in 2015, up 10% from the $8.2 billion reported in 2014. Net income was $680.5 million, or $6.76 per share.
Universal Health Services shares, traded on the over-the-counter market, are down 2% over a 12-month period. 


12. Federal Express

Fred Smith, 71, is the CEO, president and chairman of FedEx (FDX) - Get FedEx Corporation Report  , which he founded in 1971. The company now employs approximately 165,000 people.
After graduating from Yale University with a bachelor's degree, Smith joined the U.S. Marine Corps, serving as an officer for about four years and completing two tours in Vietnam.
The CEO, who flew ground-support missions and left the Marines as a captain with honors including a Silver Star, Bronze Star, and two Purple Hearts, said in an interview with the American Academy of Achievement that he learned a vital lesson from a veteran Marine sergeant: "There's only three things you gotta remember: shoot, move and communicate."
FedEx, whose shares have declined nearly 4% in the past 12 months, reported revenue of about $47.5 billion in 2015, a 4% increase from the previous period.
13. Vornado Realty Trust 
Steve Roth, 73, is the founder, chairman and CEO of Vornado Realty Trust (VNO) - Get Vornado Realty Trust Report , a real estate investment trust with an estimated market value of $17.2 billion. 
Roth, who earned bachelor's and master's degrees from Dartmouth College, joined the Army National Guard and started his real estate career with Kenilworth Associates in 1965.
Stock in Vornado, which has properties in New York, Washington, D.C., and Chicago, is down 17% over a 12-month period amid concerns about the global economy and the health of U.S. real estate.
With revenues of $2.5 billion for 2015, the company reported net income of $760 million or $3.61 a share.


14. Celgene Corporation

Mark Alles, 56, became CEO and director of Celgene (CELG) - Get Celgene Corporation Report  on March 1.
The Summit, N.J.-based drugmaker, with a market cap of $78 billion, specializes in developing and selling drugs for cancer and "severe, immune, inflammatory" diseases, according to its website.
While the company's shares have declined more than 16% over the past 12 months, revenue increased by 21% to $9.3 billion in 2015. The company reported adjusted net income of $3.9 billion, up 25% from the prior year.
After attending Lock Haven University of Pennsylvania, Alles served as a captain in the U.S. Marine Corps before starting his career in pharmaceuticals.


15. Norfolk Southern
Jim Squires, 54, who joined Norfolk Southern (NSC) - Get Norfolk Southern Corporation Report in 1992, served in the U.S. Army for four years and earned a law degree from the University of Chicago Law School.
The railroad he leads, with a market value of $24 billion, has dropped almost 19% over the past 12 months. Net income was $1.6 billion, or $5.10 a share, for 2015, down from the previous year. Its maintenance costs have climbed because of aging railcars.
"We are making progress despite a challenging operating environment, including successfully restoring all our rail services to previous high levels, realigning resources, and completing strategic capacity investments to improve efficiency and productivity," Squires said in the railroad's fourth-quarter earnings statement.


16. Computer Sciences Government Services
Larry Prior, 59, became president and CEO of federal technology services contractor CSRA (CSRA) , a spin-off from Computer Sciences Corp. (CSC) , just before the company began trading on the New York Stock Exchange.
Prior served as a Marine Corps intelligence officer and a Russian foreign area officer. He previously worked at Computer Sciences Corp., BAE Systems, and SRA International.
The Falls Church, Va.-based company's shares opened at $29 and have since dropped almost 17% to $24.17.
With a market cap near $4 billion, CSRA predicts it will bring in annual revenues of $5.5 billion. It has 19,000 employees.