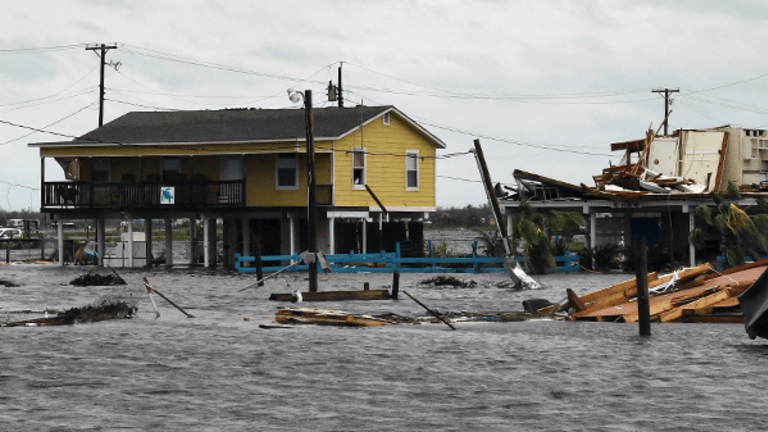 Houston, We Have a Problem: Harvey Slams Gulf Coast, Halts Oil Production
The aftermath of the torrential downpour in the Gulf Coast region from Hurricane Harvey will impact the area's refineries, pipelines and storage, but the extent of the damage remains unknown.
The aftermath of the torrential downpour in the Gulf Coast region of Texas from Hurricane Harvey, which brought massive, unprecedented flooding to Corpus Christi and Houston, will impact the area's refineries, pipelines and storage, but the extent of the damage remains unknown.
The relentless downpour of Harvey, which has been downgraded to a tropical storm, is expected to last through Friday, bringing as much as 50 inches of rain. Ahead of the hurricane, refiners shut down about 900,000 barrels of day of capacity, mostly in the Corpus Christi area. Before the Category 4 hurricane made landfall with 130 miles per hour wind, the four refineries owned by Valero Energy (VLO) - Get Valero Energy Corporation Report and Citgo Petroleum and Flint Hill Resources shut down production on Thursday.
While the Corpus Christi refineries produce 4.4% of the capacity in the U.S., the refineries in Houston, the fourth largest American city, and Texas City together generate 12% of refining capacity, producing a mixture of products ranging from gasoline to jet fuel. The outages at refineries continued to increase on Sunday as there is 2.2 million barrels a day of capacity which is down or being brought down, according to a S&P Global Platts report. Operators which are onshore in the Eagle Ford Shale in south Texas have also shut down hundreds of wells, the report added while offshore production from platforms and rigs was increasing on Sunday.
"Texas refiners supply a good deal of oil and refined products to the Atlantic coast and also export to Mexico," said Jeff Mower, the director of America's oil news with S&P Global Platts. "Crude production seems to be recovering with some production coming back offshore. It will be interesting to see the impact that the storm has for onshore production."
Buyers who rely on crude exports from the U.S. will now face a delay and may have to look elsewhere for their supply, he said.
"Depending on what happens, it could be bearish for Gulf Coast crude oil prices since refining capacity is affected and ports in Houston and Corpus Christi are closed," Mower said. "Gasoline prices are very regional and while they could be depressed in one area, they could rise in another."
As the storm continues to produce record amounts of rainfall and catastrophic flooding, assessing the damage to the refineries and underground storage tanks remains uncertain until the water dissipates from the highways and streets. Countless flash flood warnings were issued by the National Weather Service which issued a grim warnings: "This event is unprecedented...beyond anything experienced." The damage to the infrastructure such as platforms and power grid also remain uncertain.
"Much remains unknown as the storm continues to drop impressive amounts of rain," said Patrick DeHaan, a senior petroleum analyst for GasBuddy.com, a Boston-based provider of retail fuel pricing information and data. "The main issue is the Houston refineries such as Motiva, which could impact gas prices. The market has no idea how to perceive storms. Until the rain stops, we are in a wait and see mode until Harvey gets out of there."
Crude oil prices moved up slightly on Friday to $47.86 as the markets were uncertain about the impact of Harvey. Future markets were closed over the weekend and reopened on Sunday evening. Crude oil futures rose to $47.98 at the end of the first hour on Sunday with gasoline futures trading up by 7% soon after the market opened. Crude oil futures traded down 1% to $47.38 Monday morning, with gasoline futures up 4.2%.
While markets price in weather disasters, the flooding damages were "more than anticipated," said Anne-Marie Baiynd, a Detroit-based trader.
"As a technician, I see largely rangebound motion with big bounces being retraced and fades being bought at deep support," she added. "As the markets opened, holding over $48.12 will likely spell a bullish run as several refineries are closed in the region, such as Phillips66 (PSX) - Get Phillips 66 Report , Shell Petrobras and Exxon (XOM) - Get Exxon Mobil Corporation Report . The support tests that hold $47.3 will be buy zones more than likely. Overall, the current remains the same - a largely landlocked region with only temporary moves up or down until the rebalancing looks better."
Rain is predicted to pummel Houston for several more days, which could further impede the production at the refineries and impact gasoline prices. While wholesale prices rose by 40 cents a gallon during Hurricane Katrina, the market had several days to digest how serious the impact would be, DeHaan said. The difference is that Harvey transformed from a tropical storm to a hurricane in one day, he said.
"There is a lot of demand destruction also occurring since no one in Houston is consuming gasoline," DeHaan said.
Prices at the pump are likely to increase by at least 10 cents, but it could change quickly "as damage reports and assessments are made," he said. "If they are shut down by rain and see major damage, gas prices will likely be much more impacted than they are currently."
A decline of 20% in production from the Gulf of Mexico region will affect existing inventory levels only to a small degree. The government data on the level of inventories which is released weekly will only show the amount through last Friday, but the market is likely to be bearish on oil, DeHaan said. If the Houston refineries such as Motiva are shut down for over two weeks, then the impact will be much larger.
"The oil rigs which are in the Gulf can get back to the game quicker," he said.
Since tropical storm Harvey has also dampened the demand for fuel in many cities and towns, "any additional price hikes should be minimal," said Bernard Weinstein, associate director of the Maguire Energy Institute at Southern Methodist University's Cox School of Business in Dallas.
The draw on gasoline could be 3 million barrels this week and 5 million barrels the following week, said Patrick Morris, CEO of NY-based HAGIN Investment Management.
"Crude should see a small build or a very small draw down," he said. "If the finished product is driving the market more than crude inventory, we could get a 5% to 7.5% positive price move over the next 10 to 12 trading days."
Another major concern is whether the underground storage tanks in Houston are flooded or if they break out of the underground layer that they were installed in and become buoyant, said DeHaan. Across the U.S., there are 230 million barrels of gasoline or the equivalent of 20 days in storage.
"There are about 40 million barrels oil in Houston which are used in products such as gasoline and jet fuel," he said. "We will have to see how those tanks are holding up to flood water."
There are also concerns about the damage done to the Colonial Pipeline, which is a major distributor of gasoline, diesel and jet fuel and starts in Houston, runs through Louisiana and picks up products, then moves to Mississippi, Alabama, Georgia, up to the Carolinas and to Virginia.
"If it is not collecting gasoline from the refineries, it could be a real problem for other states," DeHaan said.
More of What's Trending on TheStreet: