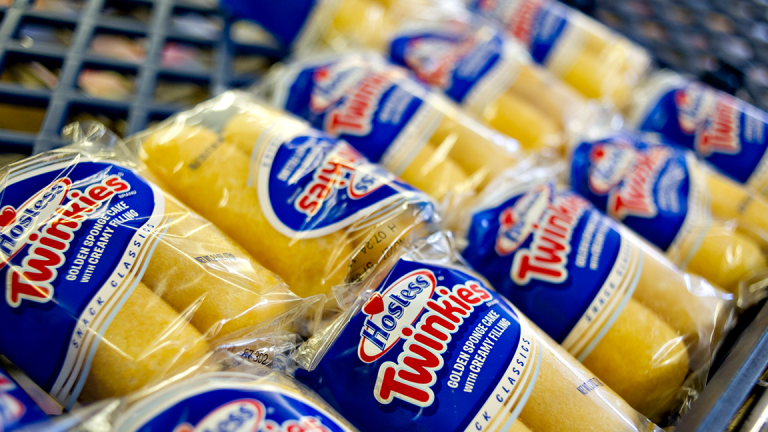 Hostess Shares are Cooking After Analyst's Upgrade
Hostess Brands climbs after an UBS analyst upgrades the snack company to buy from neutral.
Shares of Hostess Brands (TWNK) - Get Hostess Brands Inc. Report , maker of Ho-Hos, Ding Dongs, and Twinkies, found a sweet spot Monday, climbing 2.8% to $14.28, after an UBS analyst upgraded the snack company to buy from neutral.
Analyst Steven Strycula also raised his price target on the Kansas City, Missouri-based company to $17 from $14. In a note to investors, Strycula said that Hostess' sales trends are accelerating, according to Nielsen data; the recent acquisition of a Chicago Bakery facility brings Hostess new production capability in breakfast categories, and the company is on pace to generate $350 million to $400 million in free cash flow over three years.
"Because Hostess does not pay a dividend, we expect the company to earmark the majority of this FCF for debt reduction," Strycula said.
Last year, Hostess acquired the Cloverhill bakery on Chicago's Northwest Side from Aryzta for an undisclosed sum. Under the deal, Hostess acquired the Chicago bakery, including the Cloverhill and Big Texas brands. Terms of the deal were not disclosed. Strycula said the Chicago facility "had been poorly operated under prior ownership."
"Our margin bridge analysis calculates a $40 million profit contribution tailwind from Hostess' recent acquisition of the Cloverhill Chicago Bakery facility," Strycula wrote.
Last month, the company posted better-than-expected first-quarter sales. Hostess also reported first-quarter adjusted net income of $20.3 million, or 14 cents a share, compared with $20.5 million, or 14 cents a share, a year earlier. Sales rose to $222.7 million compared with $208.7 million in the same period a year ago.